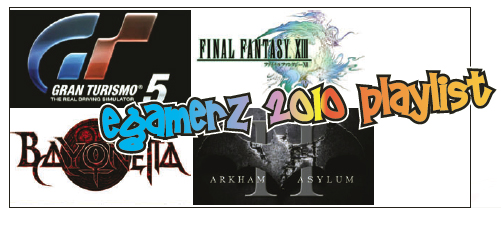 As promised, here is the continuation of 2010 playlist.  These are some great looking games that will surely brighten up the year of 2010.  This time we will briefly go over four games: Bayonetta, Final Fantasy XIII, Gran Turismo 5, and Batman Akham Asylum II.  Enjoy and have a Happy New Year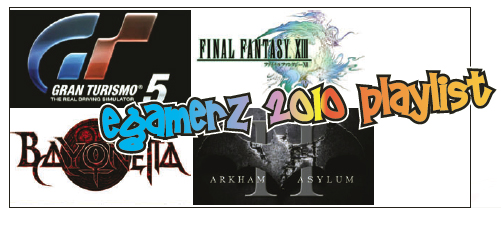 As promised, here is the continuation of 2010 playlist.  These are some great looking games that will surely brighten up the year of 2010.  This time we will briefly go over four games: Bayonetta, Final Fantasy XIII, Gran Turismo 5, and Batman Akham Asylum II.  Enjoy and have a Happy New Year
---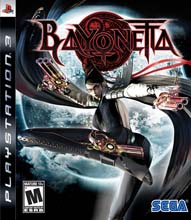 Bayonetta (PS3/Xbox360) Available 1/5/2010
Rated Mature by ESRP
(http://www.sega.com/platinumgames/bayonetta/)
From the director of the original Devil May Cry, Hideki Kamiya, comes a new and evolved stylish action title. As with Kamiya's previous works (Devil May Cry, Viewtiful Joe, etc.), Bayonetta is just as heavy action-oriented and have lots more flair. There are a lot of comparison between Bayonetta (game-titled protagonist) and Devil May Cry's Dante, and it is fair to compare the two as Kamiya had done so. Though they have different techniques and weapons at their disposal, but they share a fondness of making mince meat out of their enemies. Bayonetta could've been Dante's twin sister, definitely a sister and not a brother because of the game's feminine presentation. From the game's music to Bayonetta's character design, it's all bursting with female attitude and personality. It is almost a constant reminder that Bayonetta is definitely a woman.
For those who are not familiar with Devil May Cry to see where the comparisons lie, Bayonetta's adventure pits her against many enemies who are resilient, hard-hitting, but slow. With Bayonetta's guns and other weaponry, it seems it'd never get old dispatching her enemies with her lightning fast attack combos. On top of her hand-held and heel-mounted pistols, Bayonetta has witch powers at her disposal. Dodging at the very last moment will trigger witch time, which slows down nearby foes temporarily while Bayonetta continues to shred them. To finish off her enemies majestically, she has torture attacks ranging from medieval torture devices to monstrosities formed by her hair. The over the top styles and eye-popping actions of Bayonetta can hardly be justified using mere words, but Bayonetta will leave action fans in awe on many levels.
**WARNING** The following Video May Contain Content Inappropriate for Children**
---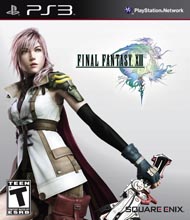 Final Fantasy XIII (PS3/Xbox360) Available 3/9/2010
Rated Teen by ESRP
(http://na.square-enix.com/ff13/)
Since E3 of 2006, fans had been waiting impatiently for this next entry of SquareEnix' flagship franchise. Now the time had finally come… for the Japanese version, which came out three weeks ago, December 17th. Over the past years, SquareEnix had periodically shown some screenshots and videos of cutscenes and also of the battles, all of them are visually impressive. Not impressive as in they look realistic, but that the characters look arguably better than living, breathing cosplayers. Sticking to the keyword Fantasy, SquareEnix once again created another comprehensive universe for fans to indulge in.
From the many trailers to the recent Japanese gameplay videos, it appears that SquareEnix had set out to address the unloved features of past entries in the series while keeping the good parts. Players personally connect to the conflicts from the view point of each and every character instead of watching some supposedly overwhelming struggle from third person view of a guy who can barely relate as it was in XII. Perhaps some character development like the Final Fantasy back in the 90s may be expected as well? SquareEnix is also keeping the dreaded random encounters away, and having a simpler and intuitive battle system. Further reducing the distraction to plot flow by battles, the enemies can be spotted on the field again and the battles are kept short. Consistently excellent with its modern reputation, Final Fantasy XIII has stunning graphics to realize the fantastic world of its designers' vision. The amazing charms of the otherworldly universes of Final Fantasy always abduct its audience into its world subconsciously. It is unfortunate that it is not March of 2010 already.
---
Gran Turismo 5 (PS3) Available Summer 2010
Rating Pending
(http://us.gran-turismo.com/us/products/gt5/)
Gran Turismo 5 is yet another long-waited and highly anticipated entry to a well-established series. Once said to be released in spring 2010, now pushed back to summer of 2010. But for the meanwhile, fans will have to squelch their thirst for it with Gran Turismo on PSP and Gran Turismo 5 Prologue. Both of these titles are instrumental in demonstrating the promises of Gran Turismo 5 even though they were sold in retail as full games. If not for them, fans would hardly be able to remember the series of its vivid scenery, true to life driving simulation, reality matching licensed vehicles and race tracks, among others. However, it would be no surprise should Polyphony Digital outdo themselves again, obsolescing GT PSP and Prologue when they release Gran Turismo 5. With the previous installments of Gran Turismo, Sony's in house developer Polyphony Digital set the par for racing genre and showcased the abilities of Sony's PlayStation consoles with every release. These high expectations of great video games upheld by this studio are what make the wait worthwhile.
What is known about GT5 at this time is that it will feature nearly 1000 vehicles, including Lamborghini, Bugatti, and the Ferrari 458 Italia; over 70 tracks including variations; and compatibility with GT PSP as well as Prologue. For the first time in the series, Gran Turismo is including both external damage model and a mechanical damage engine. As of now, Gran Turismo 5 is set to be released on March 31st, 2010 in Japan with a later North American and European release date. There is some good news however, for a glimpse of the true Gran Turismo 5, log onto PlayStation Network to download the Gran Turismo 5 Time Trial Challenge now.
---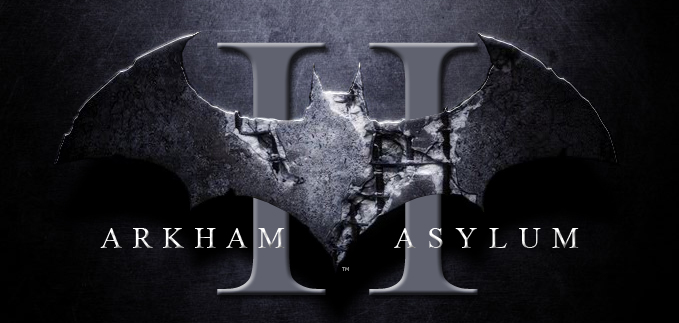 Batman Arkham Asylum 2 (PS3/Xbox 360) Summer 2010
Rating Pending
(http://www.arkhamhasmoved.com)
Unveiled this year's at the Spike Video Game Awards was the announcement that top grossing title, Batman Arkham Asylum would be back for a sequel in 2010.  Although an exact title has yet to be confirmed, for the sake of a placeholder we will call it Batman: Arkham Asylum 2.  The storyline is not yet 100% confirmed, however we can be sure to expect that Mark Hamill's voice sinister voice as The Joker will be back for the second round of this top grossing series soon to come.  This is definitely at the top of my watch list for 2010.  The first installment set new limits for 3D platform fighting adventure games.  I am confident to say that the second will only outdo the original with many surprises to come as the months get closer to the official release.  If you haven't played Batman Arkham Asylum yet you better get started!  You will not want to miss how this story unravels for this highly anticipated sequel.  You can count on us, that E-Gamerz will report the latest as more news develops on this title!  Meanwhile check out the teaser trailer at the official website!
**WARNING** The following Video May Contain Content Inappropriate for Children**
---