---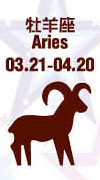 ARIES 牡羊座: MARCH 21 – APRIL 20
Your efforts either aren't getting noticed or they hold no promise of advancement. Switching horses in mid-stream is said to weaken us but you stand a better chance of moving forward if you drop this and move on.
別人一直沒見到你的努力,或許說中途轉向將會讓你容易失敗,但是此時此刻這麼做,其實會有更多機會大步向前走。
---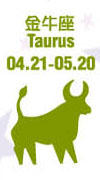 TAURUS 金牛座: APRIL 21 – MAY 20
You're not rooted to the spot. Look around. Nothing binds you to this but your attachment to it. What makes you think you'll keep growing if you keep trying to nourish yourself with the ashes of the past?
你並非無法改變,你看看四周就會發現,沒有什麼能將你綁在這,除了你自己不願離開。是什麼讓你不能向前?是因為你一直用過去滋補自己嗎?
---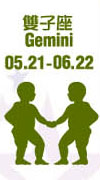 GEMINI 雙子座: MAY 21 – JUNE 20
It's one thing to try to bring a little light into people's lives and quite another when they start to depend upon it. Before your codependence issues take you over keep in mind that you can't be anyone's savior.
幫助別人一點點,和讓別人完全依靠你是兩回事,在這件事情開始讓你不知所措前,請記住,你不可能總是成為別人的救星。
---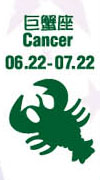 CANCER 巨蟹座: JUNE 21 – JULY 20
How are you going to remove yourself from this situation without coming across as a total jerk? You may have to face the fact that there's no way to end this without hurting more than one person in the process.
你應該要如何做才不會讓自己看起來像是個混帳呢?面對現實吧:你不可能想結束這一切,同時也不傷害任何人的。
---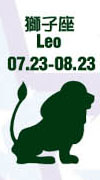 LEO 獅子座: JULY 21 – AUGUST 20
Loose ends from the past keep popping up to remind you that some things are as nuts as they ever were. What's over and done with is leaking through the cracks. Don't let it interfere with your whole new life.
過去的不知所措不斷提醒你有些事情原本就是如此瘋狂,這些事情一點一滴的洩露真相,別讓這一切干擾你的生活。
---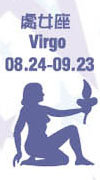 VIRGO 處女座: AUGUST 21 – SEPTEMBER 20
You need to stay grounded in something that will keep you from floating away. Time spent wondering where you're headed won't get you there. Use your work to keep your mind focused 100% in the here and now.
腳踏實地可以讓你站穩一點,把時間花在不切實際的事情上不會有任何幫助,請確確實實的把時間花在此時此刻。
---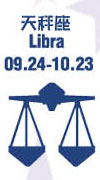 LIBRA 天秤座: SEPTEMBER 21 – OCTOBER 20
You didn't sign up for this; or did you? If it's hard to stay centered in the eye of the storm how else are you going to deal with it? Pull yourself together and try to accept the fact that this is your life.
找出事情問題的根源,控制自己的情緒,然後嘗試接受這就是你的人生。
---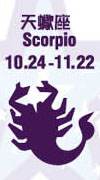 SCORPIO 天蠍座: OCTOBER 21 – NOVEMBER 20
Unalterable forces beg you to change at a time when making changes of any kind is next to impossible. By the time you read this it could be very clear that it's too late to do anything but make the most of this.
無法改變的力量乞求你一次改變一些,這似乎幾乎不可能,等到你看到這個預言時,為時已晚,最好的方法,就是好好利用手邊資源扭轉情勢。
---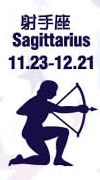 SAGITTARIUS 射手座: NOVEMBER 21 – DECEMBER 20
You wonder what you're missing without realizing that none of us can see our blind spots. What you don't want to see will reveal itself in time. Until then it will continue to beg the question; what am I here for?
你不想見到的事情卻會在某一天爆發,到那時,你將不停自問,我到底為了什麼而在此?
---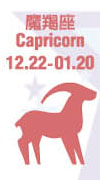 CAPRICORN 魔羯座: DECEMBER 21 – JANUARY 20
Major changes have raised issues that have been ignored for far too long. On the surface you're nitpicking over money or debating as to who's doing the most when this is really about – how much am I worth to you?
一些主要的改變讓過去長久被忽略的事情又興起一番討論,表面上你對付出許多的那個人諸多批判,但其實,你在乎的是,「對你而言,我有多重要」。
---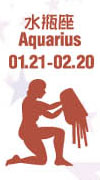 AQUARIUS 水瓶座: JANUARY 21 – FEBRUARY 20
The enormity of your choices and the delayed reactions of those who have to live with them have created quite a stir. Laughing it off would be easier if everyone could lose the need to blame you for busting their bubble.
重大的決定和你對別人慢一步的反應,在生活中激起漣漪。如果別人不這麼責難你戳破美麗的幻影,其實輕鬆帶過會簡單些。
---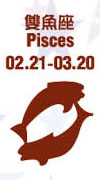 PISCES 雙魚座: FEBRUARY 21 – MARCH 20
Karmic law seems to be coming down pretty hard; if you're missing the point things could get even harder. This is no time to fool yourself and it's no time to think that you can fool your way through the gauntlet.
因果關係的痛苦將直襲你而來,你如果不了解重點,將會有更多問題,別再想要自欺欺人了!
---