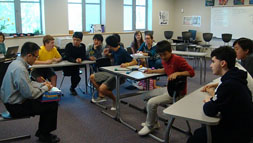 華州第一屆為在主流及非主流學校學習中國文化及語言的學生而舉辦的中文學藝競賽已於五月十五日在貝爾優學區的Interlake High School成功舉行。
該學藝競賽乃由中華文化之旅(CE)及華州中文教師協會(CLTA-WA)合辦。中華文化之旅原先成立的宗旨在於協助主流教師參加中國及臺灣的暑期文化之旅來了解中國文化進而將所學融入教學課程;而華州中文教師協會則透過舉辦中文教師培訓及座談會來提升華州中文中文教師的教學品質。雙方組織有鑒于華州一直以來沒有一個中文競賽活動能讓主流及非主流學校裏正在學習中國語言及文化的學生有彼此交流及學習的機會,因而籌辦此活動。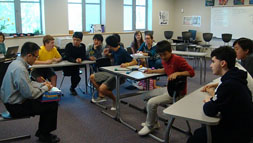 華州第一屆為在主流及非主流學校學習中國文化及語言的學生而舉辦的中文學藝競賽已於五月十五日在貝爾優學區的Interlake High School成功舉行。
該學藝競賽乃由中華文化之旅(CE)及華州中文教師協會(CLTA-WA)合辦。中華文化之旅原先成立的宗旨在於協助主流教師參加中國及臺灣的暑期文化之旅來了解中國文化進而將所學融入教學課程;而華州中文教師協會則透過舉辦中文教師培訓及座談會來提升華州中文中文教師的教學品質。雙方組織有鑒于華州一直以來沒有一個中文競賽活動能讓主流及非主流學校裏正在學習中國語言及文化的學生有彼此交流及學習的機會,因而籌辦此活動。
這次活動從籌劃到舉辦共歷經了七個月。從決定競賽項目,設計題目,安活動程序,接受報名,及比賽,都在籌備義工經過無數次的開會討論及爭辯下而完成。活動能如期舉行更要歸功於中華文化之旅的主席陳錦芬的堅持及大力推動。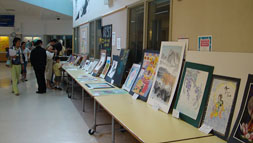 當天從九點開始,在二,三十位工作人員及義工學生的辛勞下分工下,活動在四點左右結束。這次比賽有250多人,27個團體及學校報名參加。參賽最多的學校有西雅圖的學區,貝爾優學區,這次比賽的項目有聽力問答,作文,說故事,詩詞朗誦,才藝競賽,中國常識問答及視效作品徴選。所有比賽項目均依據年齡分組。除了才藝競賽,中國常識問答,視效作品徴選外,所有項目尚分爲主流及非主流兩組。
這次學藝競賽,雖然所有工作人員均全力以赴。主辦單位仍覺得尚有改進的空間,任何的不完美,均是主辦單位未來改善的方向。希望明年能有更多的個人及團體共襄盛擧。
以下為當前三名得獎名單:
作文(華裔中級組)- Jenny Feng,  Fion Chan, Matthew Hsieh 
作文(華裔高級組)-Branden Wang, Carman Wai, Kin Yin Wai
作文(非華裔中級組)-Robert Neir
聽力(華裔中級組)-Isabelle Hua,Yaqing Guo, Michael Zhao
聽力(華裔高級組)-Rona Ji, Jonathan Meng, Matthew Liang
聽力(非華裔中級組)- Robert Neir, Christopher Chin
聽力(非華裔高級組)-Joseph Neir
演講(華裔中級組)- Matthew Zhao
演講(華裔高級組)- Mason Ji, Branden Wang, Robin Chan
演講(非華裔高級組)- Joseph Neir, Varakitsomboon Shing
說故事(華裔初小組)- Katherine Hsiung, Chian-Rung Yang, Michelle Li
說故事(華裔初級組)- Michael Li, Max Trinh, Joshua Tang
個人詩詞朗誦(華裔初小組)- Michelle Li, Katherine Hsiung, Lawrence Chen
個人詩詞朗誦(華裔初級組)- Ethan Hsiung, Michael Li, Jocelyn Chen
個人詩詞朗誦(華裔中級組)- Nancy Wu, Yaqing Guo, Isabelle Hua
個人詩詞朗誦(華裔高級組)- Rona Ji
個人詩詞朗誦(非華裔初級組)- Glory Burford
個人詩詞朗誦(非華裔中級組)- Preston Gulledge, Eli Waalkes, Elliot Long
Choral Reading (初小组)-Seattle Chinese School, 發一崇德文教基金會,
                                                John Muir  Elementary school
Choral Reading (初級组)-Seattle Chinese School, Northwest Chinese School,
Choral Reading (中級组)-Tyee Middle School, the Overlake School
Choral Reading (高級组)- Northwest Chinese School
Talent Show (初小组) – Chinese Dance Academy, 發一崇德文教基金會
Talent Show (初級组) -Tops School
Talent Show (中級组) - Seattle Chinese School, Joshua Zhou, The Overlake School
Talent Show (高級组) -  Jenny Wang, Amenda Pan, Joyce, Tang                                
China Knowledge Bowl (中級组)- The Overlake School, Northwest Chinese School
China Knowledge Bowl 高(級组)- Northwest Chinese School, Newport High School,
                                                        Sammamish High School
Visual Arts (初小组) –  Rric Shiu, Jack Houlihan, Genevieve Potts
Visual Arts (初級组) –Jocelyn Chen, Nina Adams, Joshua Tang
Visual Arts (中級组) – Natalie Chinn, Meddy Greaves, Miranda Stuck
Visual Arts  (高級组) -  Anna Downing, Joyce Tang, Madeleine Colvin                                
 
---
Co-sponsored by Cultural Exploration of Greater China Foundation and Washington State's Chinese Language Teachers Association, the first Chinese Scholastic Competition including heritage and non-heritage students was successfully completed on May 15th at Interlake High School in Bellevue.
As a non-profit community-based organization, Cultural Exploration of Greater China Foundation (CE) has been sending American teachers to China, Hong Kong and Taiwan for the past ten years.  Co-sponsoring this scholastic competition event allows both CE teachers and Chinese Language teachers the opportunity to coach their students, share learning experiences and demonstrate results.
With months of planning from both organizations, the hard working volunteers, especially the leadership of the CE President, Kathy Chen, this event was successfully completed. Over 250 students from 27 schools and organizations competed in a variety of categories including Chinese language composition, story-telling, poem recite, visual arts, talent show and Chinese knowledge. 
As we applaud both organizations for a great start, with some refinement, we envision an even greater event next year to continue this cultural exchange initiative.
Congratulations to the winners in both heritage and non-heritage categories!
Composition(Heritage – Middle)- Jenny Feng,  Fion Chan, Matthew Hsieh 
Composition(Heritage – High)-Branden Wang, Carman Wai, Kin Yin Wai
Composition(Non-Heritage – Middle)-Robert Neir
Listening Comprehension(Heritage – Middle)-Isabelle Hua,Yaqing Guo, Michael Zhao
Listening Comprehension(Heritage – High)-Rona Ji, Jonathan Meng, Matthew Liang
Listening Comprehension(Non-Heritage – Middle)- Robert Neir, Christopher Chin
Listening Comprehension(Non-Heritage – High)-Joseph Neir
Public Speaking(Heritage – Middle)- Matthew Zhao
Public Speaking(Heritage – High)- Mason Ji, Branden Wang, Robin Chan
Public Speaking(Non-Heritage – High)- Joseph Neir, Varakitsomboon Shing
Storytelling(Heritage – Early Primary)- Katherine Hsiung, Chian-Rung Yang, Michelle Li
Storytelling(Heritage – Primary)- Michael Li, Max Trinh, Joshua Tang
Poem Recite(Heritage – Early Primary)- Michelle Li, Katherine Hsiung, Lawrence Chen
Poem Recite(Heritage – Primary)- Ethan Hsiung, Michael Li, Jocelyn Chen
Poem Recite(Heritage – Middle)- Nancy Wu, Yaqing Guo, Isabelle Hua
Poem Recite(Heritage – High)- Rona Ji
Poem Recite(Non Heritage – Primary)- Glory Burford
Poem Recite(Non-Heritage – Middle)- Preston Gulledge, Eli Waalkes, Elliot Long
Choral Reading (Early Primary)-Seattle Chinese School, 發一崇德文教基金會,
                                                John Muir  Elementary school
Choral Reading (Primary)-Seattle Chinese School, Northwest Chinese School,
Choral Reading (Middle)-Tyee Middle School, the Overlake School
Choral Reading (High)- Northwest Chinese School
Talent Show (Early Primary) – Chinese Dance Academy, 發一崇德文教基金會
Talent Show (Primary) -Tops School
Talent Show (Middle) - Seattle Chinese School, Joshua Zhou, The Overlake School
Talent Show (High) -  Jenny Wang, Amenda Pan, Joyce, Tang                                
China Knowledge Bowl (Middle)- The Overlake School, Northwest Chinese School
China Knowledge Bowl (High)- Northwest Chinese School, Newport High School,
                                                        Sammamish High School
Visual Arts (Early Primary) –  Rric Shiu, Jack Houlihan, Genevieve Potts
Visual Arts (Primary) –Jocelyn Chen, Nina Adams, Joshua Tang
Visual Arts (Middle) – Natalie Chinn, Meddy Greaves, Miranda Stuck
Visual Arts  (High) -  Anna Downing, Joyce Tang, Madeleine Colvin                                
School Name
Tyee Middle School
The Overlake School
Sammamish High School
The Northwest School
John Muir Elementary
Northwest Chinese school
Seattle Chinese School
Elearning Chinese Studio
發一崇德文教基金會
Chinese Dance Academy
Lakeside School
Somerset Elementary
Newport High School
Seattle Chinese School
East Ridge Elementary
Timbercrest Middle High
Highland Middle School
Interlake High School
Redmond Jr. High
Redmond High School
Issaquah Middle School
Eastlake High School
Eastside Catholic
Issaquah High School
Tops School
Epiphany School
Asia Pacific Language School