---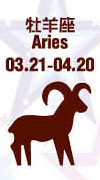 ARIES 牡羊座: MARCH 21 – APRIL 20
You can't complain about the way others do things; half your problems wouldn't exist if you could just let people be. You've spent half your life trying to have it your way. Maybe it's time to lighten up.
你不能抱怨別人做事情,如果你讓別人做自己,很多問題都不會發生,你一直想要堅持己見,或許是時候不要把所有事情都看得那麼嚴肅了!
---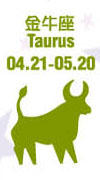 TAURUS 金牛座: APRIL 21 – MAY 20
The writing on the wall will change in the next few months. Make sure your motives are clear and get even clearer about the motives of others. Don't hand your life over until you know for sure that you're done here.
未來幾個月,事情有所改變,請確定自己的動機是清楚的,同時也應了解別人的動機,不要輕易對自己放棄,除非你確定自己已經甘心。
---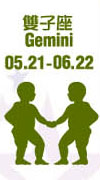 GEMINI 雙子座: MAY 21 – JUNE 20
You can't be sure about anything but at least you've got the light on. Beaming up, or out, or in, will show you where you need to go next. It's OK to branch out; just make sure your connections are for real.
你不可能了解一切,但至少你有一盞燭光,嘗試逃離這個窘境,你將會了解下一步應怎麼做,多嘗試不同的想法是好的,但是也請確定這是真的。
---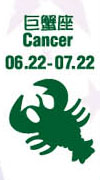 CANCER 巨蟹座: JUNE 21 – JULY 20
Being the one to do it all has its limits; and you've got to wonder where it comes from because it's wearing you out and it doesn't seem to be helping. Rearrange your thinking enough to see when enough's enough.
一個人想要做所有的事情,但是你也有自己的極限,或許你不懂這到底是為了什麼,因為它似乎讓你精疲力竭,而且對你一點幫助也沒有,重新思考,你將了解有時候夠了就是夠了!
---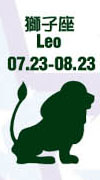 LEO 獅子座: JULY 21 – AUGUST 20
Time out for a little self reflection will help you make sense of what it is that keeps you coming up against the same issue. Ironically, the way out is always easier to see when we close our eyes and go within.
自我反省將會讓你了解應該如何對事情做反應,很反諷的,當你閉上眼然後放手一搏,反而會是更容易的方式。
---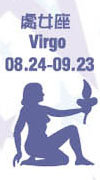 VIRGO 處女座: AUGUST 21 – SEPTEMBER 20
Letting go happens in stages. If you think you're over this, guess again. To get to the next step in the process you'll have to figure out how to turn grief and bitterness into a true reflection of what was.
事情一步步發生,如果你以為已經擺脫這件事情了,其實,還沒有!想走到下一步前,你必須先學會如何將痛苦轉換成反思。
---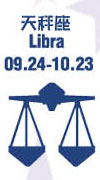 LIBRA 天秤座: SEPTEMBER 21 – OCTOBER 20
The cure for it all could involve the need for a change of scenery; Hello! You don't have time to waste hanging around trying to make things right in a situation where no matter what you do you're always wrong.
想要改變這些事情,包括對於整個態勢的改變,嘿,你沒有時間在那東晃晃,西瞧瞧了,尤其現在的狀況是,不管你怎麼做都錯的時候。
---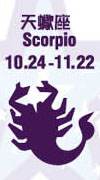 SCORPIO 天蠍座: OCTOBER 21 – NOVEMBER 20
The dreams that brought you to this place may be totally irrelevant at this point in time. Sticking to the program versus starting over has you reassessing everything. If something needs to change, do it.
你的夢想帶領你到一個完全不相關的時刻,不管是照著計劃進行,或重新來過都讓你重頭審視一切,如果有些事情必須改變,那就放手去做。
---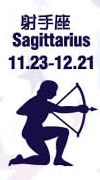 SAGITTARIUS 射手座: NOVEMBER 21 – DECEMBER 20
More free time has opened the space for you to explore your truer visions. The changes of the past 2 years have awakened something that needs a whole new venue, or perhaps another place to put down roots.
更多的自由時間讓你重新尋找更真實的未來,過去兩年的改變,讓你就像睡醒的獅子,使你想要一個全新的發展舞台或是另一個你可以生根的地方。
---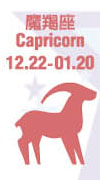 CAPRICORN 魔羯座: DECEMBER 21 – JANUARY 20
You know you're in love but you can't figure out why there are certain things that keep getting in the way. Growing deeper into love always involves letting go of something. What is it that you're holding on to?
你深深的在愛河當中,但你不懂為什麼有些事情卻漸漸離開,愛越深,那你就越有可能需要放棄一些事情,是什麼讓你一直在等候?
---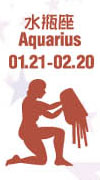 AQUARIUS 水瓶座: JANUARY 21 – FEBRUARY 20
You can't control people's choices or their fate. Recent changes make you wish that you had more to say about who does what. Knowing enough to say nothing is often the best way to get the point across.
你不能控制別人的決定或是他們的命運,最近的改變讓你希望你可以對於什麼人做什麼事情能更直言。了解許多,卻不說太多,將會是讓你可以把事情解決的最好方法。
---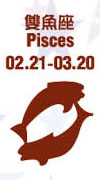 PISCES 雙魚座: FEBRUARY 21 – MARCH 20
Making peace with people who have kept their distance will do a lot to heal the past. The next few months will see everyone stepping far enough beyond their own hurts to finally be willing to forgive and forget.
嘗試冷靜,並且與有些距離外的人們貼近一些,將可以讓你對於過去的痛苦稍作釋懷,未來的幾個月你將會看到人們因為與自身的痛苦遠離而更願意遺忘與包容。
---