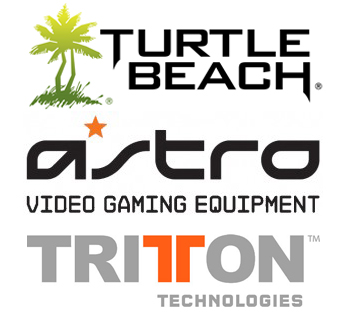 In case you haven't read my previous articles, I've been writing a series of articles reviewing three different high-end gaming headsets. Astro Gaming, Tritton, and Turtle Beach have all sent us some of their best products (the A40, AxPro, and X41 respectively), and each has been spectacular. But you're probably curious as to how these expensive headsets stack up against each other. So here it is: a play by play showdown between these three titanic headphone makers.

In case you haven't read my previous articles, I've been writing a series of articles reviewing three different high-end gaming headsets. Astro Gaming, Tritton, and Turtle Beach have all sent us some of their best products (the A40, AxPro, and X41 respectively), and each has been spectacular. But you're probably curious as to how these expensive headsets stack up against each other. So here it is: a play by play showdown between these three titanic headphone makers.
Sound Quality:
While an expensive headset may do many things, its primary function still remains the same: to make sounds. So what use is a headset without a good quality of sound? After listening to hours of different genres of music, watching several movies, and hours of gameplay, I feel I've tested these three headsets to their limits. And the ruler of this category is Astro's contender: the A40 headset. Its immense 40mm drivers handle any sound thrown its way and the subwoofers will blow your mind. Coming in at a close second is Tritton's Ax Pro. While its discrete speaker system allows for great customization and its bass definitely has more punch, higher pitched sounds sometimes sound a bit off or buzz a bit. Turtle Beach doesn't bring anything special to the table with their X41 set, but it still kicks the pants off any cheap headset on the market. They all sound great, but somebody has to win and in this case it's Astro Gaming.
Surround Sound Quality:
A feature that all these headsets have in common is their Dolby 5.1 Surround Sound. Both Astro's A40 headset and Turtle Beach's X41 use Dolby headphone technology to emulate a 360 degree sound field, while Tritton's Ax Pro uses separate discrete speakers to create an actual surround sound field. To test the quality of this feature, I played Halo: Reach multiplayer and attempted to find my attackers while blindfolded. An impossible task using a normal audio setup, but with these headphones I was able to stand a chance. And while they all helped, what truly stood out was the Tritton Ax Pro's ability to help me zero in on my target. The Dolby headphone technology in the A40 and X41 headset were great, but nothing compared to the Ax Pro. The clear winner here is Tritton, with Turtle Beach and Astro Gaming tied for runner up.
Chat Experiences:
Other than the obvious advantage that a surround sound headset gives you for gaming, the improved microphone capabilities of these beasts is just another reason to purchase them. Anybody can just use the standard microphones that come with your console, but these headsets all offer something special to help you out. Tritton only gives you simple volume control. Whereas from Astro, we have the Mixamp: not only a master control for volume, the mixamp allows you to have immediate access to the balance of the audio fed into your headset between game audio and chat audio. And Turtle Beach has a smart chat feature that automatically adjusts chat volume to match spikes in the game's volume. Obviously Tritton could use some work on their chat support, but Turtle Beach's chat feature blows away anything that Astro has. With Astro's mixamp, constant adjustment must be made in order to keep up with varying game volume, but as long as you use Turtle Beach your chat will come through loud and clear. Turtle Beach wins this round.
Comfort:
Sound quality is important, but it doesn't mean anything if the headset isn't comfortable. So which headset makes your ears feel all warm and cozy? Hands down the Astro A40 wins this battle. Their soft and comfortable round fabric ear cushions fit perfectly even over large ears. After an 8 hour gaming session, only the A40 headset left me with no pain or discomfort at all. The Tritton's square design ear cushions allow more room for your ears, but are made out of a material that is less comfortable after long exposure during gaming. The Turtle Beach X41 headset definitely lost this battle because after only an hour of gaming they began to feel uncomfortable. So, if comfort is your number one priority, take a look at Astro Gaming.
Setup:
When you get your hands on your headset for the first time, setting it up is always the hard part. And for people like me who likes to take their gaming equipment with them for multiplayer events know that easy to set up devices are infinitely superior. When I got a hold of each of these headsets, I had to figure the setup just like any other customer. I fiddled around a bit, and then got out the manual. As for the Turtle Beach Headset, setup was a breeze (it uses usb to power the transmitter so the power source wasn't even an issue). The manual practically wasn't needed. Simply two cords to plug in and done. Astro Gaming presented a bit more of a challenge only because of the sheer amount of stuff that came in the box. Once I'd sorted out which cords were important, set up was almost as easy as Turtle Beach's (with the main exception being a wireless receiver that was separate from the headset). But trying to get Tritton's silver behemoth hooked up for the first time was a total nightmare. Maybe it was the lack of detail in the manual, or maybe it was the sheer number of cords to hook up, but once I'd hooked the system up and got it working, I was loath to disconnect it. Tritton should work on making their product a little more user friendly. While the difference between Astro and Turtle Beach's setup was miniscule, I have to give a slim victory here to our friends at Turtle Beach.
Ease of Use:
Once you've got the system hooked up, there's still so much to do. How well you are able to interface with the device and all its features is important too. As mentioned earlier, Tritton's setup was difficult due to a simplistic manual for a complicated product. The section on the operation of the device was equally simple. I still found myself questioning its proper usage and all in all was quite confused. Turtle Beach had very little features compared to the other two, and its simplistic design made it extremely easy to interface with. Astro's many features took awhile to get used to, but a glance or two at operating manuals got me up and running in no time at all. The winner here is Turtle Beach merely because a child could operate it with little to no instruction.
Portability:
I know that if you're going to spend over 100 bucks on a gaming headset, you're probably going to keep it locked up at home with your console. But there are plenty of users out there that will want to be able to take these devices to other peoples' homes, social events, and even on the go. So which of these is the best traveler? Tritton's headset is obviously the worst contender for this category. With its dependence on AC power and complicated setup, it never stood a chance at being the most portable. Turtle Beach's X41 headset has only 2 cords and a transmitter in addition to the headset, which works in its favor. But nothing could possibly stand up to the Astro A40 in terms of portability. All the cords that come with it allow for intense customizability and while wireless needs a power source to operate, the addition of a wired 8mm standard audio cable means that the A40 can hook up to just about anything (with no need for a power source). It even comes with a nice (if somewhat large) case for you keep it safe while in transit. No contest, the A40 wins here.
Appearance:
I know this category is purely objective and has nothing to do with the performance of the device. But it's important to me to not only have good working hardware, but good looks as well. And while I am a fan of the A40's sleek black design (with replaceable ear pad plates), I'm a sucker for the space age silver with glowing logo on the Ax Pro headset. One look at the Ax Pro and you know they mean business. Even the volume control glows different colors. It's like something out of the future. Turtle Beach's plain white humble design may get points for being modest. But it can't compete with the Titanic Tritton Ax Pro and the all too cool Astro A40. While it comes down to individual opinion, I've got to say Tritton wins here.
Price:
I can't exactly give my opinion here. Simple facts are all I can give. The cheapest headset is the Tritton Ax Pro coming in at $169.99 according to their website. Next up is the Turtle Beach X41 which costs $199.99 on their website. And draining $279.95 from your wallet is the Astro A40 headset (or $199.95 without the mixamp or other accessories). Whether you think these prices are worth it are up to you, but I will remind you that you get what you pay for.
Conclusion:
My personal favorite from the get go was the Tritton Ax Pro. Its design caught my eye right away, and its discrete speaker system will have me look to them for all my competitive gaming, but they are a tad uncomfortable and hard take with me. The Turtle Beach X41 headset infatuated me for a short span, with its convenience and ease of use, but lacked depth and sheer sound power. In the end, I feel a tentative victory for the Astro A40 System is deserved. After days of testing, I felt I could always retreat back to them for a good gaming experience. Maybe they aren't the headset for you, but I strongly recommend any one of these three headsets for someone looking for a high quality gaming peripheral.