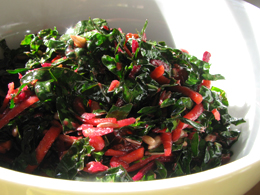 Increasingly, it seems, food is described not as "delicious", "scrumptious," "delectable," or any other mouthwatering superlatives like "ooey gooey" and "decadent" that make you want to sink your teeth in and allow your taste buds to do a little dance, but instead it's labeled as "gluten-free," "dairy-free," "sugar-free," "fat-free", "meat-free," or "vegan" (free of all animal products) just to name a few. Being that I've been on a gluten and dairy-free diet for the past seven months, many of these labels have been indispensable; however, it seems that sometimes we get so caught up in what a certain dish
does not
have that we forget about what's equally crucial…what it
does
have.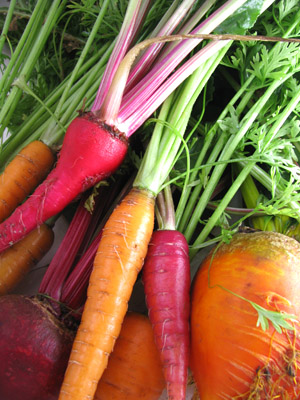 Increasingly, it seems, food is described not as "delicious", "scrumptious," "delectable," or any other mouthwatering superlatives like "ooey gooey" and "decadent" that make you want to sink your teeth in and allow your taste buds to do a little dance, but instead it's labeled as "gluten-free," "dairy-free," "sugar-free," "fat-free", "meat-free," or "vegan" (free of all animal products) just to name a few. Being that I've been on a gluten and dairy-free diet for the past seven months, many of these labels have been indispensable; however, it seems that sometimes we get so caught up in what a certain dish does not have that we forget about what's equally crucial…what it does have.
There is a great cooking and lifestyle magazine for people living with food allergies and sensitivities called, "Living Without." The title is clear and to the point, yet isn't it possible to exclude certain foods from your diet for either health, religious, or ethical reasons and live with instead of without?
Someone asked me a while ago if I had many vegan recipes in my blog. My immediate response was "no." When you eat a salad, for instance, do you think of it as vegan? Are carrots sugar-free? When you have roasted potatoes with grilled fish, do you think, Yum, I'm having a gluten-free dinner!? I don't actually think of the Savor the Day recipes as "vegetarian", "vegan," or necessarily even gluten or dairy-free since most of the time I'm just trying to create something with the ingredients available to me at the time. Yet, after perusing my blog archives, I discovered that a fair number of the recipes are indeed vegetarian or even vegan and of course, many of late are gluten and dairy-free.
Despite massive improvements in the "meat-free" culinary world, when I hear the word "vegetarian," I still picture the vegetarian food from my youth: alfalfa sprouts galore, lots and lots of beans, and heavy and dense whole wheat pizza laden in cheese and mushy brown broccoli. The word "vegan" recalls bizarre tasting baked goods passing themselves off as brownies, while "sugar-free" makes my mouth pucker with the bitter aftertaste of artificial sweeteners. Of course, these words don't actually connote these things, but unfortunately, associations made at an impressionable age are not easily changed. I've had some amazing cakes and cookies in the ensuing years made without wheat, dairy, or sugar. And there are so many scrumptious meat-free foods that we eat daily and don't even know we're eating "vegetarian." I love vegetarian, vegan, raw, gluten-free, dairy-free, and sugar-free foods, but I prefer them without the label and like it when they're good because they're good and not because they're made without such and such.
This year I have a robust patch of kale growing in my garden. I've been experimenting with different ways to prepare it, and I've finally created a salad that's so good I find myself eating it by the bowlful. It's healthy. It's raw. It's vegan. It's dairy-free. It's gluten-free. It's sugar-free. And probably free of a whole host of other things as well, but I'd rather just call it a Delicious Garden Salad because the ingredients come straight from my garden, and it is indeed quite delicious.
Yes, it's healthy and looks a bit like it came from the menu of a hippie restaurant or the deli at a natural foods store, but it's deceptively tasty. Even my dad ate it with gusto when I served it to him alongside barbecued ribs for Fathers' Day.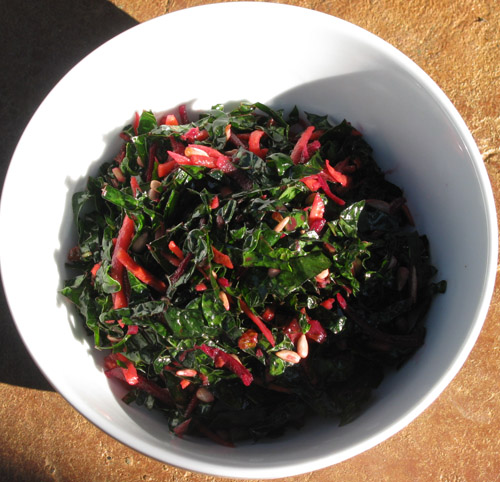 Delicious Garden Salad Recipe 
with dinosaur kale, beetroot, and carrots
serves 4
1 bunch of kale*, ribs removed and thinly sliced (about 4 cups)
2 carrots, peeled and grated (about 1 cup)
1 beet, peeled and grated (about 1 cup)
½ cup raw sunflower seeds
½ cup raisins, chopped
¼ cup + 1 tbs. extra virgin olive oil
¼ cup apple cider vinegar
2 tsp. tamari
To remove the rib/stalk from washed kale, start from the bottom and run your thumb and index finger along the stalk. To slice the kale into a chiffonade, stack the leaves one on top of the other, roll them width-wise into a long cylinder, and then make thin slices crosswise. Do not attempt expedite the process by grating the leaves in a food processor. I tried and had disastrous results.
In a large bowl, combine the sliced kale and grated carrots and beets with the sunflower seeds and chopped raisins. Drizzle with the olive oil and then, with your hands, massage the olive oil into the kale. This will make the kale more tender and succulent. Mix in the vinegar and tamari. Enjoy!
*I use cavalo nero (also called dinosaur kale, Tuscan kale, and lacinato), but the curly variety will work too.
---
About Meadow Linn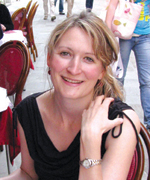 Meadow Linn's earliest childhood memories are about food. She can't remember a time when she wasn't mixing and inventing in the kitchen. At 18 years old, Meadow started doing gourmet catering for retreats and special events and is now the chef and owner of "Savor the Day," which offers professional chef services and culinary adventures in the Paso Robles wine region. Passionate about the culinary arts, Meadow prepares dishes from around the world using fresh, local, and organic ingredients. While getting her Masters Degree in French Cultural Studies from Columbia University, Meadow focused her research on the History and Sociology of the Culinary Arts. In addition to catering, Meadow writes on a variety of food topics and teaches culinary arts. She is the author of the popular blog, "Savor the Day" (http://savortheday.blogspot.com/) and is currently at work on her first cookbook.