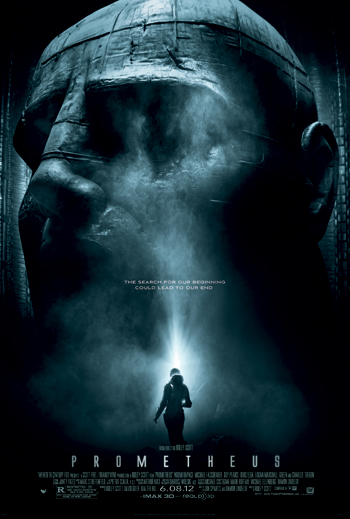 With the new film "Prometheus," director Ridley Scott reboots the "Alien" franchise that launched his early directing career. It's his first sci-fi film since 1982's "Blade Runner," and Scott has not forgotten the ingredients that make up the genre: spaceships, monsters, high-tech gadgets, and scantily-clad women. In fact, he utilizes these same tropes to such an extent that they begin wearing thin as the film progresses, working as more of a crutch than a solid plot device. It seems that while Scott has reconnected with his mastery of sci-fi, he's abandoned the skill for storytelling he so expertly displayed with "Gladiator," and "Thelma and Louise."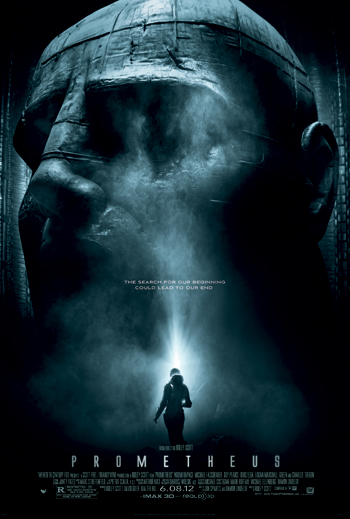 With the new film "Prometheus," director Ridley Scott reboots the "Alien" franchise that launched his early directing career. It's his first sci-fi film since 1982's "Blade Runner," and Scott has not forgotten the ingredients that make up the genre: spaceships, monsters, high-tech gadgets, and scantily-clad women. In fact, he utilizes these same tropes to such an extent that they begin wearing thin as the film progresses, working as more of a crutch than a solid plot device. It seems that while Scott has reconnected with his mastery of sci-fi, he's abandoned the skill for storytelling he so expertly displayed with "Gladiator," and "Thelma and Louise."
Set in the year 2093, "Prometheus" centers on a space crew aboard the scientific vessel Prometheus who travel to a distant moon in search of alien life. This expedition is prompted after archeologist Elizabeth Shaw (Noomi Rapace) and her partner Charlie Holloway (Logan Marshall-Green) discover a similar star map among the remains of several unrelated civilizations. Shaw believes these maps are an invitation from humanity's creators to search for them and receive answers about where humans come from.
Shaw and her team are instructed by the mission's director Meredith Vickers (Charlize Theron) to avoid contact with the aliens and report back to the ship should they encounter any. But, upon arrival to their destination, the team's curiosity gets the best of them as they tamper with various artifacts found within an alien structure near the ship. This results in surprising moments of gore and violence that will satisfy fans of the "Alien" series.
The problem with "Prometheus" is its overly ambitious effort to address complex questions about life's origins while giving its characters ample time to develop (within two hours, nonetheless). The script, written by Jon Spaihts and Damon Lindelof, upholds the mystery and suspense of the previous films but lacks the engaging characters that made them watchable.
That's not to say that "Prometheus" is unwatchable. Scott is one of cinema's preeminent visionaries with a superior attention to detail. Here, he presents audiences with another visually stunning universe. The swanky interior of the spacecraft and metallic architecture of the alien structure emphasize Scott's unique vision.
But what good is this marvelous universe if it is populated with lackluster characters? Sure, the actors make the most of the material they're given, especially Michael Fassbender, who gives his android character David both a tender and disquieting sensibility. Rapace is great also, but never quite rises to the level of wit and grit that made Sigourney Weaver's Ellen Ripley the iconic character of the earlier films.
"Prometheus" will dazzle audiences with its impressive special effects and blue-grey palette that beautifully contrasts with cherry-colored lasers and bright red flamethrowers. It is one cool, space-age ride, but one without a hero to hold on to.