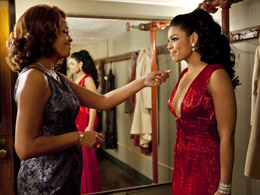 Sparkle is a story about pursuing a dream in music. But what makes it so special is the appearance of the late super star Whitney Houston.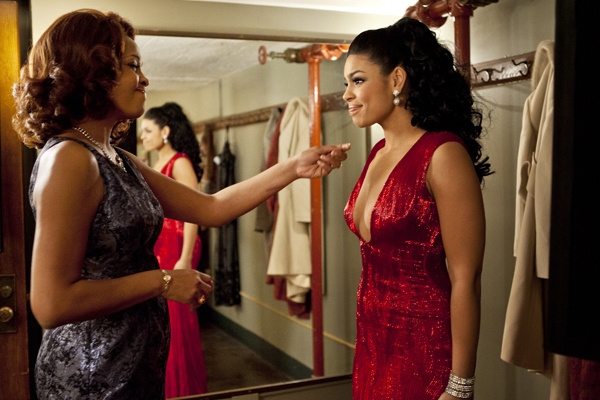 Sparkle is a story about pursuing a dream in music. But what makes it so special is the appearance of the late super star Whitney Houston. Set in 1968, three sisters of Detroit Sister (Carmen Ejogo), Dee (Tika Sumpter), and Sparkle (Jordin Sparks) struggled to unlock their talent over their mother Emma's (Whitney Houston) objections. As Sister and Dee went on different paths of their lives, the music drama continues to follow the thread of Sparkle's fulfillment of her music destiny accompanied by her romance with Stix (Derek Luke).
This rendition the remake of the 1976 music drama definitely has its featured producer and actress-Whitney Houston's take on it. As a drama, Sparkle highlights fascinating music that underscores the storyline. For those who expect to have a Whitney and Jordin Sparks' taste of the classic Curtis Mayfield songs "Something He Can Feel," "Jump," "Hooked on Your Love" – written for the original 1976 film, the 2012 Sparkle would not let you down.
Producer Debra Martin Chase sees Sparkle as an ideal merging of drama and music. However, as amazing as the music is, it might be an inevitable tradeoff between letting the drama fully convey the spirit of the story and presenting a more comprehensive music performance. It is not until the end of the story can we perfectly enjoy a performance of Sparkle.
Similarly, Sparkle did not play the major role until later in the story. This could be misled by the title of the film implies her being the diva living out the spirit of "realizing your gift and using them." Instead, the beginning of the drama features the sisterhood and perhaps the attractive Sister who leads the "Sister and her sisters" singing group.
However, as Sister made a detrimental decision to follow the showbiz success Satin (Mike Epps) in pursuit of fortune and fame, she eventually walks on a path of desperation that overshadows her talent. Dee, on the other hand, has her life goal focused on academics. The center of the story switches to Sparkle all in a sudden, and ends with her beautiful voice singing for her own concert put together by Stix. It might have been a better flow if the storyline traces down Sparkle's dream pursuit, though the audience could be too immersed in the music, choreography, and costumes of the fascinating cast to notice the blunt transition from sisterhood to Sparkle.
Whitney, in collaboration with Chase, had worked on the film for over 12 years, showing strong commitment to its theme – "believing in oneself to make dreams come true." The pleasure of enjoying Whitney's last performance on screen is certainly a celebration of her legacy in the music world.
Rating: PG-13; Running time: 120min