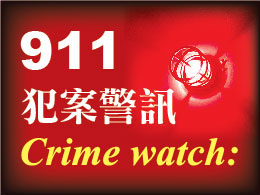 警方火速破案劫銀行獨行賊落網 Bank robber arrested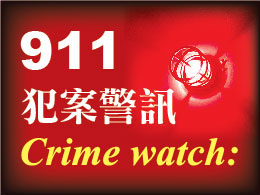 西雅圖北區汽車旅館遭劫 North Seattle motel robbed, suspects still at large
Sep 4 – 警方火速破案劫銀行獨行賊落網
警方破案神速,市中心銀行逮捕銀行劫犯。4日上午11時,24歲男子背著大袋子準備裝錢,走進位於第二大道815號鎖匙銀行分行聲稱打劫。銀行職員觸動公司報警系統,立即撥打911電話報警,並提供了詳細信息和疑犯面容描述。
收取現金後,疑犯逃離銀行。警方巡邏員警接獲通報和K90自行車隊迅速趕往現場,在前門與警員碰上,順利把疑犯拘捕。
FBI劫案特別工作組的探員事後作出回應和清理現場。將所獲現金全數交還銀行。疑犯被遣送回警察總部筆錄口供,控以搶劫罪,暫時關押在金郡監獄。
Bank robber arrested
Quick responding officers arrest bank robber at downtown bank. Today, just shortly after 11:00 a.m., a 24-year-old man walked into the Key Bank at 815 2nd Ave and demanded money be put in a bag he was carrying.  The bank alarm company called 911 and provided details and the suspect description. After receiving cash, the suspect fled the bank.  Officers working directed hot spot patrols in the area and K90 bike units quickly arrived and took the suspect into custody without incident as he was walking out the front door. Detectives from the FBI Robbery Task Force responded and processed the scene. All of the cash was accounted for and returned to the bank. The suspect was transported to Police Headquarters for processing. He was booked into King County Jail for Investigation of Robbery.
---
Aug 31 – 西雅圖北區汽車旅館遭劫
午夜前,一名男子手持手槍物體,指嚇位於4114 Aurora Ave N馬可孛羅汽車旅館夜班服務員。強迫受害者返回辦公室,並要求打開店內夾萬,取走了現金和其他幾樣物品後,將店員捆綁在辦公室,然後向不知名方向逃跑。其後店員自行鬆綁,並撥打911報警。店員並沒有受傷,警方人員迅速趕到,但疑犯已逃去無蹤。偵緝人員也作出回應,已和受害者筆錄和處理現場。目擊唯一的疑犯描述是名西班牙裔男性,約30多歲,手持手槍。另外,雖然沒人見過第二疑犯,但疑犯曾致電給予協助。案件仍然有待搶劫小組繼續調查。任何人士能對此提供進一步信息,請撥打911。
North Seattle motel robbed, suspects still at large
A man armed with a handgun confronted the night clerk of the Marco Polo Motel last night shortly before midnight.  The suspect confronted the clerk just outside the office of the motel, located at 4114 Aurora Avenue North, and then forced the victim back into the office where he demanded access to the safe.  The suspect took cash and several other items.  The suspect then tied up the victim and left him in the office before fleeing in an unknown direction.  The clerk was able to free himself and call 911.  The clerk was not injured.  Police arrived quickly but the suspect was not located.  Robbery detectives also responded and interviewed the victim and processed the scene.  The only description of the suspect is a Hispanic male, in his 30's, armed with a handgun. Although a second suspect was not seen, it appeared that the suspect was speaking to an accomplice on his cell phone.    This remains an active and on-going robbery investigation.  Anyone with information on this incident is asked to call 911.