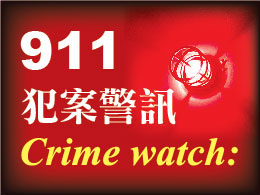 西湖地下車站發生槍擊 Shots fired inside Westlake Tunnel, no apparent injuries
狂燥男子襲擊三明治店員工 Man arrested for assaulting sandwich shop employee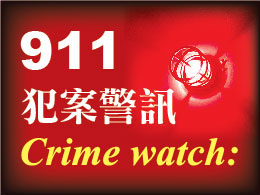 西湖地下車站發生槍擊
1月1日晚單車巡警在西湖公園,聽到從西湖地下車站通道內發生數下槍響。警員其後搜索該區,並沒有發現任何傷者,但在站內隔層通道內有發現彈殼及子彈碎片。
晚上11:40,西區分局西湖公園單車巡邏警員,聽到來自隧道內的數下槍聲。他們立即通知警察總台,尋求額外人手到現場支援。警員其後看到幾名人士從松樹街與第三大道站內出口爭相逃逸。警員截停了一名逃離人士,他說聽到了槍聲,但並沒有看到實際槍擊過程。
警員無法找到任何目睹實際開槍證人。西雅圖警方聯同金郡警長辦公室,從南端入口的自動扶手電梯底下的通道隔層,發現6枚彈殼和子彈碎片。警方現正聯絡站內和周邊商店,希望可循閉路電視攝影,了解當日槍擊過程及疑犯樣貌。
Shots fired inside Westlake Tunnel, no apparent injuries
Bike officers were in Westlake Park last night when they heard several gunshots coming from inside the Westlake Metro bus tunnel late last night.   Officers searched the area and did not locate any injured people, but did recover shell casings and bullet fragments from the Mezzanine level of the tunnel.
At about 11:40 pm last night, two West Precinct bicycle officers were patrolling Westlake Park when they heard several gunshots coming from inside the tunnel.  They immediately broadcast that information on the police radio, and headed into the tunnel to investigate as additional officers responded to the scene.  The officers saw several people fleeing the tunnel exit onto Pine Street and run southbound onto Third Avenue.  Officers stopped one person who stated that he heard the shots, but did not witness the actual shooting.
Officers could not locate any actual witnesses to the shots fired.  Seattle Police and King County Sheriff's Office deputies worked together as six bullet casings and bullet fragments were recovered from the Mezzanine level at the bottom of the South escalator.  Detectives are now reviewing surveillance video from inside the tunnel and surrounding businesses that may assist in identifying the suspect.
狂燥男子襲擊三明治店員工

警員目睹三明治店遭滋擾。上午大約5:00時巡邏警員看到一名男子在錦繡大道(Fairview Ave) 2002號地鐵(Subway)三明治店內揮舞著雙臂,似乎是在櫃檯前對店內職員叫囂。該員工隨後跑到店外,疑犯緊追其後。
警員繼續看到男子揮舞著雙臂,引起了他的注意。警員把巡邏車駛進了停車場,並觀察疑犯在店員前晃動和兩次踢向他的腿。警員隨後離開了他的警車,並責令疑犯伏卧在地。疑犯變得非常激動,並拒絕遵守警員命令。警員隨後告訴被害人退回店裡,鎖上大門。疑犯變得越來越激動,拒絕所有命令並開始邁向警員。警員解開槍套,拔出他的配槍,再次責令疑犯伏卧在地。
其他警員陸續抵達現場,疑犯最終履行指示卧伏在地。其後被拘捕,沒有進一步滋擾生事,並遣送到派出所。據受害人聲稱,疑犯在店內逗留了兩個多小時。該員工告訴疑犯說,他不能在店內睡覺,需要離開使他可以清潔。疑犯因此變得心煩意燥,續而攻擊被害者。店員輕微擦傷了腿部。疑犯被關進金郡監獄接受進一步查問。
Man arrested for assaulting sandwich shop employee
Officer on-views a disturbance inside a sandwich shop. This morning at approximately 5:00 a.m. an officer on patrol observed a man inside a Subway sandwich shop at 2002 Fairview Av waving his arms and appeared to be yelling at the employee behind the counter. The employee ran outside, and the suspect followed.
The officer continued to observe and then saw the worker waving his arms to get his attention. The officer pulled into the parking lot and observed the suspect swing at the employee and kicks him twice in the leg. The officer got out of his car and ordered the suspect to the ground. The suspect was extremely agitated and refused to comply with the officer's orders. The officer told the victim to go back inside the store and shut the door. The suspect became more agitated and also refused all orders and began moving towards the officer. The officer un-holstered his department issued Taser and once again ordered the suspect to the ground.
As other officers began arriving in the area, the suspect finally complied and went to the ground. He was taken into custody without further incident and transported to the precinct. According to the victim, the suspect had been inside the store for over two hours. The employee told the man that he could not sleep inside the store and needed to leave so that he could clean. The suspect became upset and attacked the victim. The victim sustained minor scrapes to his leg. The suspect was booked into King County Jail for Assault.