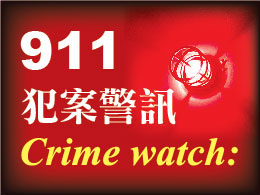 四歲童獨自留車上被可疑男子盯上 A suspicious man tried to enter a parked car occupied by a 4-year-old boy
積犯在公園看黃書自慰 Officers catch sex offender literally with his pants down in Cal Anderson Park
男子試圖當家長面前綁架兒童 Attempt child kidnapping thwarted during Race for the Cure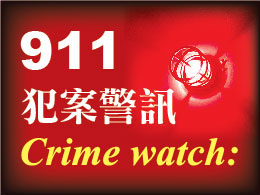 June 3
四歲童獨自留車上被可疑男子盯上
一名婦女將4歲的兒子獨自留在車上等待她送女兒上小學。當她回到車上時,兒子告訴她剛才有一名中青年西班牙裔男子試圖拉開車門的四個把手進入車內。見這名婦女返回才作罷。這名婦女立即驅車追趕,20分鐘後報警。
A suspicious man tried to enter a parked car occupied by a 4-year-old boy
A woman left her 4- year-old son in her parked car while she walked her daughter to elementary school. When she returned, her 4- year-old son told her that a Hispanic man tried to get into the car by trying all the doors. She tried to follow the vehicle but lost sight of it and called 911 20minutes later.
June 3
積犯在公園看黃書自慰
星期日卡爾安德森公園(Cal Anderson Park)內有不少家長及兒童在玩樂。而公園內噴泉邊坐著的一名男子卻大煞風景。巡警發現這名男子一手捧著黃色雜誌正看得津津有味,另一手縮在其寬大的上衣內。該男子承認正在自慰,警方記錄顯示這名男子是曾經登記在案的性犯罪者。巡警還在他的隨身行李中找到不少黃色刊物,半瓶潤滑劑,和一個性玩具。
Officers catch sex offender literally with his pants down in Cal Anderson Park
Cal Anderson was crowded, with lots of families and small children playing in the park, which made it all the more alarming when they received a report of a man sitting by the park fountain, reading pornographic magazines and fondling himself. When officers rode up to the man near the park's fountain, they found him reading a pornographic magazine and one arm tucked inside his oversized t-shirt. He admitted that officers had literally caught him with his pants down. This man is also a registered sex offender—and found he was carrying several other pornographic magazines, a half-empty container of lubricant and had a sex toy in his backpack.
June 2
男子試圖當家長面前綁架兒童
當不少家庭參加在西雅圖中心舉辦的科曼普吉特海灣比賽(Komen Puget Sound Race)比賽時,一名男子試圖把一名兒童從他祖母手中拉走,在這名兒童的阿姨上前制止後逃跑。被隨後追趕上的孩子爸爸和叔叔協同路上遇到的員警一起捉住。另一個家庭成員稱當日早些時候該嫌犯曾試圖綁架另一名兒童未遂。
Attempt child kidnapping thwarted during Race for the Cure
The family of the child was participating in today's Komen Puget Sound Race for the Cure around the Seattle Center this morning. A stranger approached the child and grabbed him, pulling him away from his grandmother's hand. The child's aunt confronted the man and told him to let go.  The suspect did, and then took off running. The child's father and uncle followed the suspect to 4th and Cedar, where they alerted a Seattle Police officer on traffic control for the event of the situation. Another family said that the suspect had attempted to grab another child earlier on the route before he had attempted to grab the 4-year-old.
如欲獲取更詳盡資料,請瀏覽西雅圖警方竊案網頁spdblotter.seattle.gov
For more information, visit Seattle Police Department Blotter at spdblotter.seattle.gov.