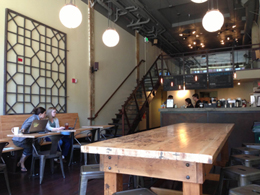 The Eastern Café at 510 Maynard Ave. S opened up its doors on May 28, offering what owner I-Miun Liu described as a "more European, western style of café compared to what's already in Chinatown."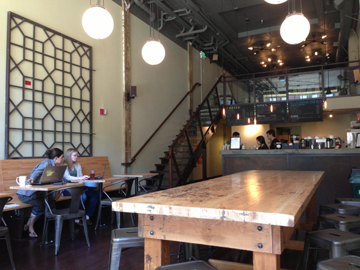 The Eastern Café at 510 Maynard Ave. S opened up its doors on May 28, offering what owner I-Miun Liu described as a "more European, western style of café compared to what's already in Chinatown."
Liu hopes the Eastern Café will attract the young professionals in the area, giving them a space to meet friends for coffee or work on their laptops.
"The number one thing I told my contractor when I met him was that I wanted this place to look completely different from every other place in Chinatown." Liu said. "I didn't want to capitalize on the same customer base that is already being served by the other businesses here."
Crucial to the opening of the Eastern Café was assistance from the Chinatown International District Business Improvement Area (BIA). The BIA is an organization funded by a self-imposed assessment on business owners in the area that serves to promote the economic health of the neighborhood.
Liu says that without their assistance, the Eastern Café might not have opened. He had been looking for a location for his café for over two years, and when he finally found a space, the BIA walked him through the permitting process and connected him with a custom contractor.
Liu has been in business in the Chinatown/International District(ID) since 2001 when he opened Oasis Tea Zone. About three years ago, Liu began using the BIA as a resource to improve his business. The BIA included Oasis in food walks and promoted his bubble tea on Facebook. In addition to this support, the BIA has partnered with the Seattle Chinatown-ID Preservation and Development Authority (PDA) to establish a new retail recruitment program that offers many lines of support for businesses interested in locating in the Chinatown/ID.
"We have Oasis Tea Zone in other neighborhoods and in all of these communities I've never seen another neighborhood that has organizations like this," said Liu "They really help you out".
He added that not enough  business owners in the area take advantage of the BIA's resources.
"We've probably doubled or tripled our business in the last three years," he said, "And it's due to our connection with the community and the exposure from the BIA".  
The Eastern Café is one in a new wave of restaurants opening this summer—including Bun on 7th Avenue, and Boiling Point (a new hotpot restaurant) on 5th Avenue in the Uwajimaya complex. The Eastern Café is now open daily from 9:00 a.m. to 10:00 p.m., serving coffee, tea, sandwiches, beer and wine.
---
Grace Gehman is a native Seattleite and a 3rd year public affairs student at Seattle University. Her fields of focus are urban planning and non-profit work.