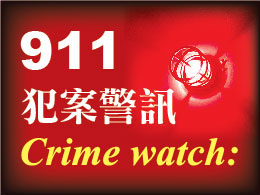 iPad追蹤軟體助警找到搶劫嫌犯 iPad tracking program led officers to straight to robbery suspect
男子超市前鬧事被人用刀割傷鼻子 Man cut on face after confronting another man outside a North Seattle grocery store
男子過馬路被車撞 Car/pedestrian collision investigation in Wedgwood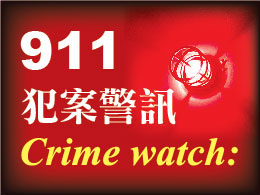 June 15
iPad追蹤軟體助警找到搶劫嫌犯
6月15日,一名男子步行經過高速公路公園(Freeway Park)被兩名男子毆打並搶走一部iPad, 這名男子報警後隨即開始啟動他iPad裡的定位追蹤軟體跟蹤iPad位置。警方最終發現嫌疑人和那部幫了大忙的iPad。
iPad tracking program led officers to straight to robbery suspect
A man was approached by two men who beaten and robbed of his iPad on June 15 when the victim was walking through Freeway Park. The victim had a tracking program for his iPad. After calling 911 he began tracking the device. Officers working a VPEP patrol responded to the area and located the suspect still holding on to the iPad.
June 14
男子超市前鬧事被人用刀割傷鼻子
一名男子在北西雅圖一家超市前對路過的行人和顧客大喊大鬧並踢人,被另一名男子用刀割傷鼻子。持刀者傷人後步行離開現場。
Man cut on face after confronting another man outside a North Seattle grocery store
A man causing a disturbance by yelling, kicking the customers and passer-by outside a North Seattle QFC was cut on the nose by another man who remains at large.
June 12
男子過馬路被車撞
早上10點39分一男子在東北35街和東北75街過馬路時被向南行駛的一輛車撞成重傷,生命垂危。該男子隨即被送醫救治,目前警方正在介入調查此次事件。
Car/pedestrian collision investigation in Wedgwood
At 10:39 am a man got off a Metro coach and stepped into the southbound lanes of 35th Avenue NE. He was struck by a car driving south on 35th and sustained life-threatening injuries. He was transported to Harborview Medical Center.  This remains an active and on-going TCIS investigation.

如欲獲取更詳盡資料,請瀏覽西雅圖警方竊案網頁spdblotter.seattle.gov
For more information, visit Seattle Police Department Blotter at spdblotter.seattle.gov.