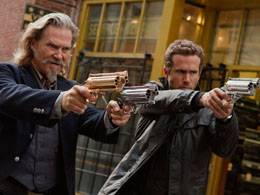 Sometimes, a big Hollywood star takes on a role in a movie or a television show that confuses all fans and non-fans alike. It's so random and uncomfortably outside of the star's usual choices, and not in any way provocative. Simply, the second it's announced, all will think one thing: "what were they thinking?"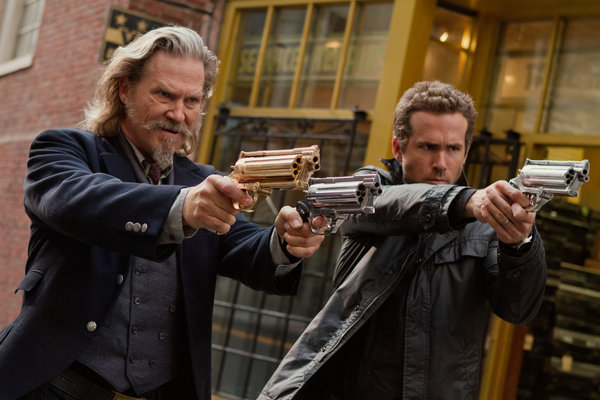 Sometimes, a big Hollywood star takes on a role in a movie or a television show that confuses all fans and non-fans alike. It's so random and uncomfortably outside of the star's usual choices, and not in any way provocative. Simply, the second it's announced, all will think one thing: "what were they thinking?"
Would you see a "science fiction action" (using that term carefully) flick starring Jeff Bridges and Ryan Reynolds about dead spirits working on earth to gather the dead spirits who have managed to run away from… being dead? Because that's what R.I.P.D. is. The Rest In Peace Department.
These dead spirits lingering around amongst the living look like the living. The R.I.P.D. hunts them down, throws some cumin around (the dead's poison, apparently), and these spirits turn into ravaging, crazy, disfigured aliens, at which point, our two heroes chase them down with their fancy weapons and try to protect the humans.
Oh, I forgot. Since our heroes are also, technically, dead, they roam around earth in disguise. Bridges' character is Roy Pulsipher, an ex-U.S. Marshal from the 1800s, a rough-and-tumble, hat-wearing man's man who does not want no goddamn, new rookie ass pardner (that's how he talked) is disguised as an attractive Russian model, while Reynolds' character, newly dead Boston cop Nick Walker, is an elderly Chinese man. Let the laughter ensue.
Except it's not really that funny. Nick does not accept being dead and Roy does not want no goddamn new rookie ass pardner. But they still need to work together and fight these alien/dead spirit hybrids while also uncovering secrets that could potentially lead to the forever doom of humankind.
You'd think, "Wow, this sounds like a great story!" It does sound like a great story, although does it not sound a little bit familiar? Oh that's right; Men in Black already did this. And Men in Black II. And Men in Black III. Minus the dead spirits. How many times does the word dead appear in this review?
The movie very quickly turns into one of those long and uncomfortable attempts at a comedic gag that one might see from an amateur comedian at a late night club. It skips, it jumps, it shoots something blue, and suddenly, the two heroes are bickering again while a dead hybrid runs away. Lather, rinse, and repeat.
Why, Jeff Bridges? Why, Ryan Reynolds? Were you bored? Or was this movie doomed to be a dead, unspirited waste of 96 minutes right from the start, no matter who our heroes were?
The answer is yes. Yes, it was.
Running time: 1hr 36min; Rated: PG-13