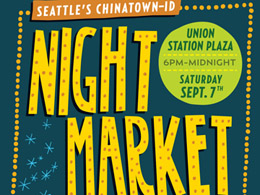 Cheap beer, crispy pork belly, B-Boy Dance Competition—what's not to like about night market?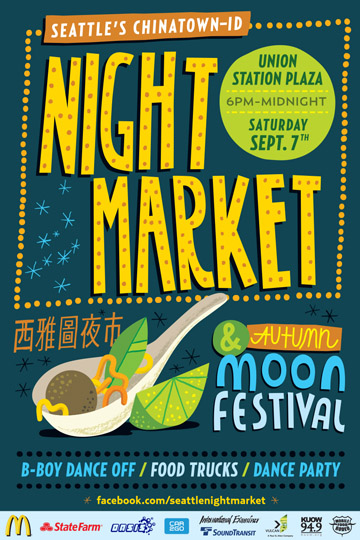 Cheap beer, crispy pork belly, B-Boy Dance Competition—what's not to like about night market?
On Saturday, Sept.7, the Chinatown-International District Business Improvement Area (CIDBIA) will transform the South Fifth Avenue and Union Station Plaza into a site for night market and moon festival.
Also known as the Mid-Autumn Festival, the Moon Festival is a celebration originated from Asia 3,000 years ago which reveres the official end of summer harvest. During the fifteenth day of the eighth month in the Chinese calendar (Autumn Equinox for the Western Calendar), relatives and friends gather and pray for conceptual or material satisfaction when the moon is full and brightest.
This year, visitors get to witness the street of Bangkok, Thailand without the pricy plane tickets. From decoration, booths, to doodads such as handmade jewelries–attendees are free to explore around 30 urban and outdoor vendors.
Delicacies make up a large portion of this festival. Seattle's Mobile Food Rodeo and Fremont Sunday Market partnered with the Chinatown-ID to bring an array of palates into the neighborhood.
Seattle favorites such as Crisp Creperie, a food truck famous for its seasonal sweet and savory crepes, and Tokyo Dog, which serves Japanese style hot dogs, will add unique twists to their menus by cooking up at least one $5 Asian-inspired item, one night only. Asian inspired bites such as Arab egg rolls and spicy tofu burgers with ginger garlic will be available.
"We are excited to be part of such a great cultural event," said Harvey Wolfe, owner of Nosh Food Truck. "Food always crosses ethnic boundaries, bringing people together." Wolfe later revealed his festive ingredient—pork belly with green papaya salad.
Visitors who enjoy convivial atmosphere can take advantage of the Kirin Ichiban Beer Garden located on King Street below the Chinese Gate. Beer Garden will provide $4 discounted beer during happy hour lasting from 4 p.m. to 6 p.m., and again from 11.p.m. until midnight.
As for entertainment, kids and adults alike will get to show off their festivity during an ongoing dance party. JK POP!, a full blown-audio and visual experience group that combines Japanese ideologies and Korea dance styles will kick off an international dance party. Hosts DJ Bishie and DJ Hojo will be spinning a variety of cross-cultural pop. At 9:00 p.m., JKPOP! will turn the table over to C89.5's DJ Richard and J. Dalton's electronic dance beats.  
New to this year is the C-ID Outshine Invitational B-Boy Dance Competition. Eight of the region's top break dance crews will compete for titles on the Union Station Plaza.
For more event information, visit facebook.com/SeattleNightMarket