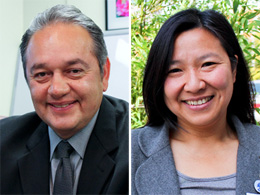 Both My-Linh Thai and Ed Luera compete for a spot in the Bellevue School Board.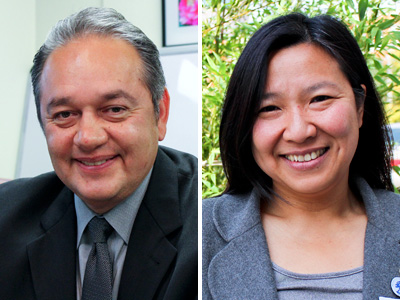 Both My-Linh Thai and Ed Luera compete for a spot in the Bellevue School Board.
Thai, mother of two, is a pharmacist, and a receiver of Washington State PTA Outstanding Advocate Award. Her primary focus is to facilitate communication to a level that is accessible throughout the neighborhood.  
"We do a good job advocating academic excellence, but we are not doing our best to embrace the parents and community members," she said.
Thai hopes to work with the school district to reinstate the quarterly news papers, either in printed or electronic form, in order to disseminate information about innovative programs and future proposals.
Luera, father of three, works in real estate development and management, and coaches track and football. His primary focus is to narrow achievement gap and aim for a 100 percent graduation rate within four years.
"To me, one student that doesn't graduate is one student too many," said Luera. "We need to reignite the spark of learning that we all have."
Both candidates grew up in a multi-ethnic family. Raised in Yakima, Luera picked fruits, worked in a beet field, and bought his own school clothing. After realizing education's link to wealth and success at the age of 12, Luera excelled academically and received his masters from the University of Columbia.
Thai, on the other hand, came to the United States as a Vietnamese refugee at the age of 15. Without knowing any English, Thai worked her way up—seeking help from her environment in high school, and eventually graduated from the University Washington school of Pharmacy.
Currently she volunteers at schools, giving back to her community. She also chaired the PTSA Council Scholarship Committee, and organized statewide math as well as national art competition.  
"American dream is to be able to give back to the community that cradled you when you needed it the most," she said.
Throughout her conversations with numerous esteemed community members, Thai learned that it is essential to provide platforms for employees to speak to children regarding future careers and job market.
"I talked to parents who work for Microsoft and Google, and they said, 'well you know, I wouldn't mind volunteering an hour or two of my time a week,'" said Thai. "We should take advantage of those inherent resources in our community."
Luera emphasizes the importance of pre-college education. He said Bellevue schools can utilize Advanced Placement courses to get children ready for the job market, and create opportunities for students to become a software developer or a concert pianist.
"Bellevue has one of the best school districts," said Luera. "But just because it's a jewel in your pocket, doesn't mean you don't take it out and polish it."
Besides dedicating 30 hours a week coaching track and football, Luera plans on devoting another 15 to 20 hours a week to the school board.