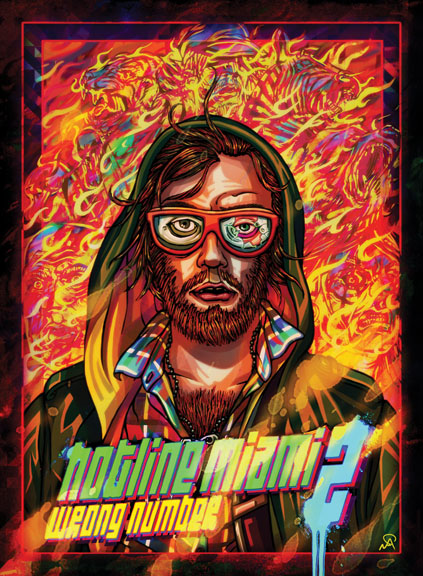 (http://www.devolverdigital.com/games/view/hotline-miami-2-wrong-number)
It's time to travel back in time again, this time to the early 90's in Miami, to follow a new cast of mysterious murderers and how their stories intertwine in this messed up paradise. I'm talking of course, about Hotline Miami 2, a game so unique, it's hard to describe into words. The original basically created its own sub-genre of the top down shooter it was so unique. The sequel carries this same gameplay mechanic, but just ramps of the difficulty, and ramps up the fun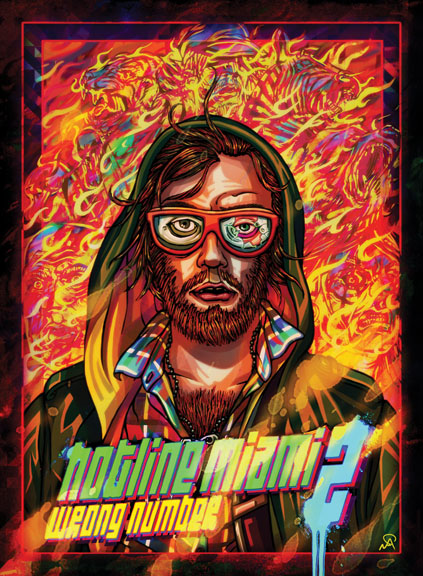 (

http://www.devolverdigital.com/games/view/hotline-miami-2-wrong-number)
It's time to travel back in time again, this time to the early 90's in Miami, to follow a new cast of mysterious murderers and how their stories intertwine in this messed up paradise. I'm talking of course, about Hotline Miami 2, a game so unique, it's hard to describe into words. The original basically created its own sub-genre of the top down shooter it was so unique. The sequel carries this same gameplay mechanic, but just ramps of the difficulty and fun.
Hotline Miami 2 follows the exact same gameplay mechanic as its predecessor. Players will move from room to room in a top down perspective, killing anyone in their path, with any weapons they may come across. This time around there is a larger cast of characters you'll play from in the story mode, each with their own special set of masks and their own special set of abilities. For example, some characters can use a chainsaw and a gun at the same time, one can do a quick roll to dodge gunfire, someone else can dual wield machine guns, and another character can knock down normal enemies in one punch. There's enough variety here with the characters to make you think carefully about each level differently, depending on who you're playing as. Speaking of levels, it is rumored that there will be a level editor released at a later date for players to create their own levels and release online. The transition and story scenes are all very cryptic, interesting, and pretty trippy if you ask me. The classic Miami Hotline style is back in full force here, and the game's visuals are as memorable as ever. The real standout winner of Hotline Miami 2 though, is the soundtrack. This heavy electronic music based soundtrack is very well put together, and completely fits the mood and energy of Hotline Miami 2. The music mellows out and slows down during story segments, and then ramps up once you enter a building and start killing people. Hotline Miami 2 has to include some of my favorite heavy electronic music in a video game, hands down. The music, the visuals, the style, all come together to create the unique title that is Hotline Miami 2.
Conclusion
If you liked the first Hotline Miami, you'll love the sequeul. It's kept the core gameplay mechanics the same, and added a few new tricks and characters to keep things interesting. If you haven't played this game before, you're in store for a very graphic, violent, and memorable gameplay experience. Hotline Miami 2 is difficult without a doubt, but thankfully there is an added difficulty option, so newcomers can play through on easy to start to get a feel for how the game works, before jumping into the real deal. I've very much enjoyed Hotline Miami 2, it's a great sequel that doesn't take too many bold new steps, besides the fact that the game itself is something so different that I can't compare it to anything else out there. Get ready for a seriously different ride.