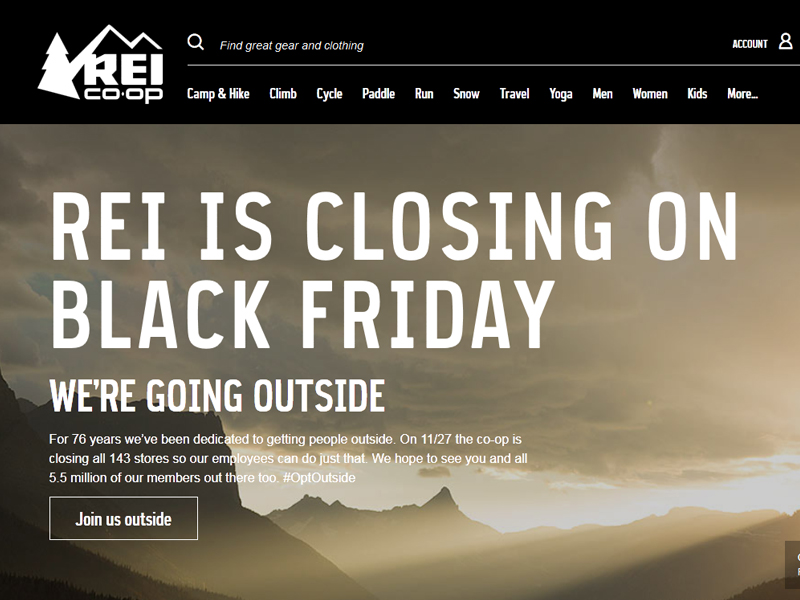 NEW YORK (AP) – Outdoor retailer Recreational Equipment Inc., known as REI, a chain that sells hiking boots, yoga mats and other outdoor and fitness apparel, has announced it will buck Black Friday and close its 143 stores on the Friday after Thanksgiving. The Kent-based co-op told members the plan in an email Monday, saying instead of working they'll pay their employees on Nov. 27 to be outside.
REI likely won't lose many sales as a result. And what the company loses in sales, it will gain in goodwill from its employees and customers, marketing experts say.
"It makes them seem like they are socially responsible and doing the right thing," says marketing consultant Allen Adamson of BrandSimple Consulting. "Younger consumers are very concerned about how companies behave and treat their employees."
REI said it will pay its 12,000 employees to take the day off. In addition to closing its 143 stores, it will also close its two distribution centers and Seattle headquarters. It will still take orders online on Black Friday, but those orders won't be filled until Saturday, says REI's senior vice president of retailer Tim Spangler.
The move comes as Black Friday sales have been dwindling as retailers have been spreading Black Friday-like deals more throughout the entire holiday shopping season. Indeed, in recent years, stores have been opening on Thanksgiving Day to better compete with online retailers.
U.S. shoppers spent $9.1 billion at stores on Black Friday last year, according to research firm ShopperTrak, a drop of 7 percent compared with the same day the year before. Still, the day is an important one for most retailers during the critical holiday shopping season, a two-month stretch in November and December that accounts for about 20 percent of annual retail sales. And some retailers have gotten flak from some customers and employees for opening on the actual holiday.
REI also created the social media hashtag #optoutside and a website where people can share their outdoorsy plans for that day.