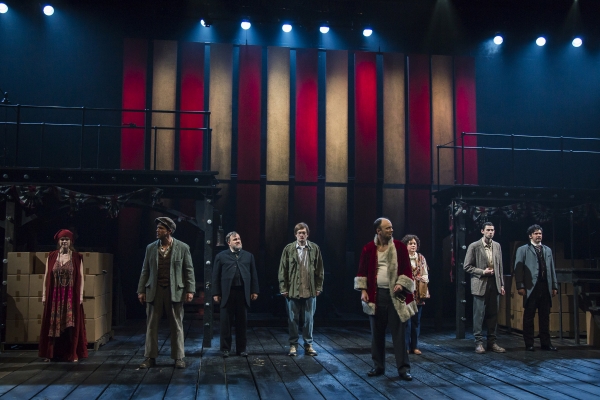 Assassins, the ongoing musical in Seattle produced by ACT– A Contemporary Theater and the 5th Avenue Theater, takes audience on a journey of American history through the eyes of the most notorious assassins, adding new perspective and depths to familiar historic events.
Entering the intimate playhouse at ACT, you can't help but think that this is the kind of place that Abraham Lincoln could have gotten assassinated. A large American flag made from burned wood creates a backdrop for the story.
The set of Assassins is done in a simplistic manner, which was very well thought out to work with the script. Although the pieces of the set seem simple, the use of lighting and sound create a sensation that brought audience to the exact scenes that each assassination happened.   
Assassins by no means try to earn sympathy for the assassins, but rather made the audience explore a deeper question–what could have been going on in the life of these people that eventually triggered them to set on the idea to assassinate the country's president?
Each character has his or her own unique perspective and motivation for their actions. Some of them may have been in a state of insanity, while others were very much aware of their actions and believed they would be regarded as a hero. Despite the sometimes serious tone, there are times that the humor in the story catches you off guard and even the most straight-faced audience member will be laughing.
As it was wickedly pointed by John Wilkes Booth, "When you kill a president, it isn't murder…But when a president gets killed, he was assassinated."
Directed by John Langs, Assassins by Stephen Sondheim is a must-see musical if you have a taste for the American history and love an eye-opening opportunity to view the country's infamous assassinations. The cast could not have done a better job to portray the possible psychology and emotions behind each assassin's motif.
One friendly tip of advice, however, is that it will be useful to familiarize with the country's assassinations, attempted or succeeded, before diving into the scenes of Assassins in order to fully grasp the intricate thought process and brilliant humor behind the musical.  
For more information, visit www.acttheatre.org/Tickets/OnStage/Assassins.