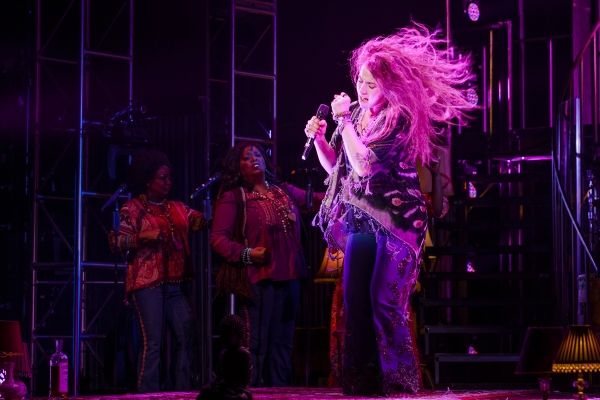 By Daniel DeMay
If you thought it was too late to see a Janis Joplin performance, think again.
Though Joplin herself has been dead since 1970, Randy Johnson's musical, "A Night With Janis Joplin," gives audiences a stunningly true-to-life performance by the hailed blues singer, with the bonus of several performances recreating the artists who influenced Joplin most.
The two-hour musical — showing at The 5th Avenue Theater through April 17 — took the audience through a winding musical history of Joplin, with Kacee Clanton voicing the part to near-perfection.
Along this meandering trek through less than a decade of Joplin's life, Yvette Cason, Sylvia MacCalla, Nova Payton and Aurianna Tuttle played the parts of the Joplinaires, as well as Aretha Franklin, Nina Simone, Bessie Smith, Odetta, Etta James and the Chantels with a style and perfection that brought the audience to its feet over and over again, and, at times, threatened to steal the show even from Joplin.
Even the backing band mimicked Big Brother and the Holding Company (and other bands as needed) with clarity and accuracy right down to the psychedelic guitar sounds.
But for all its musical successes, the show lacked depth in its inspection of Joplin's life, giving short shrift to the complicated tale of her meteoric rise to fame and boozy, drug-addled lifestyle that fueled her impassioned music and eventually led to her death at just 27 years old.
Instead, the show took a brighter, albeit shallower, look at Joplin's life, with Clanton offering glimpses into "her" life between (and sometimes in the middle) of songs, and focusing the monologues on her learning and understanding of "the blues."
To tell this story, she recalled influences from the Chantels, Nina Simone and others, along with classic musicals Joplin's mother played while she and her sister and brother cleaned their Port Arthur, Texas home each Saturday when they were children.
In an almost haunting recreation of Joplin, Clanton told the audience that to feel the blues, one only needed to be not getting something they wanted, particularly if that something was a lover.
Her monologues focused heavily on the blues theme, as well as a theme of not needing a lover in her life, though at times she loved having one.
Throughout the monologues between inspiring performances, Clanton portrayed a lingering darkness in Joplin's character, sometimes like a depression and other times like anger, and reminded the audience of her grim reality with occasional pulls from a bottle of what could only have been Southern Comfort (though no doubt a prop).
After a building musical performance bringing the whole cast to the stage, the show ended on almost the same note as the real Joplin's life, with a performance of "Mercedes Benz," the last song recorded by the singer, just days before her death.
In all, this show was a fantastic recreation of not just Joplin's soulful performances, but also that of some of her most inspiring influences, with just the hint of an outline of how her life unfolded as she went from a Texas teen to a San Francisco blues queen. If you're looking for an in-depth look at her life, this will leave you wishing for more. But if it's a lighthearted glance and a skilled recreation of a Janis Joplin show you're after, "A Night With Janis Joplin" will give you just that — a night with Pearl.
---
Daniel Demay is the Business, Transportation and Culture Reporter for SeattlePI.com.
Twitter @Daniel_DeMay