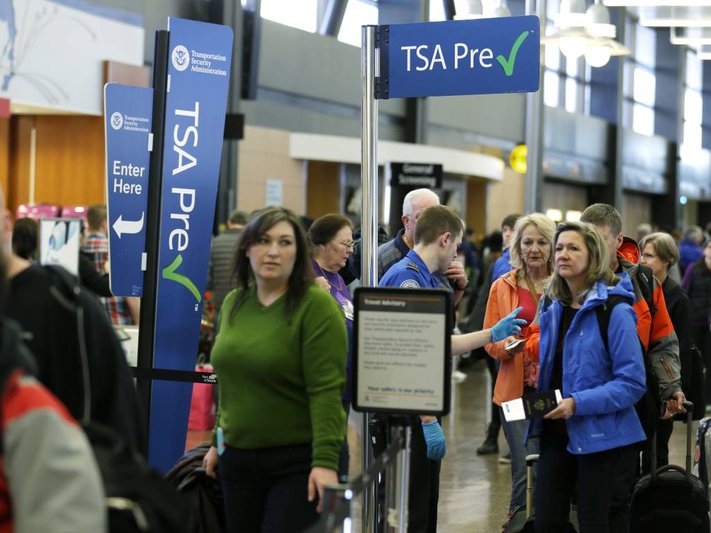 NEW YORK (AP) — An expedited screening program called PreCheck was supposed to be the answer to maddeningly long security lines at the airport. But four years after its launch, the Transportation Security Administration is far short of enrolling enough travelers to make a difference, spelling trouble for summer travel season.
Fliers can expect massive security lines across the country, with airlines already warning passengers to arrive at least two hours early or risk missing their flight.
The TSA cut its airport screener staff by 10 percent in the past three years, anticipating PreCheck would speed up the process. When not enough fliers enrolled, the agency tried to make up for that shortfall by randomly placing passengers into the express lanes. But it recently scaled back that effort for fear dangerous passengers were being let through. That's when the lines started growing, up to 90 minutes in some cases.
The TSA is shifting some resources to tackle lines at the nation's biggest airports, but says there is no easy solution to the problem with a record number of fliers expected this summer.
Launched nationwide in 2012, PreCheck gives previously vetted passengers special screening. Shoes, belts and light jackets stay on. Laptops and liquids stay in bags. And these fliers go through standard metal detectors rather than the explosive-detecting full-body scanners most pass through.
PreCheck lanes can screen 300 passengers an hour, twice that of standard lanes.
The TSA offered Congress a lofty goal of having 25 million fliers enrolled in the program. Based on that and other increased efficiencies, the TSA's front-line screeners were cut from 47,147 three years ago to 42,525 currently. At the same time, the number of annual fliers passing through checkpoints has grown from 643 million to more than 700 million.
As of March 1, only 9.3 million people were PreCheck members. Applicants must pay $85 to $100 every five years. They must also trek to the airport for an interview before being accepted. Getting once-a-year fliers to spend the time or the money to join has been a challenge. While 250,000 to 300,000 people are joining every month, it will take more than four years at that pace to reach the target.
As a further step, the TSA in 2013 created a program called Managed Inclusion where it randomly pulls people out of the normal line when it grows too long. Fliers' behavior is monitored, they are screened for explosives and then allowed to use the faster PreCheck lane.
Lines did get shorter. By Thanksgiving 2014 nearly 50 percent of fliers were getting expedited screening.
Then last year, two back-to-back embarrassing inspector general reports came out, highlighting TSA security lapses. One disclosed that the agency let a convicted domestic terrorist use PreCheck. The second revealed that in 67 out of 70 tests across the nation, screeners failed to find mock weapons and explosives.
In response, TSA agents stopped pulling passengers out of line unless there was an explosive-detecting canine team present. That change went into effect in September, right after the Labor Day rush.
During the week of spring break in mid-March, 6,800 American Airlines passengers missed their flights because of long checkpoint lines, foreshadowing the headaches airlines fear during the peak summer travel months.
At Seattle-Tacoma International Airport waits have topped out at 90 minutes, with the typical morning rush averaging 45 minutes to an hour, says Wendy Reiter, the airport's director of security and emergency preparedness. In the first week of March, 50 Delta Air Lines passengers missed international flights – the type of flight that only departs once a day.
Last week, officials in Charlotte, North Carolina were warning passengers of waits exceeding 75 minutes, saying the lines were "extremely heavy."
At the world's busiest airport, in Atlanta, general manager Miguel Southwell told the TSA last month that "things appear to be only getting worse."
And in Minneapolis, executive director Jeffrey Hamiel told the TSA that "we are experiencing unacceptably long security wait times during peak periods."
The TSA knows there is no quick fix.
For now though, the agency is relocating 28 of its 142 canine teams to the 20 busiest airports so it can randomly put more fliers into PreCheck. The TSA won't say which airports are losing the teams and could therefore have longer lines.
An additional 200 screeners are being trained each week, but that is offset by the average 103 screeners the TSA loses weekly through attrition. The agency is asking airlines to enforce carry-on bags restrictions before checkpoints so it has fewer bags to screen. Airport and airline staff will also take over some non-security related tasks, such as returning empty bins to the start of the checkpoint.
There has been one bright side: the TSA says there is a direct correlation between longer lines and a spike in PreCheck enrollments.