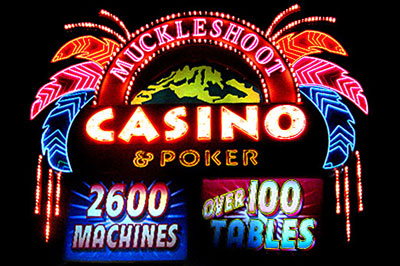 AUBURN, WA (April 12, 2016) – Muckleshoot Casino in Auburn, Washington will mark its 21st anniversary with a celebration destined to be one for the record books. On April 30, the casino known as the "Biggest and Best in the Northwest" will kick-off Everi's 2016 TournEvent of Champions® by seeking the distinction of hosting the world's largest slot tournament.
To claim the designation, more than 3,001 participants must take part. An official GUINNESS WORLD RECORDS representative will be on-site to validate the achievement. Participation will be free to everyone 21 years of age and older*. More than $100,000 in cash and prizes will be awarded.
WHEN:   Saturday, April 30 beginning at 8 a.m., continuing until history is made
WHERE:        Muckleshoot Casino, 2402 Auburn Way South, Auburn, Washington 98002
WHO:             The following executives will be available for on-site interviews:
Conrad Granito, General Manager, Muckleshoot Casino
Michael Ka'ahanui, Director of Player Services, Muckleshoot Casino
Linda Trinh, Vice President of Marketing & Promotions, Everi
Kellie Ferrick, Official GUINNESS WORLD RECORDS Adjudicator
RSVP:             Interested media should secure advance approval for on-site photo, filming and interview opportunities. Live truck parking will be available upon request.
*Muckleshoot Casino Players Club card must be presented to participate. Membership is free to guests 21 years of age and older with a valid photo ID. On-site registration will be available.