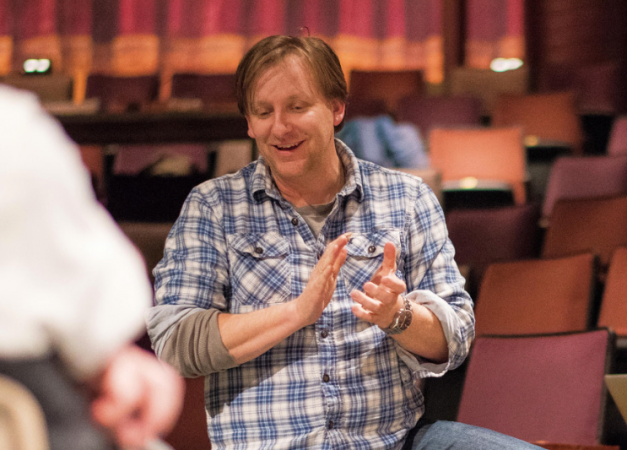 May 3, 2016 – Seattle, WA – It's May of 2016 and John Langs is entering his fifth month as the Artistic Director of Seattle's ACT Theatre, in its 51st season. He came out with guns blazing. Almost literally. Langs' directorial debut as Artistic Director was a fierce production of the musical Assassins (co-produced with The 5th Avenue Theatre).The eleven-week, sold-out show received accolades from critics and patrons, while also sparking some controversy around content and the use of guns on-stage. Or as Langs might say, "it started some messy conversations." These conversations are what fan the embers of this season's ACT productions for Langs. Running simultaneously with Assassins, in another of ACT's Mainstage theatres is Aaron Posner's Stupid Fucking Bird, a modernization of Chekhov's The Seagull, which riveted and challenged audiences. ACT's spaces are filled with moderated discussions and casual dialogues before and after performances as a way to encourage the community to indulge their need for conversation surrounding a production. This community-building is a part of Langs' plan.
"One of my priorities is for ACT to take on the challenging topics of a contemporary world and give our community a place to engage in conversation through inspiring works of Art." says Langs. Given the already-volatile political year, it's a natural fit that some of this season's shows take a microscope to what's happening in our country. In addition to Assassins, Langs takes on American politics in the World Premiere play Daisy by playwright Sean Devine that is based on the true story of the first negative ad campaign that shifted forever how media engages in politics. ACT will host a sneak peek of the play as part of the Icicle Creek New Play Festival on May 17.
Langs' vision of bringing the community into ACT is evident throughout the organization in new initiatives such as ACT's Core Acting Company, and the growth of ACTLab productions. The Core Acting Company was introduced this year as the brainchild of Langs and involves a group of actors that have joined ACT in a year-long creative endeavor, performing and contributing as artistic ambassadors to ACT's Mainstage season. "I am excited to have such a talented group of artists representing ACT. It is the charge of great theatre to push the art form forward. Through initiatives like the Core Company, ACT will provide local actors with a creative home, encouraging them to expand upon their craft, mentor newer actors, and thrill audiences with their performances in our Mainstage season," says Langs. Additionally, an Artistic Engagement Manager has joined the ACT team, under Langs direction, to connect with appropriate community groups and spearhead pre-show and post-show discussions surrounding the topics and themes in the productions.
Entering into its tenth year, the ACTLab series is a partnership program to fill the five theatres at ACT with great art, while nurturing the growth of artists, companies, and the cultural community. As Artistic Director, Langs has committed to cultivating new ideas through experimentation, exceptional art, and meaningful partnerships. Among the current ACTLab partners are eSe Teatro, a Latino theatre company that is rehearsing to launch its World Premiere production of Bernie's Apt; and The Seagull Project, a Chekhov theatre company that will present four evenings of readings under the title The Great Soul of Russia which will precede a full production of The Cherry Orchard in February of 2017. Under Langs' direction, The Seagull Project was the recipient of the 2015 Gregory Award for Outstanding Production for Three Sisters, and was able to bring The Seagull to the play festival in Tashkent, Uzbekistan.
At the center of his artistic vision for ACT, Langs continues to seek diversity and inclusion. Through challenging content, unique and thoughtful partnerships, and all the "messy conversations," John Langs' artistic direction is setting a tone for contemporary theatre that will remain meaningful and vital well into the future.