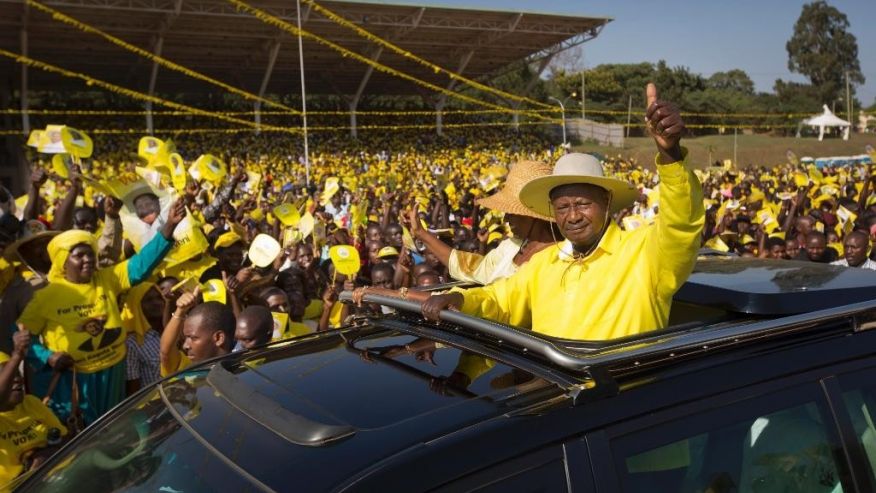 KAMPALA, Uganda (AP) — Uganda's main opposition figure was arrested Wednesday ahead of the inauguration of long-time President Yoweri Museveni, raising the possibility of violence as police try to quell possible opposition protests.
Kizza Besigye, who claims he won the presidential election in February, was arrested Wednesday as he addressed a crowd of supporters in the capital, Kampala, said Patrick Onyango, a police spokesman in Kampala, the capital. Police used force, including beatings, to disperse the crowd and then Besigye's car was towed away.
"He is in a gazetted detention facility," Onyango said of Besigye.
The police crackdown comes before Museveni, in power for 30 years, is sworn in to another term on Thursday. On Wednesday social media sites like Facebook and Twitter appeared to have been shut down by a government censor. Besigye's party, the Forum for Democratic Chance, reported on Twitter earlier on Wednesday that Besigye had been sworn in as Uganda's president in a mock ceremony before the police took him away.
Many opposition figures have been detained inside their homes, in what police say are measures to prevent the officials from committing crimes. One of the detainees, lawmaker Semujju Nganda, said Wednesday that he has been unable to leave his house since Monday, with heavily armed security personnel standing guard at his gate.
Museveni is accused by some of acting like this East African country's authoritarian leaders he said he despised when he took power by force in 1986. Museveni remains popular in rural areas, one of the reasons his supporters cite for him to stay in power.
According to official results, Museveni won re-election in February with more than 60 percent of the votes. Opposition leader Besigye has disputed the official count, saying the results were manipulated to deny him victory. Uganda's top court has since ruled that Museveni was validly re-elected.