【看展】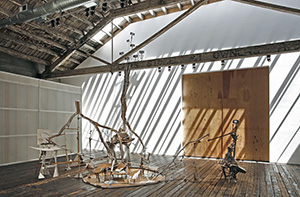 派特·羅珀:尋找更高的土壤
須雅摩藝術空間每年都只進行三場裝置藝術展出,每一場展出都以空間獨特的建築構造展開。派特·羅珀的這場展出展示了西雅圖歷史上各種混亂事件的兩面性。展出參照了20世紀早期西雅圖市中心的移山活動,和現下市中心的隧道挖掘工程,藝術家稱其為"當代的荒謬主義"。羅珀使用建築材料、視頻、繪畫和雕塑復原了事件中的一些模型,這些事物在現實中永遠也不可能出現,因此更不可能消失。一句話總結,西雅圖人正在尋求更高的土壤。
時間:8月19日之前(每週一至週五)
地點:須雅摩藝術空間(2324 Second Ave, Seattle, Washington 98121)
價格:免費
信息:www.suyamapetersondeguchi.com/suyama-space
Patte Loper: Seeking Higher Ground
In one of the final installations ever to materialize at Suyama Space, which closes at the end of this year, Patte Loper offers two sides of a historical mess, the one we call Seattle. Referencing the early-20th-century adventure of the slicing off of downtown's hills and the contemporary absurdity of blowing a tunnel the size of the sky out from underneath that same downtown, Loper uses construction materials, video, paint, and sculpture to evoke models of things that can never be built and yet won't disappear. We are always Seeking Higher Ground.
When: Mon–Fri. Through Aug 19
Where: Suyama Space(2324 Second Ave, Seattle, Washington 98121)
Price: Free
Info: www.suyamapetersondeguchi.com/suyama-space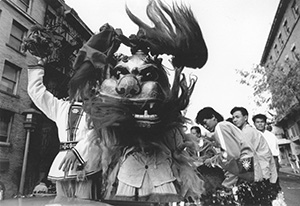 王迪恩:新街拍攝影
西雅圖中國城最有名也最出色的攝影師王迪恩最近出版了新書《看見光:中國城的四十年》,其中包括在舊金山和溫哥華的中國城拍的一系列照片。然而王先生的心與家始終紮根於西雅圖,他在如今被稱為國際區的西城華埠長大,在克利夫蘭高中上學,並且在那裡上了第一節攝影課。畢業於華大的他最終成為一個強有力的視覺藝術家和講故事的人。週末,你或許還能在中國城的街上碰到拍照的他。這場攝影展將展出他的部分作品,當然,你也可以現場買一本書。
時間:9月2日之前(週一至週五)
地點:傑克·斯托文化中心前沿藝廊
價格:免費
Dean Wong: New Street Photography
Jack Straw is pleased to present an exhibit of new photographs of Chinatowns in San Francisco, Vancouver, and Seattle by Dean Wong, in conjunction with the release of his new book Seeing the Light: Four Decades in Chinatown, out now from Chin Music Press.
Dean Wong is an award-winning photojournalist who has been chronicling Asian American life for nearly 40 years and documented Jack Straw's arts and education programs for several years. The city of Seattle and King County declared March 8, 1995, Dean Wong Day to honor his efforts documenting the Asian and Pacific American community.
When: Mon–Fri. Through Sept 2
Where: Jack Straw Cultural Center Front Gallery(4261 Roosevelt Way NE, Seattle, WA 98105)
Price: Free
Info: www.jackstraw.org
【看戲】
西雅圖莎士比亞戲劇公司將重排莎士比亞最經典也最常上演的作品《哈姆雷特》,並在普吉灣地區的各大公園露天上演。這是GPS為你提供的西雅圖夏日任務之一,記得帶上驅蚊液和小墊子。
時間:8月7日之前
地點:各大公園
價格:免費
Hamlet
During the summer months Seattle Shakespeare Company presents free, outdoor productions of classical plays performed in parks throughout the Puget Sound region. Grab a picnic, bring your family and join us for some free Shakespeare in the parks!
When: July 7-Aug 7, 2016
Where: Various
Price: Free
Info: www.seattleshakespeare.org