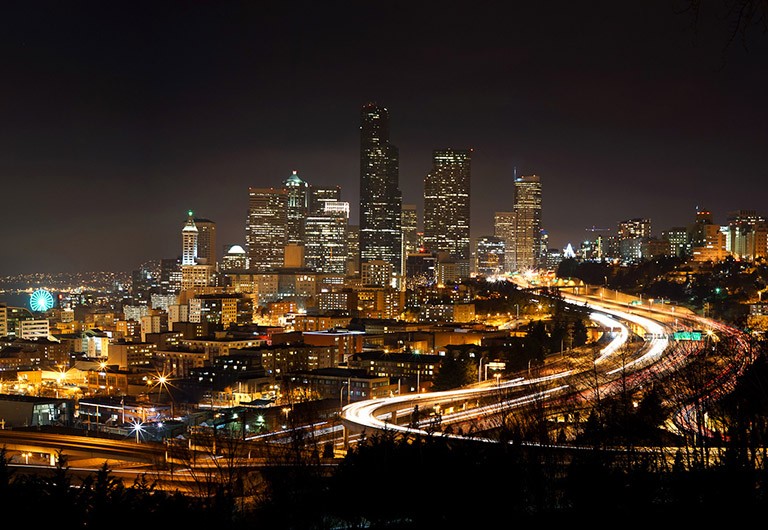 Producing and delivering environmentally responsible, safe, low-cost, and reliable power are always the main task for Seattle City Light.
Currently, more than half of the electricity provided by the City Light in the Seattle area is generated by the hydroelectric dam located in northern Washington. The remainder comes from a mix of power sources, like nuclear, wind, coal and others. While Seattle owns no nuclear or coal generation, a portion of the power City Light purchases from other providers.
"Seattle City Light is already the nation's greenest utility," said Scott Thomsen, the senior strategic advisor of Seattle City Light. "But we strive to go beyond hydropower by supporting renewable energy development in regional service territories that still rely on fossil fuels for energy generation."
Since City Light is a non-profit government department, promoting energy conservation is one of the missions. Many rebate projects are directed toward families and businesses to save energy. In addition, the department dedicates much effort to promote their renewable energy program which includes two parts, "Green Up" and "Solar Energy."
"Green up is a voluntary program that drives regional demand for renewable energy through the purchase of renewable energy credits and by supporting local clean energy projects and education," Thomsen said.
"Seattle is known for cloudy skies and the application of solar power is doubted," Thomsen said. "However, it's not true. Seattle receives more sunlight than Germany, the world's leading solar market."
Despite the fact that solar energy does not work for every home due to cost and the access to a sunny space, it is still a good supplementary energy for the city.
A customer of Seattle City Light said, "I'm trying to learn more about the solar energy and considering to install the panels at my home. It's a trend. "
Seattle Aquarium with the largest installation on any West Coast aquarium has installed 246 solar panels in 2013 and been dropping its energy cost ever since.
"We expect to save over $50,000 per year in utility costs and cut our own carbon emissions by 20 percent," said Mark Plunkett, the conservation manager of Seattle Aquarium.
Compare to solar panel installation, hydroelectric dam faces a bigger challenge imposed by the natural environment and climate change. To minimize greenhouse emissions, Seattle City Light as an active program to reduce the emissions of greenhouses gases and the utility has been carbon neutral since 2005. In addition, the department also developed a Climate Change Vulnerability Assessment and Adaptation Plan in 2015.
"These changes in snow and streamflow may require City Light to adapt operations of the hydroelectric dams so that the utility can continue to meet the multiple objectives of flood control, fish protection, power generation, and reservoir recreation," Thomsen said.
Thomsen considered Seattle City Light as a business that not only provide energy services to local residents, but also "the most customer-focused, competitive, efficient, innovative, environmentally responsible utility in the United States" that sustain and enhance the community's quality of life.
"We have already made a number of investments to keep pace with the city growth and now is making a major upgrade to the electrical system to meet the accelerating power needs," Thomsen said.
The city's new electrical substation near the intersection of Denny Way and Stewart Street is currently under construction and will be completed in mid-2018.
Advanced Metering is another program that will begin next year.
"[The program] will empower customers to make energy-saving choices and improve customer service," Thomsen said.
Meanwhile, City Light also focuses on community-related projects. In 2012, the department's crews installed a new power supply for the Chinatown-International District. The new supply provides a second source of power for the community that improves the reliability of service and expands capacity for future economic development.
"I was impressed by the people there," Thomsen said, "Both of the residents and business owners helped the utility schedule this work to minimize the impact on the community. We were glad to complete this work early so they can avoid further inconveniences."