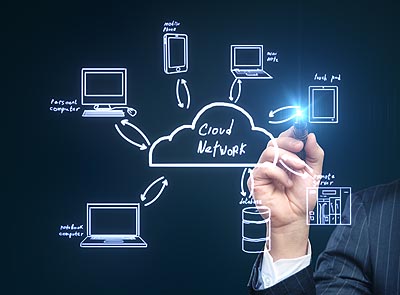 Enterprises, small and large, have been using cloud services actively since 2000s. A recent survey released by Garner in July 2016 mentioned that this trend would be inevitable for all businesses in coming years.
What will you react if you are a small business owner who has not moved to the Cloud yet?
Services from Cloud
Cloud service, properly known as cloud computing, is defined as access to a shared pool of computing resources, remotely located away from an individual home or office, through internet network (Note: "Cloud" is a metaphor for the internet, based on a cloud shape depicting the internet in computer network diagrams).
Broadly, cloud computing can offer three types of services: infrastructure services (servers and storage), software services (applications) and platform services (operating system, databases).
Benefits for small business
By subscribing to a "cloud", small business can reduce costs and manpower in operating and upgrading on-site computing infrastructure and developing applications. Companies can access cloud computing anywhere and anytime, and their co-workers can collaborate more easily.
Customers can be served either through a public cloud or a private cloud. In a public cloud, cloud service providers (for example, Amazon, Microsoft, IBM, Google) make the pooled computing resources available to the public, mainly over the internet. Private cloud is a dedicated network built by the provider for a company, who has control of the resources and obtains better security than from a public cloud.
Many small businesses prefer a public cloud because of easy access and lower cost.
Companies often worry about unauthorized access or hacking on their data which are homed on a public cloud. Experience shows that expertise of cloud service providers can provide stronger security and protection measures than companies themselves. Cloud can provide data duplication and faster recovery even if there is a temporary service outage.
 Know your computing requirements
Suppose your organization decides to move to cloud services because of their benefits. The first step is to review your needs, such as storage, computing tasks, applications and security, taking future growth into considerations.
You have to consider what to do about your existing on-site computing equipment.  Do you want to move all the tasks and legacy applications to the cloud or keep some of them like your client data or business-critical applications in your on-site equipment?
New start-ups with no legacy system may incline to subscribe platform cloud services that can handle nearly everything. They are very useful for application developers who can use programs and tools to facilitate design and testing. Platform cloud service users must note that there are no fixed standard in cloud computing and they may be locked in to one service provider.
Choose the right vendor
Many established and new cloud service providers are in the market to offer attractive price packages. Infrastructure (storage and processing) as a service are charged on demand basis in dollars per minute usage to reflect the resources allocated and consumed.
Your Information Technology (IT) support personnel still need to configure and maintain your operating system on the user end. Some providers offer additional features to relieve the workload of your IT personnel.
Providers have a stack of applications in customer relation management and other industry specific systems to meet your needs. You can take advantage of renting them at a low flat charge per month instead of buying your own at your site.
Some providers may offer a competitive initial price in order to grab your order for cloud services. It is important to get your IT personnel involved in due diligence and selection of a suitable vendor to suit your needs.
Also find out from vendors that they can provide a migration arrangement which can cause least interruption to your daily business.
Protect your clients
Moving to the cloud affects not only your business, but also your clients. Some of their data and applications may need to reside in the computer at your site.
You must ensure that the migration to the cloud will not degrade, but strengthen your services to the clients in future.