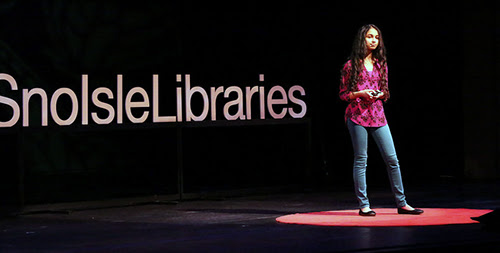 TEDxSnoIsleLibraries has quickly become the locally focused event with a global reach.
"As a library, we're passionate about information, whether that information is in a book, or on a DVD, or online or even live on a stage," said Jonalyn Woolf-Ivory, executive director of Sno-Isle Libraries. "Our purpose for this event has always been to share ideas that come from our communities, with our communities."
The second iteration of TEDxSnoIsleLibraries took place Friday, Nov. 18. Standing on the round red spot made famous by TED talks, 17 presenters and two special guests went on stage at Edmonds Center for the Arts (ECA) to share personal stories and insights under the theme of "Transformations."
While more than 800 people filled ECA's seats, the information from the event went well-beyond those walls by streaming the live video online. Woolf-Ivory said those numbers support her feeling that, "TEDxSnoIsleLibraries is truly a library without walls."
The day got off to a rousing start with a guest appearance by 2015 TEDxSnoIsleLibraries alumnus, rap musician Xola Malik. This year, Malik brought his son, Mattius, on stage to help get the audience on their feet and bouncing to his rhythms.
In the afternoon, special guest Bridget Foley, an author and actor, invited the audience on an emotional journey with the presentation of a story she wrote for Humanities Washington.
Between presentations and during breaks, attendees at ECA could go to the IdeaLab, an area that included interactive opportunities provided by the some of the 34 creative and innovative organizations that provided event support.
Among the 17 presenters were two high-school students, Radhika Dalal, a senior at Kamiak High School in Mukilteo; and Harshu Musunuri, a junior at Jackson High School in Mill Creek.
Both of the young women are science-focused. Dalal is an intern at the Institute for Systems Biology in Seattle, while Musunuri interned at the NASA Jet Propulsion Laboratory and is a student researcher at a University of Washington chemical engineering lab. Both presentations focused on the humanity of science and the hope of building a better world, and, both received standing ovations.
One attendee, a retired teacher from Everett, summed up the experience of many in the audience.
"What wonderful day," Linda Smith said. "I had to go before my heart exploded from joy. Thank you so much for providing me the opportunity to attend. Professional, expertly executed and more than anything, a beacon for all things good about humanity."