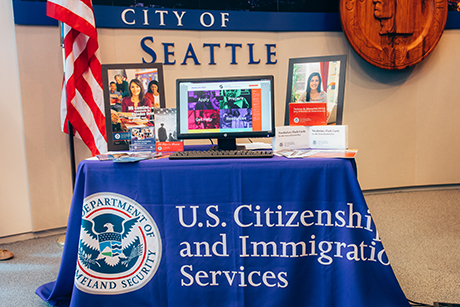 FREE legal services and information
Friday, January 20, 2017
McCaw Hall at Seattle Center (321 Mercer Street, Seattle, WA 98109)
Do you need help applying for citizenship?
Check-in from 12:00 PM to 3:00 PM
Immigration attorneys and experts will help you fill out your application.
You need to be a legal permanent resident (green card holder).
You will need to bring your green card and other immigration documents. Details on what to bring are at: seattle.gov/iandraffairs.
Do you need to plan for your family's safety?
"Know Your Rights" Sessions: 3:00 PM, 5:00 PM, and 7:00 PM
Learn about what to do if Immigration and Customs Enforcement (ICE) agents stop you or come to your door.
Take steps to protect your children and family.
Learn about your rights as an immigrant, regardless of your status.
Do you need legal help?
Check-in from 3:00 PM to 6:00 PM
Talk to Immigration attorneys about your options.
Fill out forms needed to protect your family: power of attorney, temporary guardianship, and other forms.
Get your Mexican citizenship, passport, and birth certificate through Mexican Consulate document services.
Bring any immigration and court documents, if you have them.
City of Seattle representatives will also be available to talk about services, such as:
ORCA Lift ( discounted public transportation card)
Utility Discount Program
Information on wage theft and unfair employment practices
And more..
To qualify for these City of Seattle services, you will need proof of income and a photo ID. For a complete list of documents to bring, go to http://www.seattle.gov/iandraffairs