By Zita Lam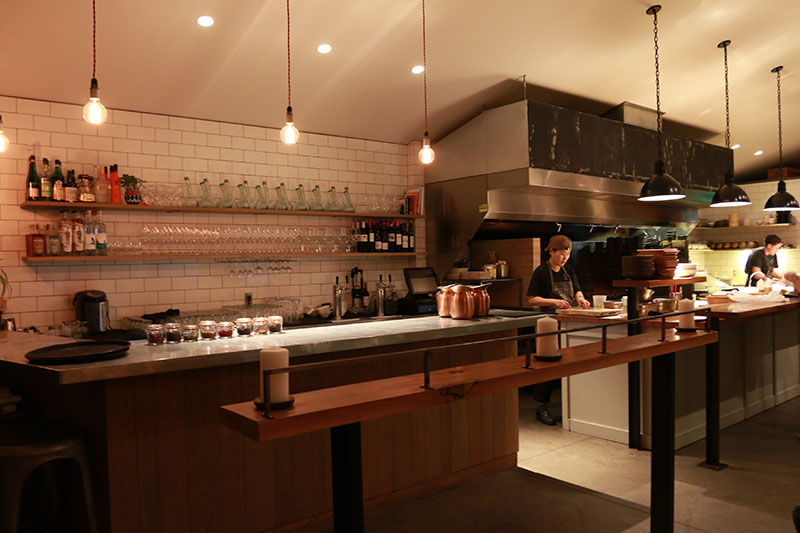 Alongside the Fremont Cut, Tarsan I Jane quietly stands out from the neighborhood. Without a dazzling signboard, there's only one wooden rabbit sign above its entrance door. Every night at 6pm from Thursday to Saturday, large crowds of well-dressed guests show up making others wonder: What is the mystery behind the door?
Oftenly this place is mistaken as a Spanish style restaurant, but Tarsan I Jane draws on the concept of tasting menu courses. Chef Perfecte Rocher, who is proud to be a Catalonia himself, has traveled all over the world to explore an open-minded field where modern techniques meet with traditional recipes. With the help of his partner, Alia Zaine, he is devoted to innovate in this project. For them, the creativeness of the rooms in the restaurant by trying new things and to experiment is more important than making money.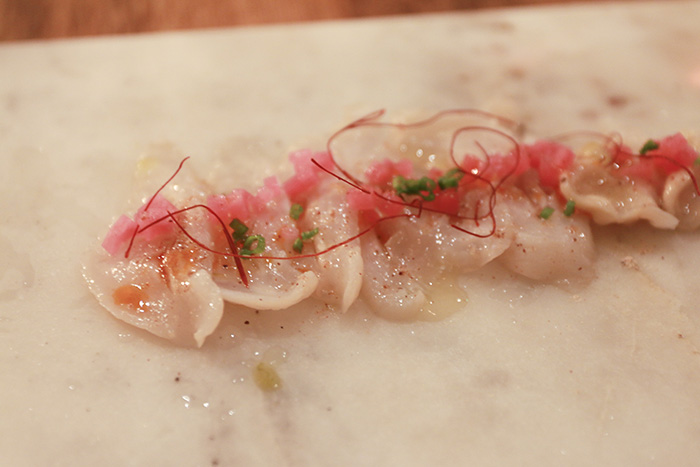 "When you put so many ingredients into one plate, of course it is not going to taste well." Rocher said. In a comparison of the eating habitat in America, he values the simple appreciation of every single dish. Rocher chooses a variety of fresh ingredients to be featured on the menu each week, and sometimes he "tweaks things on a daily basis". Guests are able to experience an adventurous sense of taste in the 12 courses of chef's choice. More desirably, with wine pairing.
In order to showcase how a delicious dish can be made by one element, Rocher and Zaine practice "single ingredient focus".  As the restaurant mainly provides seafood and vegetables courses, ingredients are sometimes divided into three textures to bring out their uniqueness. For example, Rocher changes the texture of local-mediterranean mussels with steam, escabetx, and Paté then mixes with mint and house stout vinegar to finish the dish "Cloïssa". Moreover, broccoli, carrots, and beets are the top three dishes that they make in different textures and feature housemade sauces produced by their own fermentation process.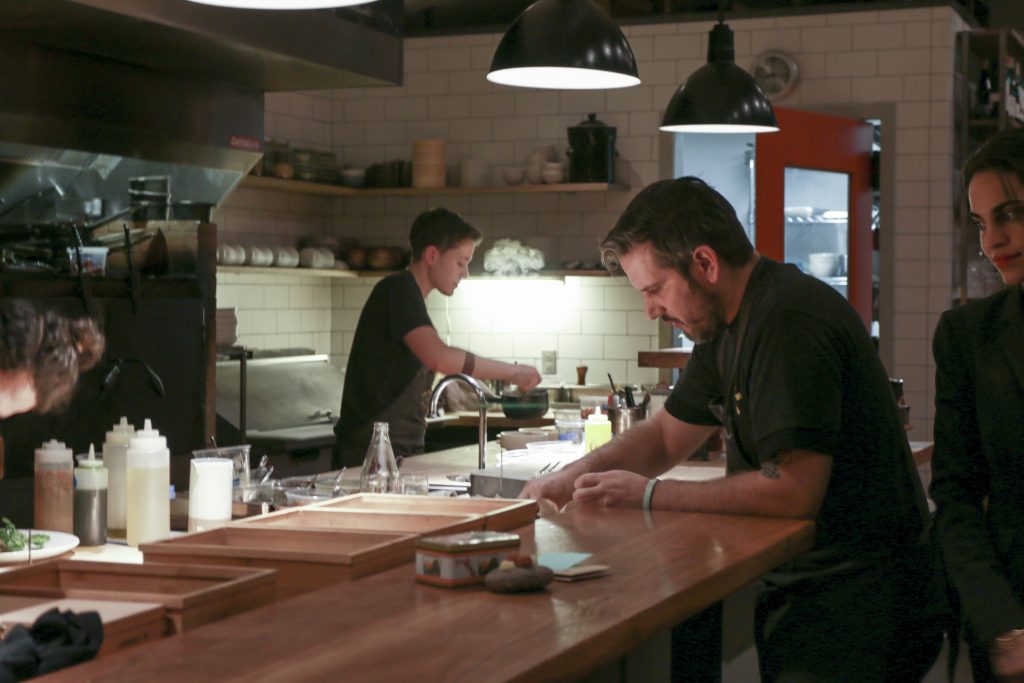 "It is easy to make a piece of good meat taste good, but it is difficult to make a vegetable elevated to a point you really enjoy it." Zaine said, "One thing he (Rocher) does it really well is, he always make a dish out of the undesirable vegetables, and that shows a sign of a good chef."
Carrot, probably is a common enemy of most people. "There was once a lady who absolutely hates carrot, but after she gave it a try, she told me, 'don't tell my husband, but I love this dish very much.'"Zaine recalls.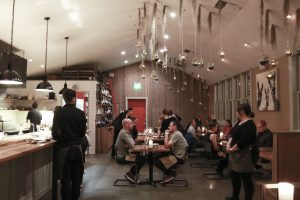 Zaine admitted that people actually don't need to eat meat as much as they do. "If we need to put meat on menu, we have got to know where they come from in terms of if they are properly raised, as well as if they are put down or slaughtered down okay." She continued. In addition, they insist on only taking animals from the certified humane farms. Rocher explained, "To know if the animals are well-treated, you observe their behaviors toward the visitors. If they come to you, it means they are at least living a decent life and not threatened by human-beings." He believes that animals' negative emotions such as fear, sadness and pain stay in their body, and it indirectly affects whomever consumes the meat.
The ideas of  "single ingredient focus" and farm to table are driven by their conviction of "work with nature". In every kitchen in the world, there are desirable ingredients for eating, some for stocking, and some for throwing away. However, in Rocher's kitchen, he tries to utilize every part of the ingredient he is working with. "For instance, the beets' skin. Usually when you roast something and there's a charcoal like coat on it. Most people would throw it away, but he saves the roasted beets' skin and dehydrates it, then uses it in another dish." Zaine said.
"We don't throw away anything," Rocher pointed to the fermentation cabinet which is set in the patio and added, "we use the wasted parts to make the liquid fermentation base instead."
"Our ancestors have been using this technique for so long in order to keep the food lasts longer. Many Asian countries have been inherit from it, while a lot of European countries have started to losing it." He continued.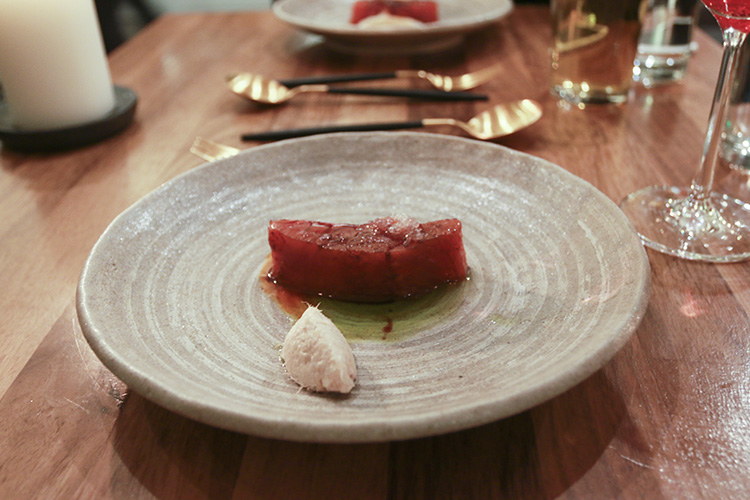 Tarsan I Jane commit to lead an evolution of diet habits, and exceptional service to their valued guests has made them the hottest spot among all the other newly opened restaurants. The staff is knowledgeable, and scrupulous about every detail in their one-of-a-kind courses. One thing that has impressed people the most is their perseverance on giving out the best of their best.
As welcoming the new year, Rocher and Zaine are planning to add new elements that inspired from Asian recipes into the menu. Furthermore, adding a modern kitchen and laboratory are also in the consideration list.
To sums up why we should trust Tarsan I Jane, Rocher once said, "There is a system in the nature. We would like to work with it rather against it."