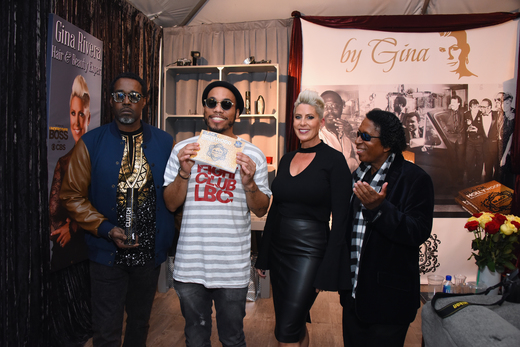 Distinctive Assets, the LA-based entertainment marketing company credited with launching the promotional craze of celebrity swag nearly two decades ago, will once again produce the official talent gift bags and backstage gift lounge for the 59th Annual GRAMMY Awards®. The legendary show's presenters and performers will be treated to fabulous thank you gifts in acknowledgment and appreciation of their participation.  
"It is a true honor to be even a very small part of Music's Biggest Night® for so many years now," says Distinctive Assets' founder Lash Fary.  "Just as the GRAMMYs® themselves are the gold standard in the music industry, the GRAMMY Gift Lounge has become the benchmark by which all other talent gifting experiences are measured."
The GRAMMY Gift Lounge will be open to presenters and performers during three full days of rehearsals at STAPLES Center.  This year's gift lounge is presented by MTG and will feature Japan's leading beauty manufacturer's newest offering: Jackson Walk Jet balance and exercise foot gear for contouring legs.  Other #GRAMMYGiftLounge selections will include OKAWA1536 lampshades using Portable Japanese Tea Ceremony Room woodcraft technique, MBG's Medi LED Hydro Mist and Medi Hydro, by Gina Pure BioGen Complex Shampoo/Conditioner/Hair Spray, Blue Nun 24K Gold Sparkling Wine, Dalgomi DMASK Good Night Snail Mask + Good Night Collagen Mask + Face Up Mask, FXP Hula Hoop Fitness, Gold Leaf Gourmet five-star dessert kits, Grossé Japan award-winning costume jewelry, the latest and greatest games (including Toilet Trouble) from Hasbro Gaming, designer sunglasses from Marchon, Oomi Smart Home Kits, Oxygenetix Breathable Foundation and Oxygenated Moisturizer, The Lauren Ashtyn Collection Volume Extension Hair Topper & Crown Extensions, Trespass performance-based casual wear, his & her set of Trtl Travel Pillows, Tunka Art original art, UniversiTee Box care packages, and assorted gifts from truth (in partnership with Cotopaxi) to inspire individuals to join the movement to end smoking for good.  Distinctive Assets is once again joined by seasoned event producer Pam Morrison who will oversee all elements of lounge design and set up; décor and creative vision provided by The Rey3 Collection (along with fabulous mohair pillows and custom furniture design services). Turntable Junkies' DJ Spark will be on site spinning tracks and gifting her incomparable She-J services for guests' private parties.
Talent will also walk away with a preassembled GRAMMY Gift Bag which will represent a diverse portfolio of brands ranging from fun to functional.  The #GRAMMYGiftBag will include items from American Heart Association – CPR Anytime, Bangarang, BeBibs, Betty Jane Candies, Blue Diamond Almonds, Bright Midnight, ChapStick, Chubby Chipmunk Hand-Dipped Chocolates, Crayola, Crystal Hills Organics, Curlee Girlee, D'Amore's Famous Pizza, Golden Door, Green Gorilla, Healing Saint, Hercules Beard Co., Hydroxycut Platinum, In Season Beauty, i-water, Lady Amber's Reviews, Medice, Mood & Co., MuscleTech Nitro-Tech Crunch Bars, Music Connection, Namira Monaco, Nike, Old Spice, Park and Buzz, People Magazine, PHIZZ, PonyDry, Reloved, Rest-Rite Sleep Positioner, Revision Skincare, Slimware, Splitting the Arrow, SweetCheeks, True Brit London and Woosh Beauty.
Guests attending the official GRAMMY Celebration® will take home a sporty-themed goodie bag that includes Blue Diamond Almonds, MuscleTech Nitro-Tech Crunch Bars, ChapStick, Soylent Nutritional Drink, and specialty golf + tennis accessories.
The GRAMMY Awards will be held on Sunday, February 12, 2017, at STAPLES Center in Los Angeles and will be broadcast live in high definition TV and 5.1 surround sound on the CBS Television Network from 8 – 11:30 p.m. (ET/PT).
About Distinctive Assets                                                                                                                          
Established in 1999, Distinctive Assets is a niche marketing company offering celebrity seeding, business development and branding opportunities within the entertainment industry and beyond. Distinctive Assets spearheaded the proliferation of award show swag and boasts an impressive resume of prestigious events that includes the GRAMMYs®, Latin GRAMMYs®, Tonys, American Music Awards, Kids' Choice Awards, BET Awards, CMA Awards and Academy of Country Music Awards. From Fortune 100 companies to start-ups, clients benefit from customized marketing solutions that leverage unparalleled experiences as well as access to top celebrities, premier events, influential media and strategic partners.
About The Recording Academy
®
Established in 1957, The Recording Academy is an organization of musicians, songwriters, producers, engineers, and recording professionals dedicated to improving the cultural condition and quality of life for music and its makers. Internationally known for the GRAMMY Awards — the preeminent peer-recognized award for musical excellence and the most credible brand in music — The Recording Academy is responsible for groundbreaking professional development, cultural enrichment, advocacy, education, and human services programs. The Academy continues to focus on its mission of recognizing musical excellence, advocating for the well-being of music makers and ensuring music remains an indelible part of our culture. For more information about The Academy, please visit www.grammy.com. For breaking news and exclusive content, follow @TheGRAMMYs on Twitter, "like" The GRAMMYs on Facebook  and join The GRAMMYs' social communities on Google+, Instagram, Tumblr, and YouTube.
  # # #
If you have any questions, would like detailed product info or want to schedule coverage, please contact:
Distinctive Assets             The Recording Academy
Dina Rezvanipour: 310.909.8770             Lourdes L. Patton: 310.392.3777
dina@3dprmarketing.com             lourdesl@grammy.com
---
59th Annual GRAMMY
OFFICIAL PRESENTER/PERFORMER
GIFT SELECTION IN THE GIFT LOUNGE
presented by MTG
JACKSON WALK JET by MTG
Balance and exercise foot gear for contouring legs co-developed by YUMIKO SUMIDA JACKSON, a former dancer with Michael Jackson.
www.mtg.gr.jp/en/
OKAWA1536
Lampshade by Okawa Craftsman (using Portable Japanese Tea Ceremony Room woodcraft technique).
www.okawa1536.com
MBG
Medi LED Hydro Mist for improved vocal cord management and skin regeneration. Medi Hydro for anti-aging, antioxidant boosting, fatigue elimination and fat burning.
www.mbg-world.com/english
BY GINA
Pure BioGen Complex Shampoo, Conditioner and Clutch Hair Spray. Pure BioGen Complex contains biotin, collagen, vitamins, minerals, amino acids, peptides and natural botanicals that are infused into a rich volumizing shampoo, conditioner and hair spray designed to create the appearance of fuller, thicker and healthier hair.
www.by-gina.com
BLUE NUN 24K GOLD COLLECTION
High quality Sparkling Wine with 24K gold flakes. Slightly sweet & very refreshing.
www.bluenunworld.com
DALGOMI
DMASK products are formulated with most effective ingredients to provide the best possible solution for skin problems. Gift set includes: DMASK Good Night Gold Snail Mask, DMASK Good Night Collagen Wrapping Mask and DMASK Face Up Mask.
www.dalgomi.co.kr
FXP HULA HOOP FITNESS
FXP Hula Hoop® Fitness is a Fun & Effective Cardio HIIT workout program inspired by Pilates, Barre, Yoga, and utilizing a specially designed, portable Hula Hoop! Just named "Fitness Program of the Year 2016" by the SCW Fitness Association! Package Includes: FXP Hula Hoop – Portable Hula Hoop specially designed for fitness, Hula Hoop Fitness DVDs, FXP Exercise Mat and Personal Training Sessions from a Certified FXP Master Trainer (available in 6 Major cities: Los Angeles, New York, Boston, Nashville, Atlanta, & Chicago).
www.fxpfitness.com
GOLD LEAF GOURMET
Elegant gourmet dessert kits to create beautiful 5-star desserts.
www.goldleafgourmet.com
GROSSE JAPAN
Award-winning costume jewelry.
www.grosse.jp
HASBRO GAMING
Hasbro's hilarious TOILET TROUBLE game (ages 4+) creates instant laughter as the family gathers around – and waits to get sprayed by – the plastic throne! The last player to avoid the surprise toilet spray wins! Our latest and greatest games include the Fantastic Gymnastics game, the Speak Out: Kids vs. Parents Edition game, and the Monopoly Token Madness Edition game.
www.hasbrogaming.com
MARCHON
Designer eyewear. Marchon's portfolio of winning brands includes a wide array of prestigious fashion and sport labels that generate over 16 million frames sold annually.
www.marchon.com
OOMI
Oomi turns your ordinary home into an intelligent smart home. Check-in on loved ones from anywhere in the world or have your lights turn on when you get home. Oomi is as simple as a handshake so anyone will feel comfortable setting up their new smart home. The starter kit retails for $599 and includes Oomi Cube, Oomi Touch, Oomi Dock, two Oomi bulbs and one Oomi Plug.
www.oomi.com
OXYGENETIX
A 10-year supply of revolutionary Oxygenating Foundation (breathable formula that promotes healing and provides complete coverage) and Oxygenating Moisturizer.
www.oxygenetix.com
THE REY3 COLLECTION
Limited edition luxury accent pillow along with gift certificate for custom furniture design services for the most beautiful furniture in the world.
www.rey3designcollection.com
THE LAUREN ASHTYN COLLECTION
The Lauren Ashtyn Collection Volume Extension Hair Topper & Crown Extensions.
www.thelaurenashtyncollection.com
TRESPASS PERFORMANCE CLOTHING
Warm and stylish activity-based gear from the Trespass DLX Collection. Trespass offers performance-focused casual wear and outdoor clothing.
www.trespass.com
TRUTH
truth, in partnership with Cotopaxi, is offering a shirt, duffle and water bottle to inspire individuals to join the movement to end smoking for good. truth is one of largest and most successful youth smoking prevention campaigns in history. The campaign exposes the tactics of the tobacco industry, the truth about addiction and the health effects and social consequences of smoking.
www.thetruth.com
TURNTABLE JUNKIES by DJ SPARK
2 complimentary hours of DJ Service by DJ Spark.
www.turntablejunkies.com
TRTL TRAVEL PILLOW
The very latest in Scientifically Proven Support, Trtl Travel Pillow combines super soft, hypo-allergenic fleece with a hidden internal neck support to hold your head and neck in the best position for sleeping! No need to lean on your friend anymore now you have a His and Her set of Trtl Travel Pillows.
www.trtltravel.com
TUNKA ART
Print of Original Art work from the Tunka Immersive collection. Each piece of original art is accompanied by a bespoke musical composition to reflect the artwork in sound.
www.tunka-art.com
UNIVERSITEE BOX
We are a college and high school subscription-based care package company focused on empowering girls through experiences every month.
www.universiteebox.com