By Zita Lam

In February, ACT Theatre announced it would offer the Figaro MobiTxt® Closed Captioning System in order to make necessary strides in accessibility for deaf/ hard of hearing audience. To kick off the 2017 season, "Tribes" is one of the multiple closed captioned performances supported by the Office of Arts & Culture.
The Figaro system supports closed captioning on individual iPads attached to a "gooseneck" stand on the arm of the patron's seat anywhere in the theatre. The captioning will run manually by an operator at each performance to avoid delay in the display. Patrons can choose the formatting, font size, and color from a selection of standard settings. The display will only be visible to the individual using it and will not disrupt those seated nearby.
By depicting deaf/ hard of hearing member's daily life struggles, "Tribes" is a family drama that explores the meaning of communication. Written by British playwright Nina Raine, the play follows the story of Billy who has been deaf since birth. His family, on the contrary, constantly get into heated arguments and intentionally insults each other about intellectual topics like literature, music, and languages around the dinner table. Even though Billy has practically mastered lip reading, with the help of hearing aid, he still finds himself silently watching his family drama unfold most of the time.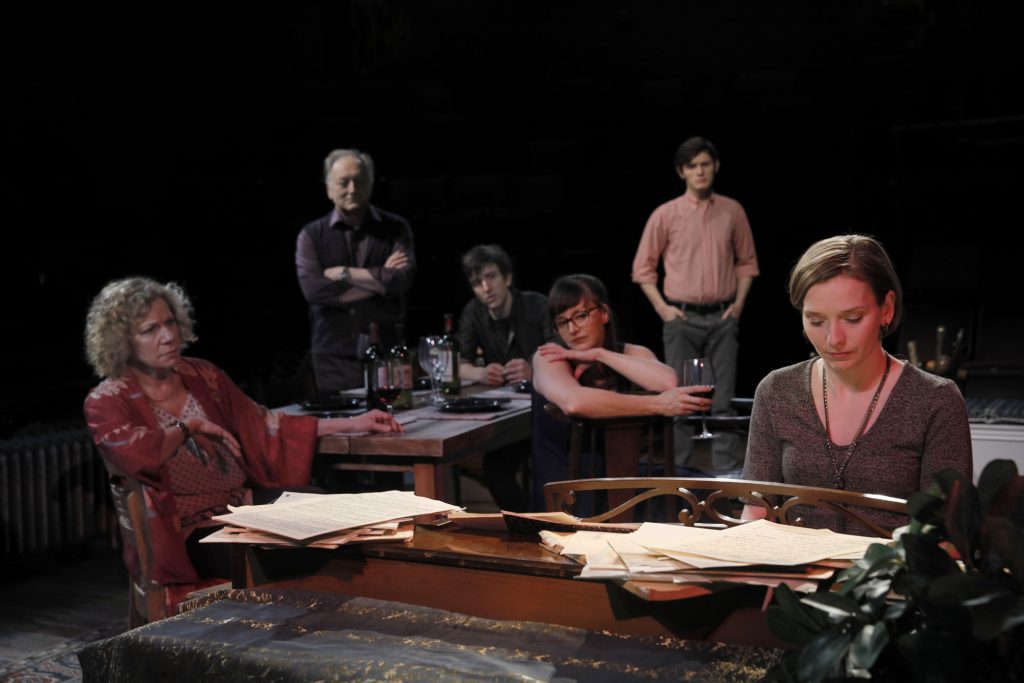 Billy has always managed to adapt to be an "outsider", until he meets Sylvia, a beautiful girl from a deaf family who is losing her hearing ability. Not only does she fall in love with Billy, but she also introduces Billy to sign language which later becomes a major conflict between Billy and his family. Can sign language translate and express everything equivalent to speaking? Sylvia steps up to resolve all the questions most audiences are curious about regarding the deaf/ hard of hearing community.
"How can we begin to cross the bridge from one world to another when the chasm between is as profound and elemental as living in a world of sound and one of silence?" Director John Langs once described the play with this question. Langs certainly has created the world where one can understand another. Along with hysterical dialog, there are a lot of well-balanced verbal and nonverbal communication elements in "Tribes". There is one remarkable moment when Billy emotionally expresses feeling like an "outsider", then in the next scene, a sign language conversation with Sylvia cleverly skips out some of the captioning. For once, individuals who don't know sign language are the "outsider" at that very moment. Like Langs says, "'Tribes' is an exquisite and moving comedy, a beautiful play that uses the humourous microcosm of the family to focus on the importance of reaching toward one another through our differences."
"Tribes" runs through March 26 in The Allen Theatre at ACT Theatre. For more information, visit www.acttheatre.org
ASL Interpretation Service
ASL interpretation will be available at the following performances and audience engagement events:
Thursday, March 16 at 7:30pm (with pre-show Dig Deep event that explores the themes of the play)
Saturday, March 25 at 8 pm
Sunday, March 26 at 2pm (followed by a moderated Cast Chat)