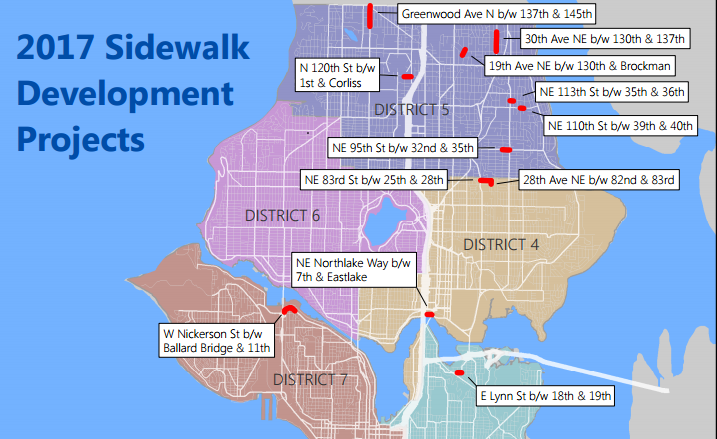 Map of Improvement   Mayor's office
The updated Pedestrian Master Plan (PMP) directs $22 million for 50 blocks of new sidewalk improvements in 2017. The PMP focuses these investments by prioritizing sidewalks that provide safer access to schools and transit options.
Mayor Ed Murray along with Council President Bruce Harrell, Councilmember Mike O'Brien, City planners, and pedestrian advocates announced a series of pedestrian safety investments guided by the City's updated Pedestrian Master Plan and Vision Zero safety program. These new investments will further the City's goal of making Seattle the safest and most walkable city in the country by improving street and intersection safety, and new sidewalks. Funding for these safety improvements were made possible through the Move Seattle levy.
"All of us depend on a safe, accessible transportation infrastructure to get to work, school, and everywhere we need to be in our daily lives," said Mayor Murray. "The Pedestrian Master Plan calls for critically needed upgrades to sidewalks in under-served communities, and through our Vision Zero program, we are making busy streets and intersections safer for everyone. These safety investments can help make Seattle neighborhoods safer and more walkable for all residents."
"By prioritizing investments and improvements towards more walkable neighborhoods, we build stronger, healthier, safer, and more inclusive communities," said Council President Harrell (District 2, South Seattle). "Our locally owned small businesses down the street thrive, residents walk more and become healthier, communities feel safer because of the social connections and eyes on the street, and the natural environment benefits."
"Every investment we make in pedestrian infrastructure can literally mean the difference between life and death," said Councilmember Mike O'Brien (District 6, Northwest Seattle). "I'm hopeful that these dollars and future funding keep us on track toward Vision Zero."