By Kevin Lu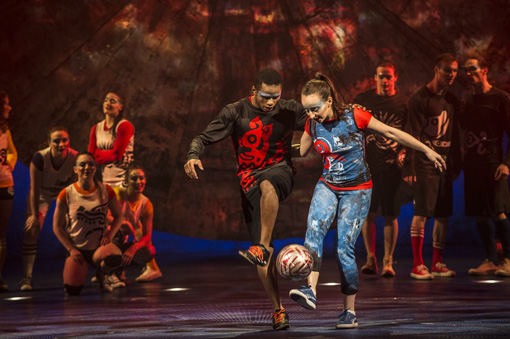 After two years of absence, Circus Du Solei returns to Seattle with their latest production, Luzia. Luzia is a theater and circus extravaganza inspired by Mexican culture. The name of the show, "Luzia", is a combination of the sound of two Spanish words: Luz (Light) and Lluvia (Rain), which are the core elements of the show. Luzia aims to explore several cultures, the history and mythology of Mexico.
The creative team has done a great job in set and props design. The stage utilizes state-of- the- art technology. The stage itself has two rotating round tables, which spin around. It also includes a treadmill, which utilizes the innovative Hoop Diving act. Also, the show employs a groundbreaking 40-foot-wide rotating rain machine, which adds the element of water to the show. There are also animal puppets used in the show to enhance the visual experience. The puppeteer does an excellent job in bringing the animal puppets to life. Luzia 's team goes all out in designing a one-of-a- kind experience.
Another highlight of the show is music. Composer Simon Carpentier has written a wonderful score filled with Latin American flavors. The mesmerizing score adds another layer to the performance to bring the audience to the scene.
The show started with a clown (Eric Fool Koller) parachuting from the plane. It centered around the clown's journey in Mexico, from the desert to the rainforest and the ocean. Each adventure flowed naturally and nicely from one to another, and the three hours show flew by like a breeze.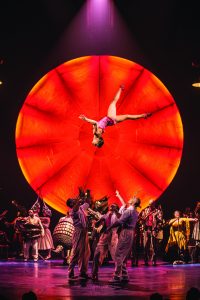 As usual, Luzia delivers with its top-notch performances. From fling acrobats, juggling to death-defying aerial straps act, each performance is well written and staged. Lucia pays attention to small details to ensure that there is not a dull moment. Audience favorites include Cyr wheel and trapeze. Two women (Angelica Bongiovonni and Rachel Salzman) spin around in a giant Cyr wheel, while the trapeze artist (Enya White) swings around, performing stuns under rain created by the rotating machine. Inspired by Mexican wrestling, the act, Swing 360, gets the luchador (Krzystof Holowenko) making speedy turns around in a giant swing. This act has the audience, adults and children alike whooping and gasping. Aerial stripes artist (Benjamin Courtenay) takes the classics aerial stripes act to another level.
Circus Du Solei creates another impressive production and is a pleasure to watch. From production to performance, Lucia creates a new standard in its genre. This show is highly recommended, if you enjoy theater and stunts.
LUZIA, an acrobatic waking dream of Mexico, opens in Seattle on March 30, 2017, for a limited engagement through May 21, 2017. For more information, visit www.cirquedusoleil.com/luzia.