By Zita Lam
Initially cooking at a local Seattle restaurant during his teenage years, Chef Shota Nakajima is not only the owner/chef at Adana Seattle, but now a contestant on Iron Chef Gauntlet. This  27-year-old chef will make his appearance on Food Network's Iron Chef Gauntlet premiering this Sunday, April 16 at 9 pm. His passion in serving Japanese cuisine has led him to climb over mountains and travel across the sea, but what keeps his enthusiasm alive? This Seattle native said, "I just simply love it!"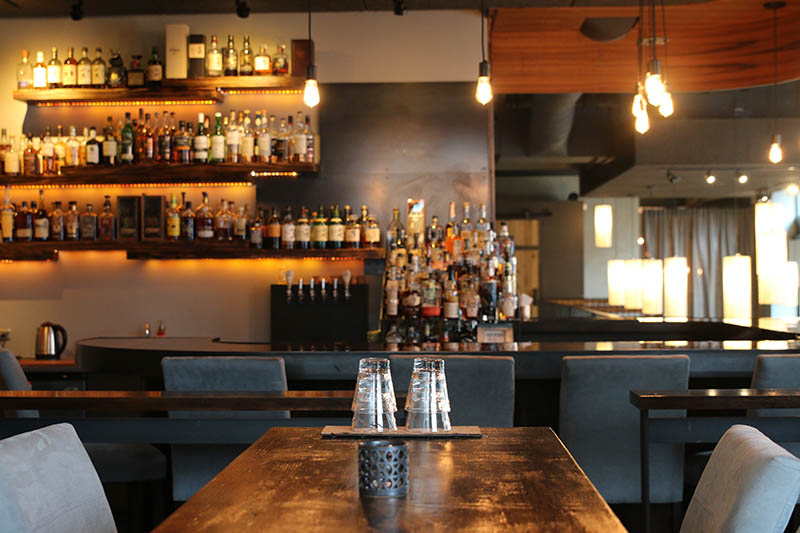 Many Capitol Hill patrons may have noticed that, Naka, which opened in June 2015 by Nakajima, has turned into Adana restaurant and bar on E. Pine Street. After providing Seattleites an upscale kaiseki experience, Nakajima decided to offer a much more neighborhood-style Japanese eatery to the area.
Nakajima told Seattle Chinese Times the reason behind the shift was because of the important value of connecting with people and customers on a daily basis.  "It's my personality. I love talking to people and getting to know them. I wish people can come in more periodically, and I have this feeling for about a year now."
Compared to Naka, where customers would spend at least $150 per person for the tasting menu, Adana is certainly more affordable. It offers a three-course Japanese homestyle menu for $37 and a variety of street food choices in the bar. Why $37? Nakajima explained, "It has been my lucky number since I was sixteen."
Nakajima acknowledged it was a challenge to get regulars and even his friends to visit Naka often because of the price, he continued, "I like cooking food for people at the end of the day, so I'd rather have a busy restaurant where I can serve food to people and talk to them. Right now, it's a lot more casual and simple."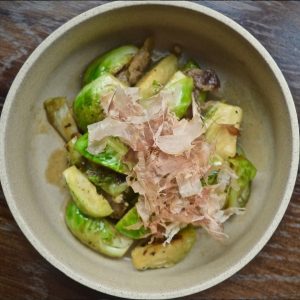 In order to achieve a higher nutritional value of a meal, Adana updates its menu monthly based on seasonal ingredients. For April's menu, Nakajima said, "Spring feeling, obviously. We put a lot of green stuffs and make it more refreshing." One of the features this month is a delicious brussel sprout dish that is sauteed in pork fat from gently roasted pork belly. It's then deglazed with sake, steamed, and completed with smoked bonito flakes on the top. "It's kind of fun because I use a lot of Northwest ingredients. I was born here and I go to the mountains foraging mushrooms all the time. At the same time, I learned how to cook Japanese cuisine from Japan, so it all mixes and matches together." He added.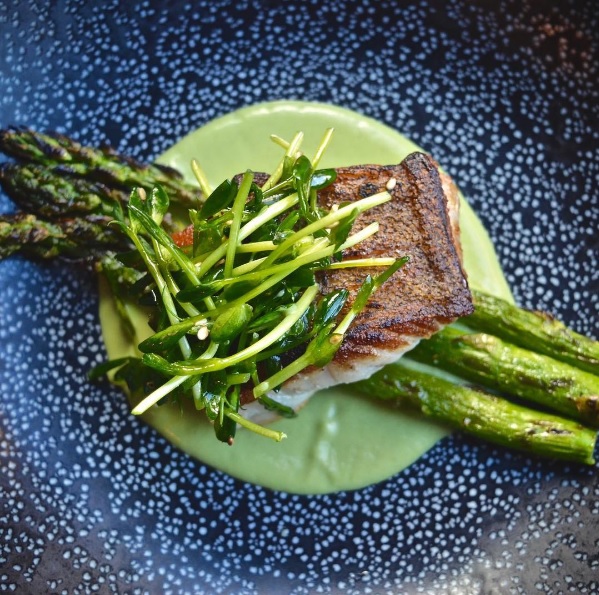 At the age of 18, Nakajima moved to Osaka, Japan where his training at the Tsuji Culinary Arts School inspired him to bring over the combination of street foods and bar to the U.S.. "I lived in Japan for a total of eight years, especially trained in Osaka for five years. During the time over there, I would go to places like this after work because they were open until 5 am." he said. In Adana's bar menu, customers can expect to feast on traditional street foods such as katsu sando, yakisoba, sukiyaki salad and shigoku oyster until close.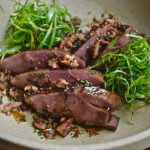 "I am a big foodie myself." He laughed. Not surprisingly, you can also find Gelato on the dessert menu. Nakajima emphasized the ice-cream is made of eggs and dairies from local farms. Influenced by his mother's cooking growing up, Nakajima makes sure Adana provides a true home-style experience by only serving the best ingredients to his customers. Nakajima's experiences, creativeness, and passion to serve quality ingredients explains why his food stands out from other chefs.
About Shota Nakajima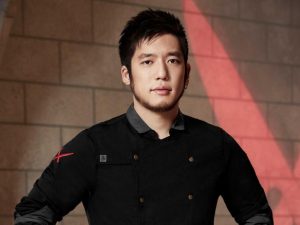 Born and raised in Seattle. Shota Nakajima moved to Osaka, Japan and attended Tsuji Culinary Arts School when he was 18 years old. He apprenticed under Michelin Star Chef Yasuhiko Sakamoto after graduation. After he returned to Seattle, he worked for Chef Taichi Kitamura at Sushi Kappo Tamura from 2011-12. He opened his own business, Kappo Kitchen in 2014, then Naka Kaiseki in 2015. Naka Kaiseki has now become Adana restaurant and bar since February, 2017.