【Dance-Theatre】
ODE
When: April 20 – May 21
Time: 2pm/7:30pm
Where: West of Lenin
Info: http://www.brownpapertickets.com/event/2913856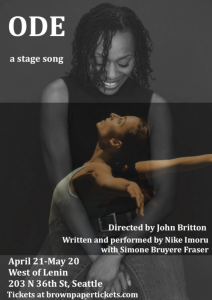 Dance, music, and storytelling combine in Seattle's newest piece of dance-theatre, Ode, a life story of sorts recounted through art from acclaimed local actress Nike Imoru, and it is a truly gripping human story told through the lens of an immigrant girl. This production spotlights an actor's story where past, present, and all-powerful imagination collides in a beautiful stage song. Ode is a dance-theatre fusion of storytelling that depicts the journey of a life filled with wit, wonder, faith, and a good dose of ruthless reality. In the depiction of numerous characters – from Mary Poppins to Lady Macbeth and turning zombie to life-saving surgery, Ode shows us how choices, actions, and consequences can inspire us to do extraordinary things in life and in art. With direction and choreography by first-time Seattle director John Britton, and original musical compositions by Ryan Leyva, Ode creates stories upon stories to make you laugh, cry, and ponder life's rich tapestry.
【Musical 】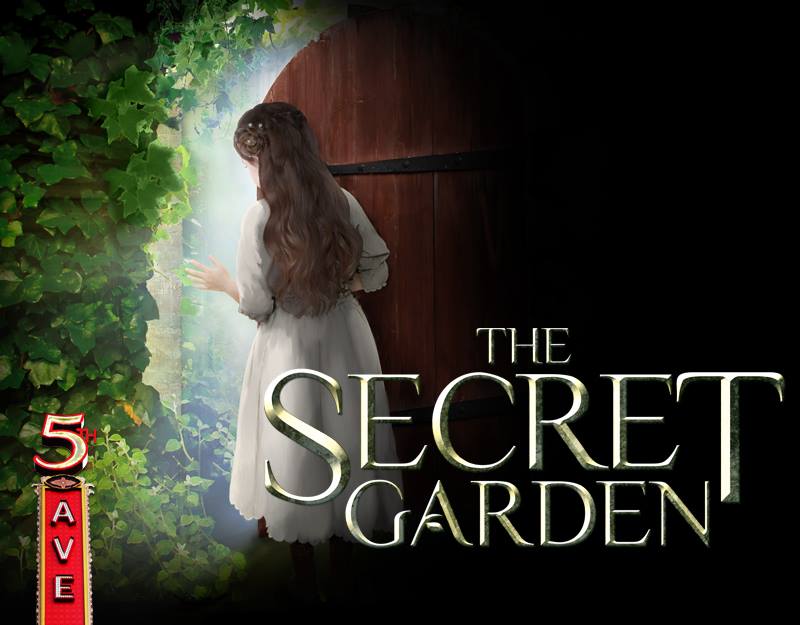 The Secret Garden
When: April 20- May 6
Time: 2pm/7:30pm/8pm
Where: The 5th Ave Theatre
Info: https://www.5thavenue.org
A hauntingly beautiful musical, The Secret Garden is the celebrated tale of a young orphaned girl, sent to live with a reclusive uncle in a crumbling mansion overrun with spirits of the past. Called "smart and sensitive" and "blessedly grownup" with "a yearning magical pulse" by the Washington Post, this fantastical tale features stunning sets and costumes, a gorgeous score and rich, lush storytelling. This dark and mysterious gothic thriller brings to exuberant life a saga of deception, grief, jealousy, love and ultimately, rebirth.
【Carnival】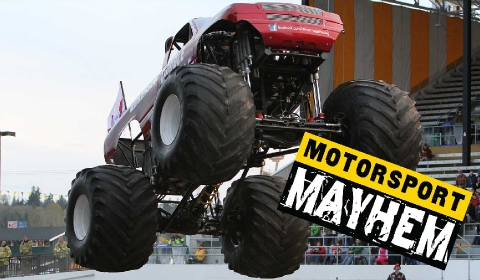 Washington State Spring Fair
When: April 20 – 23
Time: Thurs 2pm-10pm;Fri & Sat 10am – 10pm;Sun 10am – 8pm
Where: Washington State Fair Events Center
Price: Adults $12;Youth & Students $10;Age 5 of under Free
Info: http://www.thefair.com/
After a rainy winter, families in western Washington are looking for a fun activity for all ages, and the Washington State Spring Fair is the perfect answer. The Washington State Fair Events Center will be abuzz with animals, hands-on activities, a 20' inflatable rubber duck posing for your next selfie, motorsports, thrilling pig racing, and a lumberjack show. Four more acres have been added to the footprint in the ride area.With rubber ducks taking the center stage again this year, a duck scavenger hunt is being offered, with the chance to win a pair of concert tickets at the Washington State Fair. There are other activities to meet a myriad of interests, ranging from baby animals to the Northwest Living & Garden Show to Motorsport Mayhem, with monster trucks and demolition derbies. Also, three separate buildings are created for kids. Fun on the Farm, is an interactive exhibit that shows children what farmers do on the farm, from milking cows to planting potatoes to learning where your food comes from. There's even the Fair Farm, where kids of all ages can pet baby animals. KidZone offers the Creative Kids Exhibit, master gardener activities with kids, and a new feature, Kids Can Cook. A celebrity chef teaches kids fun, healthy and tasty recipes.