By Tracy Wang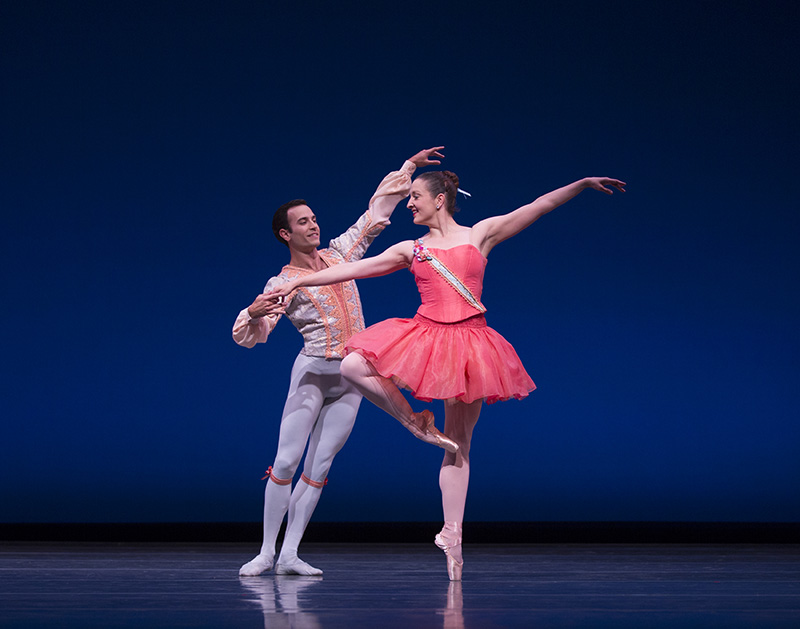 Currently performing at McCaw Hall, an assortment of three distinctive ballets take the audience through a remarkable end to Pacific Northwest Ballet's (PNB) 2016/17 season.
"La Source"
"La Source", a ballet choreographed by George Balanchineand first presented in 1968, is a hybrid work of several earlier Balanchine ballets. As the most technique-oriented ballet on the program, it includes three pas de deuxes and two solos.
As the curtain went up, the audience welcomedCarrie Imlerwith a huge applause. Imler will be retiring soon after this performance and her 22-year career with PNB was shown beautifully with her impeccable technique. Combined with the high jumps of her partner, Jerome Tisserand, their dance was a memorable scene that many audience will not forget.
NoelaniPantastico and Kyle Davis, the second cast on Saturday night, danced with musicality and demonstrated a beautiful partnered promenade.
"La Source" is surely a wonderful testimony of the talents within PNB, as well as the proof that Imler will be greatly missed by her fans.
"Opus 19/ The Dreamer"
As a ballet that is known as the autobiographical of the choreographer, Jerome Robbins, "Opus 19/ The Dreamer" is definitely one highlight of this program.
Originally choreographed for Mikhail Baryshnikov, and danced by PNB's artistic director Peter Boal for his retirement performance at the New York City Ballet (NYCB) in 2005, this ballet is a dream role for many male dancers. The male dancers, James Moore for the opening night and Benjamin Griffiths for Saturday night, walk between the lines of imagination, dreaming states, and reality.
On the opening night, the audience couldn't help but glued their eyes to Moore who stood in the center of the stage. Dressed in a purple dress and hidden at first within the group of female corps dancers, Pantastico came out as a romantic partner drawn up by the Dreamer. Danced with a sense of order but also abandon, Pantastico and Moore gave us an access to experience the shifting reality and dreams.
Michael Jinsoo Lim, the violinist, played Prokofiev's first violin concerto beautifully, and the constantly shifting pace and notes of the music mirror the fracturing of the dream on stage. However, as the ballet came to an end, as the female and male dancers cupped each other's face with one hand, we could no longer be sure as to whether this is the dream state when one sleeps or just a beautiful imagination of the male dancer in his reality.
Poetic and meaningful, this is a ballet that makes us think and dwell on long after the curtain went down.
"Pictures at an Exhibition"
The last program of PNB's 2016/17 season closes with "Pictures at and Exhibition" by Alexei Ratmansky. With only 10 dancers on stage with Allan Dameron playing the piano beautifully, this ballet pushed the boundary of classical ballet and showcased Ratmansky's contemporary take on choreography.
Originally choreographed on Wendy Whelan, a former NYCB Principal dancer and the stager for this ballet, at her eve of retirement, "Pictures at an Exhibition's" highlight certainly rests on the pas de deux ('The Old Castle'), danced beautifully by Elizabeth Murphy and Karel Cruz.
A sense of decay resonates throughout this pas de deux.The 'Ascension' position at the end, Murphy placed herself in a standing position supported by Cruz, symbolizes Whelan reaching another stage of her life. Packed with meaningful and fast-paced movements, "Pictures at an Exhibition" showcases a strong feel of community, and allows us to easily connect with the humanity aspect of it.
"Pictures at an Exhibition" will close on June 11th, and the Season Encore that celebrates Carrie Imler and Batkhurel Bold's long and beautiful careers at PNB will take place at 6:30 p.m. on June 11th.
For more information, visit www.pnb.org/season/16-17/exhibition/