By Zita Lam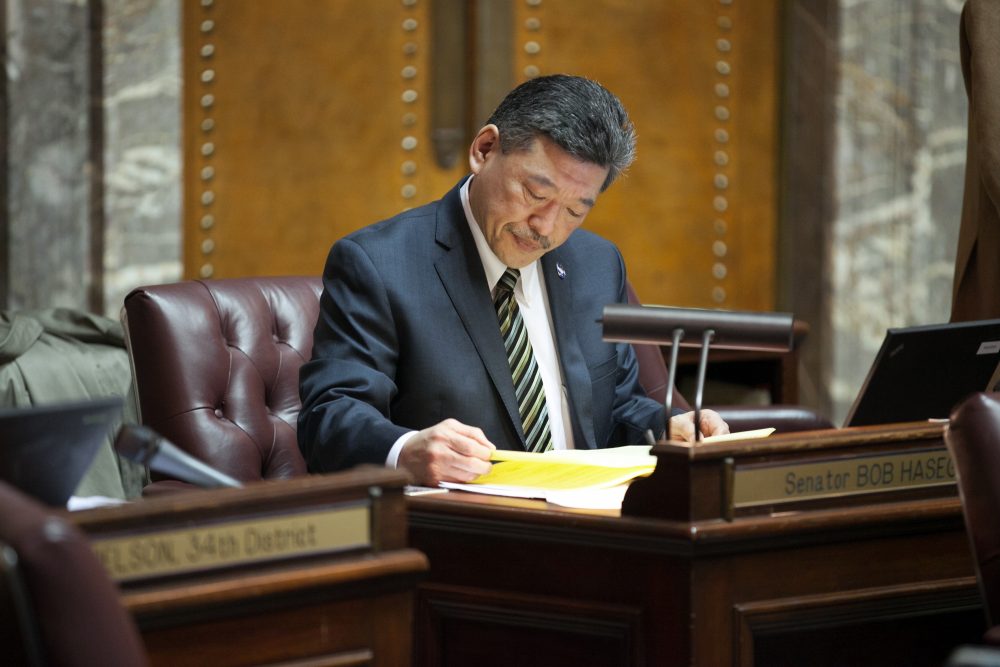 The 2017 Seattle mayoral election inches another month closer as 21 candidates are campaigning their ways and preparing for election day. Serving in the 11th Legislative District since 2005, State Senator Bob Hasegawa focuses on representing working families, small businesses and disenfranchised communities. In the following Q&A, he discusses topics like housing, state bank, traffic, and bringing back government to people.
1. You are known as a voice for working families, small businesses and disenfranchised communities, why it is so important for you to represent these communities?
My district is one of the most diverse cities in the United States actually, over 150 languages spoken. Being one of the very few people of color in the legislature, I see how disadvantaged communities don't have a voice. It's not that you get taken advantage of, but because the way politics work, it's that people who speak the loudest seems to get their way. So when there is so few people of color speaking in the political system, I feel obligated to be that voice for those communities.
2. For those who don't know your political platform, can you briefly introduce the main directions you'd like to follow through as Seattle Mayor?
Fundamentally, I want to bring government back to the people. Because right now the community wasn't consulted at all and the Navigation Center just talk about parachuting something into the neighborhood. Our community deserves to be have a voice in that whole conversation, so I think we have to start over with that. The Navigation Center might be a good idea but we can't even talk about how good the idea is because of the way they synced it. I think they should put the brakes on that decision right before the time be unless it gets the community involved with these discussions. And not just the International District community, the whole city has to take responsibility for these things because it's a city problem. They can't dump all of the social problems of the city has into neighborhoods like International District, Chinatown, or even further south in Seattle.
3. Can you elaborate on how would you plan to properly fund housing and education for those in need?
Right now, the cost price of property is going up so much and the city keeps wanting to fund all of these good programs. They are worthy of funding but they keep raising the taxes on the people that can't afford to pay them. If you have been a long time Seattleite, you are retired probably so you are on fixed income. Your property tax keeps going up but your income doesn't because it is just retirement pension or social security. So people would be forced to sell their homes and then richer people or investors would end up buying all the properties. We have to put a stop to that, we have to figure out a better way to finance all of these projects.
First thing to do is, we have to get a hand of how we are spending the money. I'm not sure the money is being used the best right now. The other thing is, I want to create publicly-owned invisible bank that are owned by the people of the city. So that way it will make money with our tax dollars and we won't be using Wells Fargo as our bank anymore. We make money by lending to ourselves, so when we borrow from ourselves, we are paying interest back to ourselves. We are keeping it all in the city.
4. As you are big supporter of State Bank, what would you say to some of your potential voter who is skeptical about this idea?
Whatever amount that we can capitalize the bank, you can actually lavage the money to do even more work. Say we have a billion dollars of capital in the bank, but we run 9 billion through the bank in cash flow, that 1 billion dollar lavages itself to 10 billion dollars worth of lending capacity. So we can use that to build public housing, transport infrastructures, schools, and sidewalks.
We need to try something because the city is going the wrong direction right now. It's just becoming gentrify, just rich White people or a lot of immigrants coming, in which is fine, but they are displacing the currency out of residents. We need to have enough housing so residents can stay in their homes. We can't just be a city for rich people.
5. Traffic is a major issue in Seattle, what is your view toward reducing the congestion on our roadways?
Public transportation. That's my only answer.
6. How would you balance local development while ensuring Seattle keeps its diverse culture?
To me the city is growing and there's no question about that, so we have to build more housing. All of the neighborhoods need to be responsible for accepting their fair shares of the increase housing capacity. The community should be involved in what it looks like. What I would want to do is, Mayor Murray defunded the department of neighborhood, we need to get that up and running again.
About State Sen. Bob Hasegawa
Bob Hasegawa, a longtime labor and social justice activist. He has lobbied for worker rights, winning top wages and benefits for working families and retirees, and he collaborated in many social justice struggles to protect civil rights, democracy, the environment and our constitutional rights. For 32 years, Bob was a member of the Teamsters Union, where he rose through the ranks to become the elected leader of the largest Teamster trucking industry and general workers union in the Pacific Northwest (Teamsters Local 174) for three terms (nine years). He was also a leader in the national Teamsters pro-union democracy reform movement, Teamsters for a Democratic Union. As a union/community organizer, Bob has long sought to build bridges between social justice organizations, particularly those serving the labor, environmental, religious and Asian Pacific Islander communities. He has served on the national executive board of the Asian Pacific American Labor Alliance AFL-CIO as well as on its Seattle Chapter Executive Board, the King County Labor Council and other boards of community based organizations. He continues to serve on the boards of the Harry Bridges Center for Labor Studies at the University of Washington, the Japanese American Citizens League and the Washington State Labor Council AFL-CIO. He is also a member of the state Election Administration and Certification Board and the Washington-Hyogo Friendship Council.
Some content modified for length and clarity