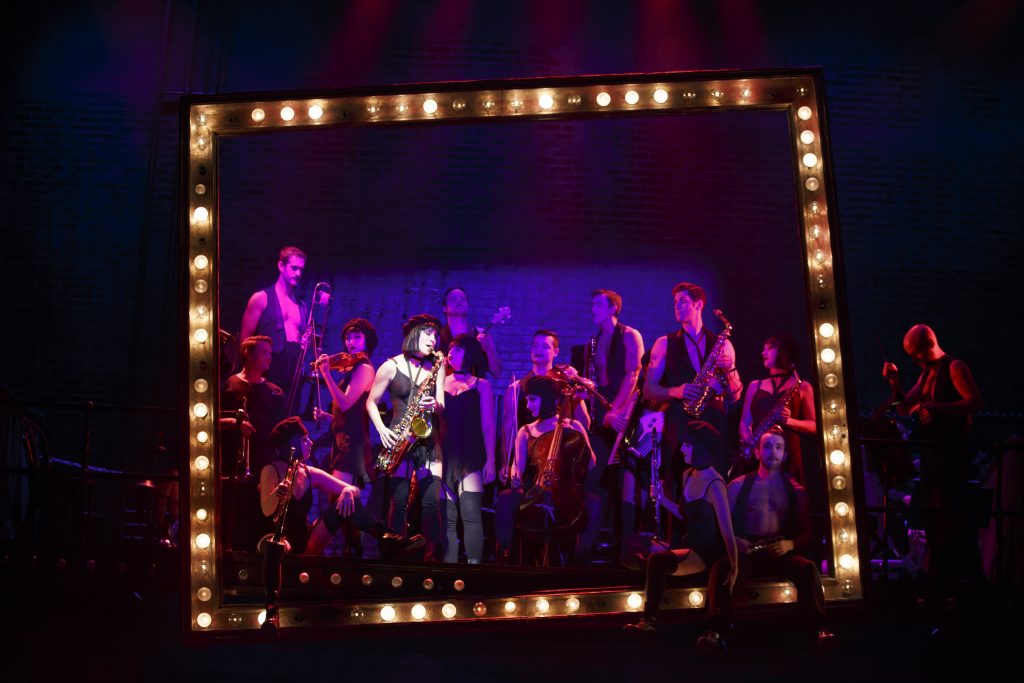 Currently playing at the Paramount Theater, Roundabout Theatre Company's Tony Award-winning production of Cabaret takes audience back to Europe in 1930s, an era when novelists were exotic and Americans were proud.
When aspiring American novelist Clifford Bradshaw (Benjamin Eakeley) embarks on a journey to Berlin, he meets Ernest Ludwig (Patrick Vaill) who recommends him to stay at a boarding house ran by Faulein Schneider (Lucy Sorlucco). It doesn't take Cliff too long to venture his way to Kit Kat Klub and is introduced to the British singer Sally Bowles (Leigh Ann Larkin).
As Cliff gets involved with the personal lives of his Berlin acquaintances, he also finds himself caught up in the political turmoil of the rise of the Nazis and he must save himself before it is too late.
Just as stated by the host of the club Emcee (Jon Peterson) stated in the beginning— "life is beautiful, the girls are beautiful, even the orchestra is beautiful,"— Cabaret, directed by Sam Mendes and Rob Marshalls, did not fall short of the audience expectation.
Peterson had my full attention from the beginning when he welcomed everyone to the Cabaret and presented the cast with PG-rated jokes and a brilliant act of "Wilkommen." Throughout the show, Peterson's storytelling was so convincing that at one point I forgot I was in the 21st century Seattle.
Known for her role as Dainty June in Gypsy, Larkin landed the well-known "Mein Herr" and "Maybe This Time." But what makes her performance so unforgettable was that despite the slightly forced British accent, she brought Sally's character to life with a strong contrast in personalities. She could be a ball of bubbly energy in one scene and yet utterly distraught in another.
With an experienced cast, dynamic orchestra, head-turning costumes, and witty lines all going on throughout one of the best shows at Paramount, the highlight of the night was definitely the tender relationship between spinster Faulein Schneider and widower Herr Schultz (Scott Robertson). I could not overlook the fact that Sorlucco was a standby for her role, yet she depicted the intricacies between her and Herr Schultz so well that it was tear jerking at one point.
As the show ended with a haunting fear of totalitarianism and death in the air on the opening night, the audience was left with a vivid reminder of the Holocaust, and more terrifyingly, apparent parallels between the political climate in America today and Germany in 1930s.
Cabaret is currently playing at the Paramount Theater until June 25. For more information, visit STGPresents.org