By Tracy Wang
Currently performing at the Center Theatre at Seattle Center, 'Hoodoo Love' is a new production for the Sound Theatre Company 2017 season's Amplify! Raising Women's Voices.
'Hoodoo Love' is yet another addition to Sound Theatre Company's 2017 Amplify! Raising Women's Voices season. Set against the backdrop of Memphis, Tennessee, and during the era of the Great Depression, it follows the journey of Toulou, played beautifully by Porscha Shaw, trying to fulfill her dream of becoming a blues singer, and yet trapped by the sexist norms of American society.
A play written by Katori Hall, and directed by Malika Oyetimein, 'Hoodoo Love' opens with the sound of train whistle, and Toulou asking her lover, Ace of Spades (Andre G. Brown), to take her with him to Chicago. As a lover of blues himself, Ace of Spades dreams of gaining fame by singing, and yet he refuses to take Toulou. Desperate to make him stay, Toulous asks Candylady (Eva Abram), a mother figure for Toulou, for help. Candylady speaks of using hoodoo to make him fall as in love with her as she is in him. Though skeptical at first, Toulou soon follows the steps, and the Hoodoo seems to take effect. However, the sudden appearance of Toulou's big brother Jib (Corey Spruill) stirs up terrible memories, and the first part of the play ends with him raping her.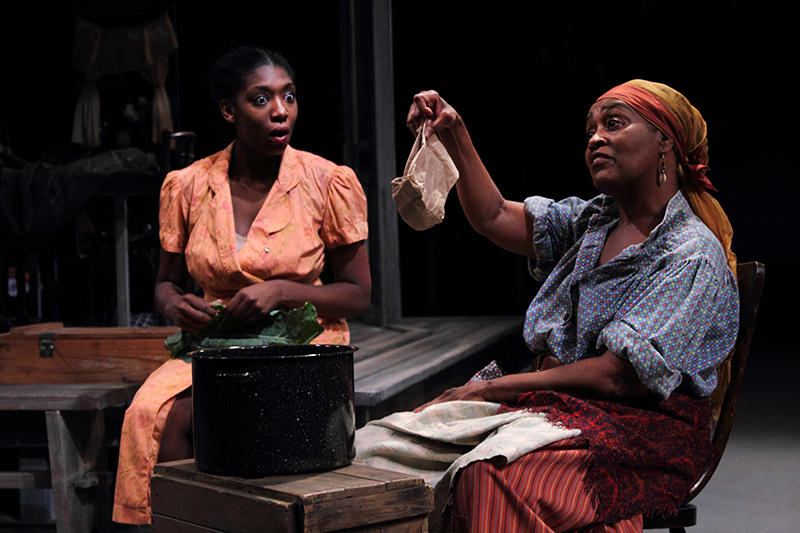 The second part opens with Toulou standing in the middle of the stage, with her back to us. As she turns around, she is revealed to be pregnant. Playing the guitar, she sings a sorrowful song of love turning into only misery. Bitter and angry, she accuses Candylady of not helping her, and her dream of becoming a blues singer seems to have been killed. Then, both Ace of Spades and Jib return. What will Toulou do with her baby? How will she fulfill her dream in the face of an abusive family and a baby?
As a play that is separated into two parts, we find a stark contrast between the tones of the two parts. Setting up the time (the Great Depression), place (Memphis) and cultural background (clashes of slavery era and modern era), most of the first part can be viewed with a light heart. The interactions between Toulou and Candylady are filled with bickering, jokes and at times, the usual lessons from a mother to a daughter. Though the set-up can be long at times, it is necessary to introduce the practice of Hoodoo, and the daily lives of African Americans, whose voices and perspectives are so rarely heard.
While the first part successfully elicits plenty of laughter, the second part dives deep into Toulous internal emotions, and provides us with a raw image of a black woman whose silent tears and struggles are burnt into our minds. Her pregnancy, the absence of her love, and the broken dream of meeting Ace of Spades on a train to fulfill their dreams all crash down on us, and we cannot be helped but to feel Toulou's disappointment, hurt and loneliness in her soulful songs.
The play successfully captures the voices of four African Americans, especially those of Toulou's and Candylady's, and it explores the norm of men as the breadwinner and women as housewives. Though Toulou has shown her talent in singing blues, she is constantly discouraged by the male figures in her life. She is only seen as a woman, who should stay at home and tend the male family members. However, Toulou is one who is willing to try and break the norm by always showing interest in going to Chicago with Ace of Spades. Even though she has gone through rape, sexism and broken promises, she is not willing to back down, and just be a woman of her age. Like what she said at the end of the play (when a woman faces challenge, she breaks down and cry, but when a man faces challenge, he gets on the next train), we find a strong and courageous black woman who is determined to take the next train, till she reaches her dream.
'Hoodoo Love' runs at Center Theatre, Armory Building at Seattle Center, through July 30. For more information, visit http://www.soundtheatrecompany.org/