By Tracy Wang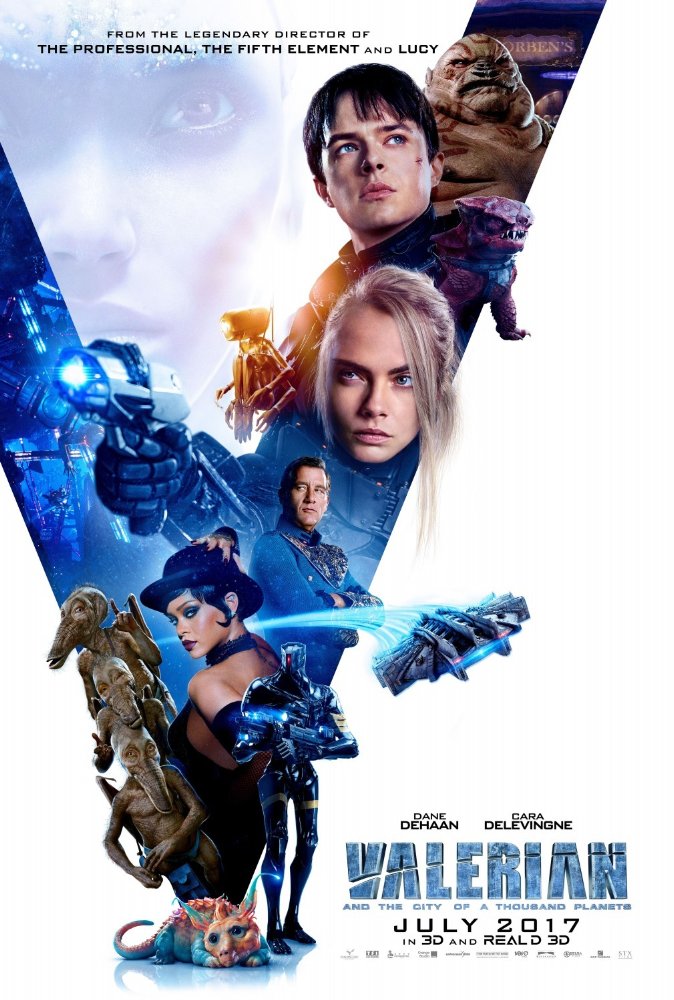 Based on Pierre Christin's French science fiction comics called 'Valerian and Laureline', 'Valerian and the City of a Thousand Planets' takes us to the 28th century in which all species are working well together and sharing knowledge. However, other than the spectacular visual effects offered by director Luc Benson, what else should we be looking forward to watching?
The film starts with a series of years in the future, where different species meet humans, and they all seem to be on friendly terms. However, the lens suddenly takes us to a completely different but seemingly perfect paradise full of beaches, pearls, little dragon-like creatures; the species there are close to human forms, but their skins assume a milky gray hue, and they seem to be much taller. As we follow a woman's journey on land, sudden foreign aircrafts and bombs crash onto their land, and only a few survive by hiding in an aircraft.
Then, our eyes are switched to Valerian (Dane DeHaan) and Laureline (Cara Delevingne), both special operatives responsible for peace in human territories, relaxing on the beach. A mission arises, and they arrive at city of Alpha, a constantly evolving metropolis. Because a dark force at the center of city of Alpha is threatening the peace of all species, Valerian and Laureline are assigned to find out what the dark force is and then destroy it. Will they be able to unveil the danger and complete their mission?
In 'Valerian and the City of a Thousand Planets', director Luc Benson has successfully created a future world which is full of different kinds of species and places. With our 3D glasses on, we were truly transformed into a space and time that are very much different from our own. However, other than the wonderful visual effects, the acting and lines of DeHaan and Delevingne seem to be not so spectacular. From the very first time we met the two leads, we found them trying to flirt with each other in a rather awkward way. Discussing their romantic relationship and acting out their romantic interest seem to occupy most of their scenes in the film, even when they are in danger.
Even though the romantic part of the film does not really work, the plot does indicate and reminds us of the history of the United States. With the population of Mul almost wiped out and their homeland destroyed with the reasoning of them being savages and attributing them as the dark forces in Alpha, we found the reasoning to be quite similar to the history of colonizers driving the Native Americans out of their lands. However, what's different is that the responsible party of destroying Mul's land and people is caught and punished near the end of the film. The storyline offers us a rare incident of justice where the humans at fault are found and the rest of the species are conscious of the right and wrong parties associated with this event.
Another element to take notice of in this film is its elevation of an Asian character, Captain Neza, played by Kris Wu, out of the common evil or no-line Asian characters in the American film industry. As a captain who runs the operation room in Alpha, Wu starts off as a rather neutral character with a few minor lines. However, as the truth of what happened to Mul comes out, he becomes increasingly important, and he is even the one who tries to save everyone from the final explosion by controlling the technological devices. Though he could have more lines, and we could have a person of color as the hero, his presence does indicate a non-stereotypical Asian male character. Audiences who are interested in splendid visual effects and an awkward love story will definitely be delighted to watch this film.