By Tracy Wang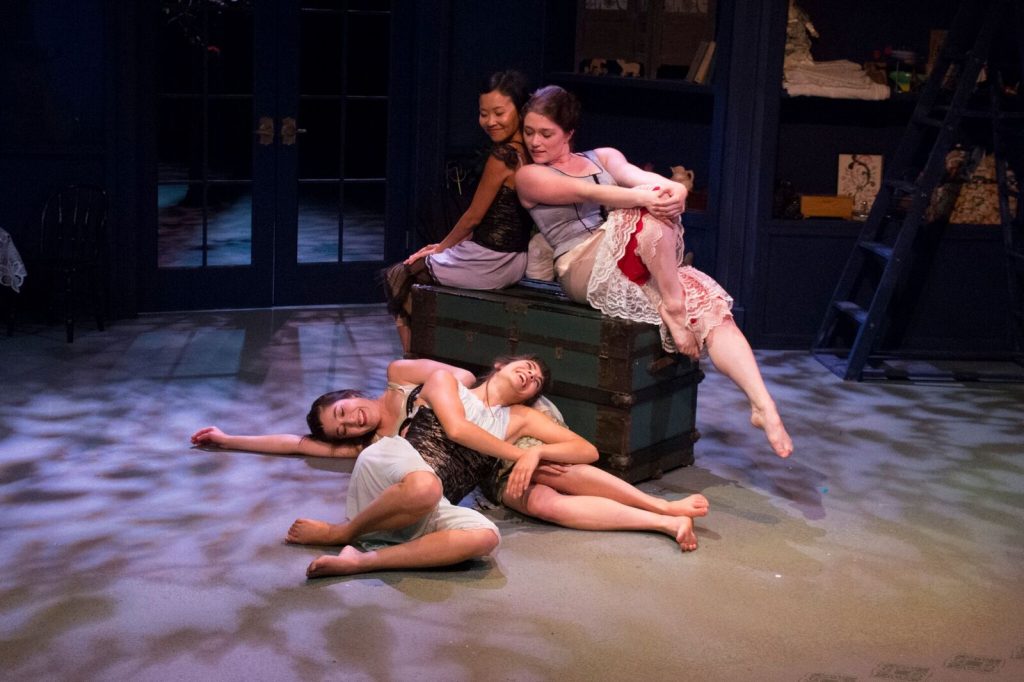 Currently performing at Center Theatre in Seattle Center, 'Goblin Market' is the final production of Sound Theatre Company's 2017's Amplify! Raising Women's Voices' season.
With a season that celebrates and amplifies the voices of women playwrights, directors and composers, 'Goblin Market' acts as the perfect closing piece which explores and pays tribute to sister bond and love. Written by two women playwrights, Polly Pen and Peggy Harmon, and based on the poem of a female poet, Christina Rossetti, this musical takes the audiences on a mysterious and yet empowering ride of childhood fantasy, desire and female heroism.
In the Victorian era, two sisters, Lizzie and Laura, played respectively by Claire Marx and Miranda Troutt, return to their childhood nursery. Playing a game of memorization of fruit names, they both settle comfortably into their childhood playfulness. With distinctly opposite personalities (Lizzie being rational and cautious while Laura being adventurous and playful), they go to a river near home to fill two jugs with water. Distracted by the calling of the goblin merchants, Laura uses a lock of her hair to exchange for some delicious fruits sold by the goblins, but Lizzie, far from feeling excited with Laura, starts to worry and thinks of a girl who died soon after devouring the fruits. Will Lizzie be able to save Laura? What does she need to do in order to save her?
With the band playing live music just behind a curtain and the four actresses (two sisters and two goblins) singing as well as acting beautifully in the front, we are instantly transferred to the world of the mysterious nursery and the two sisters' childhood fantasy. Even though this one act musical only has four actresses, the themes of constant temptation, and 'inappropriate' desire and wishes have both shone through as well as resonated with all of us, especially the female audiences.
As we witness Laura succumbing to the temptation of the goblin fruit, and Lizzie trying hard to resist those fruit, we are all struck with a sense of recognition, when we realize we too are constantly facing a variety of temptations, desire, wishes which mostly remain unfulfilled. When Laura devours the fruits, instead of blaming or scolding her, we are too secretly curious of the wonder of those fruits. What 'Goblin Market' presents is a realistic portrayal of our human nature of having all kinds of 'inappropriate' desires and urges. Even though this musical can be about the suppressed sexual desires of women in Victorian era or about a fable that warns children of the danger of strangers and what they could offer, it can simply be a tale that explores the journeys of succumbing and resisting the desires as well as a reminder that no matter what we do, those dreams, wishes and desire will always be present in different forms.
Though 'Goblin Market' is a musical about the potential ugly consequence of giving in to desire, what makes it much more than a fable are the heroism that comes out of sister love and the female agency in which the two sisters are active in making their own decisions. One of the most touching scene in the musical rests on the one when Lizzie seeks out the goblins and tries to resist temptation to buy some fruit for her sick sister. We see a fearless woman who can do anything just to make her sister feel a bit better. Her brave action reminds us all of the sisters, or people who are like sisters, in our lives, and how the sister love and bond can help create and encourage one to become a hero.
However, besides celebrating Lizzie's heroism in saving her sister, both of the sisters are heroes in their own lives. With so many playwrights depicting male heroes and relegating female roles to the land of submission, Pen and Harmon have successfully created two female heroes who take charge of their own lives. Even though they are still under the moral codes of Victorian era, they are almost completely free in their childhood nursery where they decide what to do in the face of temptation, fear and possible death.
'Goblin Market' runs at Center Theatre, Armory Building inSeattle Center, through August 27th. For more information, visit http://www.soundtheatrecompany.org/.