By Tracy Wang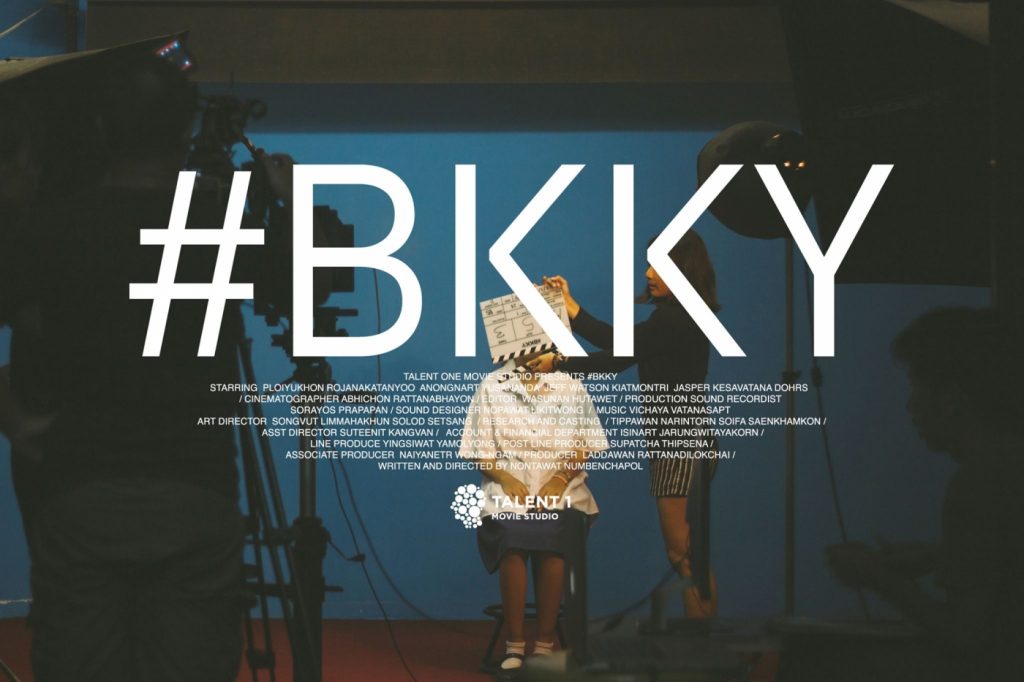 Standing in the middle of a documentary and a narrative film, '#BKKY', directed by Thai director Nontawat Numbenchapol, explores the themes of dreams, love, sexualities and parent-child relationship. By interviewing one hundred Bangkok's young people who are moving from high school life to university life, Numbenchapol has created a film that both reveals his interviewing process and a fictional narrative about a girl named Jojo experiencing transition from high school to university and different romantic relationships. With '#BKKY', American audiences are able to get a glimpse of teenage conflicts, challenges and pleasure in Thailand, and thus reflect on our own transitioning in life.
The film begins with a view under a school desk, showing two pairs of legs. Q, the tomboy, gives a handmade bracelet to Jojo, and asks her to become her girlfriend. Then, the view changes to teenage faces in front of camera, and they all talk about their desired schools, majors, and nervousness in getting the test results. As the film continues, it transitions back and forth between interviewing and fictional narrative which reflects on the contents of the interviewee's answers. Jojo and Q's romantic relationship progresses, and common concerns such as jealousy and boundary mentioned by the interviewees are shown with an ex-girlfriend of Q's being too close. However, after Jojo goes to college, she meets two male English-speaking friends, and their relationship endangers hers with Q. What will be Jojo's decision? Who will she choose? How will her father react from her close relationship with boys?
One of the most significant value of this film is its interviews with these 100 Bangkok teenagers at the stage of transitioning from high school to university. With the interviewees directly in front of the camera, audiences are able to witness and learn their most honest and straightforward personal experiences dealing with parents, love interests, sexualities and academic pressure. The diversity of their answers and experiences paint such vivid life pictures for us, and its diversity really enables and empowers us to reflect on our own experiences with these topics, and even embrace our differences or similarities. But what makes this film so different and fresh from others is its combination of documentary and fictional narrative in creating the film.
With the fictional narrative reflecting on parts of interviewee's experiences, the film becomes much less personal and raw than if it were just a documentary film. As these two features play off of each other, we can not only watch a more vivid teenage life in Bangkok by having the rather complete storyline of Jojo and Q, but also regard the narrative much more seriously because of the truthful quality provided by the interviews. Thus, the interviews and narrative help build a genre that allows us to view the film in a serious and yet relaxing manner. Watching the interplay of them, audiences who are not so comfortable in these topics can absorb better because of the fictional quality of it, but audiences who want to know the comprehensive picture of their viewpoints on these themes can also receive very diverse and varied real personal happenings. As a result, more audiences can be reached by this new and mixed genre.
Not only does it provide viewpoints on the above-mentioned topics, it touches upon the differences in American and Bangkok cultures. When young people in Bangkok start to work, how they behave in schools, how they take in news, and how they treat teachers, are all discussed briefly in the film. These cultural differences further illuminate and makes it easier for American audiences to understand. By watching how these young people in Bangkok understand sexualities, and how Jojo experiences sexual fluidity, we receive and understand the complexity of gender and sexuality experiences. '#BKKY' is certainly a relevant and valuable film for young people as well as parent audiences in getting a closer look at the struggles and conflicts experienced by teenagers in Bangkok.