By Tracy Wang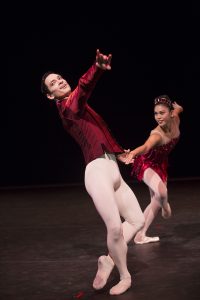 Currently performing at McCaw Hall, 'Emeralds', 'Rubies', and 'Diamonds' in 'Jewels' take the audiences on a journey to middle age France, jazz-filled United States and the elegance of Balanchine's home country, Russia.
Premiered in 1967 and choreographed by George Balanchine, co-founder of New York City Ballet, 'Jewels' pays tribute to three countries, France, United States and Russia. In celebration of the fiftieth birthday of 'Jewels', Peter Boal, artistic director of Pacific Northwest Ballet (PNB), commissioned new costumes and scene designs from Jérôme Kaplan, French costume and set designer. First brought into PNB's repertory in 2006 by Boal, 'Jewels' shows PNB as one of the largest ballet company in the nation; along with Kaplan's new designs of costumes and scene, PNB's 'Jewels' is certainly a crowning jewel of its various programs.
'Emeralds'
To evoke Balanchine's sense of a romantic France and the long and rich history of French school of dancing, 'Emeralds' is set to the soft and gentle score of Gabriel Fauré, and exudes the sweet perfume of a Middle Age France. Rich in chivalry and courtly love, this ballet is perhaps one of those ballets that requires its dancers to be able to gently occupy the stage with their fluid movements.
Saturday Matinee had PNB's principal dancers, Noelani Pantastico and Lucien Postlewaite, in the main roles of two lovers looking for each other under the star-filled night sky, while Saturday's evening performance had principal dancer, Elizabeth Murphy, and corps member, Steven Loch, taking the stage.
After five years away with Les Ballets de Monte-Carlo, Postlewaite returned to PNB as a principal dancer; a long time ballet partner of Pantastico, Postlewaite and Pantastico partnered with an ease only long-term partners can have. A dancer who is known for her musicality and acting skill, Pantastico swept us all into her romance with a twist of her hand and a movement of her arm. Notably, Loch, though a member of the corps, took up the role with his quiet chivalry.
'Rubies'
The Central ballet of 'Jewels', 'Rubies' is Balanchine's attempt to capture the jazz and wit of America. Set to Igor Stravinsky's equally sassy score, 'Rubies' emits power and play with its constantly-competing couple and a siren-like ballerina. Perhaps influenced by horseplay, Balanchine included many movements, kicking legs, running down stage with knees up high, that remind us of horses galloping and trying to outrun each other.
Both of Saturday's matinee and evening performance welcomed James Moore, principal dancer, as the male character in the couple. Famous for his acting skill as well as his ability to capture the attention of audiences, Moore danced with humor and sass. His partners, Leta Biasucci (matinee) and Angelica Generosa (night), both soloists, danced with wit, though Biasucci's movement was much sharper. Mirroring the competitive horseplay, Moore and Biasucci were able to bring out a competitive playfulness with just an eye contact and a smile. The siren-like ballerina is danced by Elle Macy (matinee) and Sarah Pasch (night), both members of corps, and their sassy takes of that role certainly signal their rise in the company.
'Diamonds'
Paying tribute to his home country, Russia, Balanchine created 'Diamonds' to show the magnificence of old St. Petersburg; with Peter Ilyich Tchaikovsky's score, 'Diamonds' has essence of Petipa's Swan Lake, and the music certainly reminds us of Tchaikovsky's other scores used in ballets. As the final piece of 'Jewels', it sums up the whole performance with grandeur with a full-cast polonaise.
Though all curtain rises for these three ballets generated pleasant gasps from audiences, the exclamation for the jewelry-bound bodices, light pink tutus, as well as the scenic design of a frame at the back in 'Diamonds' is perhaps the strongest. With all the corps members dancing the first part, the ballet seems to bring us all into the world of a grand Russian court dance. When the ballerina, Murphy (matinee), Pantastico (night), and her cavalier, Jerome Tisserand (matinee), Seth Orza (night), walked out facing each other, and began the intimate pas de deux, we were further transferred to the glittering court in Russia.
'Diamonds' is clearly a ballet that requires strong partnership skill, and Tisserand shows himself as an experienced partner who is always ready to lift or catch Murphy. Seemingly effortless in his high jumps, Tisserand is one of the male dancers in PNB who lands like a cat.
Pantastico debuted 'Diamonds' on Saturday night, and she once again ate up a role, and performed it as if she has done this for numerous times already. Rich in her musicality, she managed to become one with the music, and watching her dance allows us to enjoy the music and dance as one whole experience.
'Jewels' will close on October 1st. For more information, visit https://www.pnb.org/season/17-18/jewels/ .