By Tracy Wang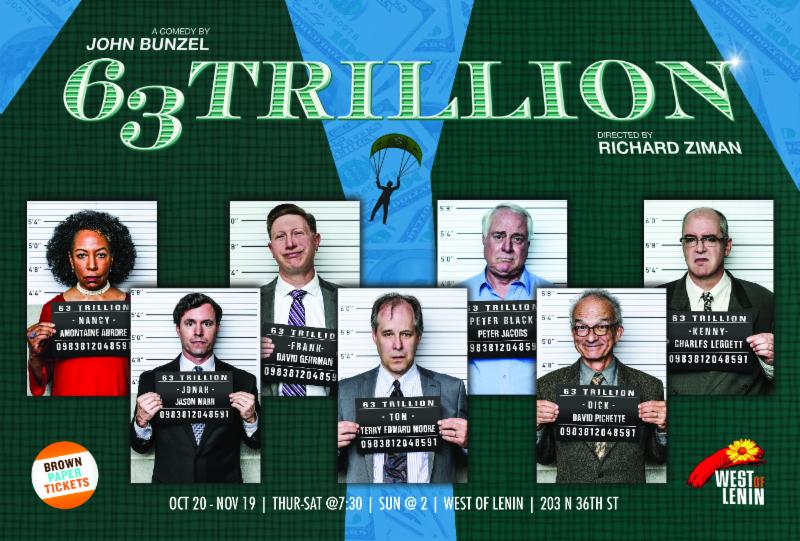 Taking place over several days in an office at the Legacy Wealth Management Firm, '63 Trillion' is currently running at West of Lenin through Nov. 19, 2017. Originally produced by The New American Theatre in Los Angeles, its Seattle premiere is directed by Richard Ziman, and presented by Sandbox Radio.
Playwright John Bunzel takes us into the world of high finance and the crucial players of financial advisors. On a regular office day of the Legacy Wealth Management Firm, Frank (David Gehrman) is discussing how his dog bit his mother's leg with Tom (Terry Edward Moore). As their argument of nurture and nature goes on, Jonah (Jason Marr), the newest assistant, comes in and reports the quick loss of points of the stock market. Partners of the company, Kenny (Charles Leggett) and Tom show different degrees of concern for this loss. Soon, a potential client Peter Black (Peter Jacobs) arrives, and Kenny tries hard to persuade him to invest with them. However, it is soon found out that his 10 million dollars has gone missing, and all the members are thrown into a storm of financial crisis, risk of unemployment, and many backstabbing incidences. Will they be able to come out of this storm unharmed? What are partnership and friendship to these financial advisors?
With over sixty audiences sitting on opposite sides of the room on Saturday night performance (10/21), we face a regular office scene in which a mahogany desk, a long meeting table and a small table of drinks are set. From the very first entrance of Frank, the audiences are transfixed by the humor and satire of the script and their actings. The first scene of Frank and Tom arguing whether his dog biting his mother is because of nature or nurture and whether it is sexually-confused sets the humorous tone that is close to the brim of ridiculousness. As the comedy continues, the humorous and satirical tone also continues and at times, even escalates. Though on surface, all these advisors seem to be working peacefully, they are in truth always undermining each other with witty retorts, which invariably shows how competitive and ruthless they are in this business where wealth is the dominant factor.
Almost all scenes are presented with humor, but humor is clearly only the first step in veiling their ruthlessness, and thus it has become a kind of cruel humor. Frank's unwillingness to get rid of his dog, though he claims to be love or affection, is soon revealed to be only about the large sum of money he has paid in getting the dog.
Similarly, Dick and Jonah's alliance in getting the big client also proves to be temporary, when Dick directly asks Jonah not to trust anyone, including him. Their raw honesty in breaking up alliances and forming new alliances is of a joke itself, showing how they are indeed followers of wealth instead of each other, and the ending in which Jonah seems to be getting the big client on the phone has a good amount of uncertainty and questions tossed at us audiences. All the questions such as, did Jonah successfully get the client? is he rising from a mere assistant? what is going to happen to the other ruthless advisors? swirl around in our mind, and again demonstrate the fragility of not only their friendships but also the stock market.
Though the only scene of an office can be confining, the actors in '63 Trillion' manage to fill up the space with their witty and masterful actings. All the actors, except perhaps Amontaine Aurore, step into the roles of heartless and money-driven financial advisors so completely that we do not for a second doubt who they are. However, Aurore, playing Nancy the lawyer, does not seem to be as believable. Coming out near the end of the show as a lawyer who enforces the suspension of several employees, the character of Nancy does not add much interesting to the overall comedy, except some women power which Aurore does not fully showcase in Saturday night's show.
For more information, please visit https://www.63trillionseattle.com/.