By Tracy Wang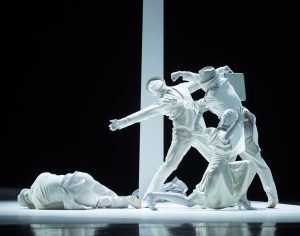 Pacific Northwest Ballet (PNB) opens its second program of 2017/18 season with three unique and reflective ballets by three of the most renowned female choreographers. Running at McCaw Hall through Nov. 12th, 'Her Stories' invites us onto a journey through the landscape around New Mexico's Santa Fe region, some back alleys, and finally the components of a story.
'Her Door To The Sky'
Choreographed by Jessica Lang, 'Her Door To The Sky' makes it return from 2016's Jacob's Pillow Dance Festival and PNB's last season. Set to the score by Benjamin Britten, this ballet is inspired by Georgia O'Keeffe's Patio Door series, and it beautifully captures the New Mexico sunset with costumes designed by Bradon McDonald (flowy and petal-like dresses for women and loose pants for men).
On Nov. 4th (Saturday night), the female solo role was taken up by principal dancer, Elizabeth Murphy. At times cheerful and celebratory, but at times sombre and deeply reflective, the score easily sweeps us into its contemplative vibe; even though this ballet does not have a clear narrative in sight, Lang's fluid and signature choreography seems to mirror a cycle of life of  a woman, her sorrow, her struggle in reaching higher and higher and also her happiness, and acts perfectly as the opening piece for the rest of the meditative and somewhat darker pieces.
'Afternoon Ball'
'Afternoon Ball' by Twyla Tharp premiered at PNB in 2008, and Saturday night's performance marks the premiere of five dancers, Ezra Thomson, Leta Biasucci, Ryan Cardea, Dylan Wald, Cecilia Iliesiu, in this ballet. As a picture of a lost generation, the ballet centers around three street kids, Thomson, Biasucci and Cardea, who all dance and live in their own styles. Contrary to the gentle feeling the title of this piece exudes, their somewhat chaotic, loud and unnerving solo movements reflect a mixture of emotions such as anger, insecurity and confidence. All three of them seem to be in their own world, and a feel of abandon and a lack of belonging ripple out of their pattern-less dancing.
Recently promoted to a soloist, Thomson executes this role with quiet abandon, and as Wald and Iliesiu waltz in and out of the stage, his desire to belong is clearly shown with his imitation of a much more structured style of dancing, ballet. Similarly, Cardea's concentration on his own movement showcases a kid who is lost in his own world, but wants to fit in with the other two all the same. A seemingly pattern-less piece, 'Afternoon Ball' deeply resonates with everyone in the audience who has ever tried to fit into a world so much unlike our own, and leaves us pondering the meaning of the ending in which Iliesiu leads Thomson into the light.
'Plot Point'
An American premiere, 'Plot Point' was originally danced by Nederlands Dans Theater in 2010, and it is the second work of Crystal Pite done by PNB after her audience-favorite 'Emergence'. In trying to answer the questions of 'what does a story mean?' and 'what are the components of a story?', Pite has created 'Plot Point', a piece of exploring different elements of a story as well as dissecting humans' process of making decisions among choices. Set to Bernard Herrmann's score in the film Psycho and additional soundtrack by Owen Belton, it contains some loose plot points (affair, betrayal etc.) that magnify how a bad relationship can influence the people around them. A ballet that requires acting as much as dancing skills, it perfectly shows how much talent PNB dancers have.
The ballet opens with a preview of the loose storyline by replicas (dancers dressed in white) of the characters (dressed in normal clothes), and it soon dives into an affair between Mr. Jones (Karel Cruz) and Mrs. Smith (Leah Merchant). As Mr. Jones returns home to Mrs. Jones (Lindsi Dec), and a house party begins, we encounter other characters, including Fernando (James Moore) and Celia (Noelani Pantastico), and yet the replicas are constantly present, previewing what will happen next or joining the characters in making a choice.
With multiple plot points happening at the same time, and the replicas constantly shadowing or overshadowing their characters, Pite has created a work of complexity and fragmentation that makes our minds race, heartbeats quicken and ultimately a piece that reveals our persistent battle of multiple voices/selves within each one of us. Again, PNB dancers have risen up to her challenge, and shown the deepest betrayal with a knowing look in Dec's eyes, the strongest struggle with Pantastico's hands almost cradling Moore's face, and the physical wounds with Moore's fluid and yet troubled movements in the last scene.
Every movement or moment of this ballet is clearly made with intentions and symbolisms, and it leaves us looking into our own inner selves, and questions what we are truly made of.
To find out more information or buy tickets, please click: https://www.pnb.org/season/17-18/her-story/