By Tracy Wang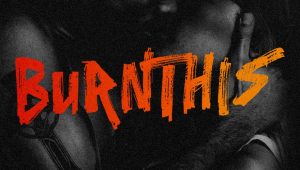 Written by Lanford Wilson and directed by Corey McDaniel, 'Burn This' is currently playing at 12th Ave Arts through Nov. 18th. It is set in a lower-Manhattan loft in which Anna and Larry stay right after the boating accident which took their friend and dancer Robbie's life. A tale of grief, loss, and searching for identity, the play discusses quite a lot of themes which it never really delves deeply into.
The play begins with Anna (Carolyn Marie Monroe) smoking near the window in the loft. With Robbie's sudden death in a boating accident, Larry (Alex Garnett) and Anna are in grief, and Anna is just angry with everyone and everything. When Burton (Jason Sanford), Anna's boyfriend, arrives, she starts to vent her anger and shock of how Robbie's family never really understood him at all. One night, someone knocked their door violently, and it turns out to be Robbie's older brother, Pale (Tim Gouran). Determined to get Robbie's stuffs and deep in loss, he too is angry at the world. As they continue to chat and vent, they develop a sexual relationship. However, on the night of new year's eve, Burton and Pale encounter each other inside the loft, and violence ensues. Who will Anna choose? How will Anna take in these two relationships?
Through 'Burn This', playwright Wilson has brought us a script full of humor and sarcasm. The lines instigate much laughter from the audiences on its opening night, Oct. 27th. Though they are all deep in grief, the characters tease and retort each other with ease, and the character of Larry, played wonderfully by Alex Garnett, is perhaps the highlight of the night. Playing a gay friend of Anna, Garnett executed every line with life and humor, and acted as a buffer between Anna and her two love interests. Besides Garnett, Gouran also brought the bad-boy character Pale to life.
Though the set is beautifully-done and the characters are mostly brought to life, the play does not guarantee a deep emotional connection between characters and audiences. We laugh along with and because of them, but what they feel in terms of their relationships, sexuality and gender, we could not be so sure. The play delves into many significant themes such as homosexuality, grief, loss and violence, but none of them are really in depth. A result of this is we get a lot of materials in the two-hour show, but we cannot really bond with the characters who are in many emotions throughout the show.
The one moment in which we really got closer to Anna is when she kicks the two men out of the loft, and shouts how she feels raped. The raw and honest vulnerability in that short scene reveals so much about Anna. Her fear of being pushed into unwanted relationships, her unwillingness to submit to a female role created by society and her confusion over which man she likes or wants, are wonderfully-portrayed in these few lines, but that is perhaps the only scene in which we are truly able to connect with her role.
Larry, always the protector and buffer for Anna, is the one who brings about the ending of Pale coming into the loft again and confessing her love for Anna. His request of them burning the note that brings Pale here perfectly resonates with the title, 'Burn This'. A play that makes people laugh amidst loss and grief, 'Burn This' asks us all to enjoy and appreciate life, to just live each moment with passion and love.
For more information, please visit: http://www.theatre22.org/burn-this/