By Tracy Wang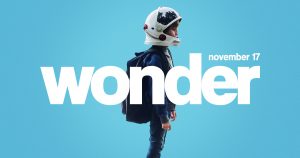 Based on R.J. Palacio's novel of the same name, 'Wonder' is the story of a boy, Auggie Pullman, who experiences craniofacial differences, going into a school for the first time in his life. Because of his facial difference and many surgeries he had, he had never gone to a school in which students have a variety of negative responses toward him. A story of a normal and yet extraordinary boy, it exposes human's most basic and raw reactions toward differences, and asks us all to choose kind and embrace differences.
The film follows the novel closely, and begins with Mrs. Pullman (Julia Roberts) saying that it is time for Auggie (Jack Tremblay) to go into fifth grade. Having been homeschooled till this point, Auggie finds going into a school extremely daunting with so many people seeing his face for the first time. A tour of the school ensues, and Auggie reluctantly accepts going to school. On the first day of school, all three of his family members walk him to school, and he experiences every kid staring at him, and whispering behind his back. A kid named Julian is especially harsh to him, and uses his love of Star Wars to tease him. As days go by, he becomes friends with another kid named Jack Will in his homeroom, but on Auggie's favorite holiday, Halloween, he overhears Jack saying how he would rather kill himself if he were to look like Auggie, and he runs out of the homeroom. What will happen to their friendship? And what other challenges will his family face when the focal point seems to be always on Auggie instead of his older sister, Via (Izabela Vidovic)?
Even though the film is very much focused on what Auggie and his family are going through because of his facial difference, it manages to pull so many themes into it, and presents them as a coherent story. Bullying, diversity, kindness, courage and acceptance are some of the major themes, and they all shine through perfectly with the kids' interactions and actions in school. With the school as the microcosm of society, every misdeed, mistake and mistreatment because of Auggie's facial difference are effectively and horrifyingly magnified to the point where we audiences are under the same inspection of what we would do if we were the kids in the school. Will we also turn our backs on Auggie? Or will we see past his facial difference and know that he is just another kid wanting to be accepted into this small society?
The film stays true to the novel, and brings about the same plot with differing perspectives of characters, but what the film adds onto the original genre is the visual presentation of Auggie's facial differences. Looking at his face directly throws in another layer of understanding for the audiences, and challenges us to reveal how we would have reacted if we were to see an Auggie on the street, passing by us. Unable to hide behind the descriptive words any longer, we too face the surprise, shock, questions as the students do in Auggie's school. But the question remains: we can scold the mean kids in the film secretly, but are we any better than them?
A warm, and even a funny one, at times, 'Wonder' is not a film that has many special effects or has characters that have superpowers, but it is a film that all adults and kids should watch. Its sole focus on real and common lives forms an immediate connection with audiences, and the eventful happenings inside Pullman's household are just reminders of those of our very own. However, what truly distinguishes it from the others is the range of human conditions the message of choosing kind can be applied to. Though it pays much attention to physical differences, it can also be talking about other differences such as ethnicity, age, sexuality, religion, gender, and even just opinions or aspects.
The film is a wonder itself in that it uses a fifth-grade boy's story of kindness and struggle to illuminate our ways toward acceptance and seeing past differences in a world in which people are all too ready to shy away from kindness.