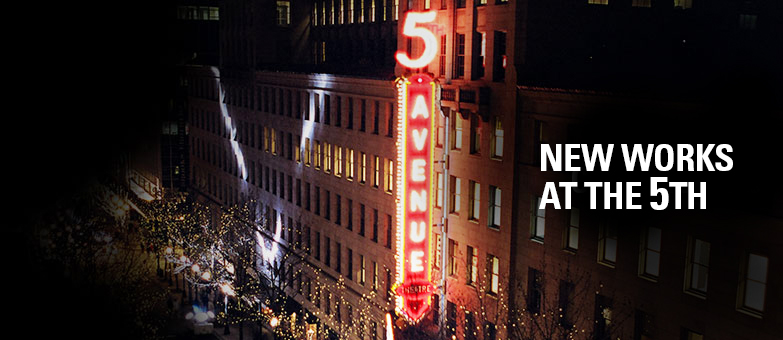 The 5th Avenue Theatre announces a complete restructure of its new works development program with the launch of First Draft: Raise Your Voice, designed to introduce and nurture new musical theater writers from traditionally underrepresented populations. Across an 18 month cycle, the program will shepherd writing teams representing an intentionally targeted community from a simple concept on a page through the complete draft of a show and score with an industry reading. The program solidifies the theater's commitment to cultivating diversity and inclusivity and will replace NextFest: A Festival of New Musicals following its 2018 iteration in March. The first cycle will solicit submissions from womxn (women and female-identifying) writing teams.
Producing Artistic Director Bill Berry has been developing the concept over the last year. "Art is at its richest and most vibrant when it represents a vast array of authentic experiences and perspectives," he said. "We cannot expect the art form of musical theater to remain a living breathing growing entity when it does not fully reflect the diversity and vitality of the human experience. As one of the leaders of our industry, it is our responsibility to give voice to those who have been voiceless, and to champion those who have struggled to make themselves heard—we should use our resources to amplify marginalized voices."
The program's primary objectives are to foster new work from writing teams from communities that have historically had fewer opportunities, to introduce these new writing teams and their unique voices to as many professional theater producers and regional theaters as possible in order to develop ongoing fruitful relationships, and to encourage the writing of unique stories from the authentic perspectives of underrepresented voices in musical theater. Each year, a new cycle begins with a focus on inviting writing teams representing a specific community or identity.
At the start of each cycle, the theater will accept submissions nationwide from qualifying teams. The teams need only submit short bios and a brief description of the concept for their show. The 5th will select 10-15 teams from the submissions that will be invited to Seattle for a week-long Story Summit. During the Summit, each team will work with musical theater industry leaders to develop their concept into a "pitch," inclusive of a story outline and two songs. At the end of the Summit, these pitches are presented to a panel of established theater artists, theater producers and regional theater artistic directors. The panel will select 3-5 teams they recommend to The 5th for a "First Draft Commission."
The 5th will work with each team over the following year to develop a first draft of a script and score. At the end of the year long process, The 5th Avenue will produce a 29 hour reading of each of the projects in a setting accessible to producers and industry leaders at the local and national level, indicating the completion of the cycle.
The 5th Avenue Theatre will begin accepting submissions for the first cycle of First Draft: Raise Your Voice in March of 2018. The submissions window will close in June. Details about how to submit will be posted athttps://www.5thavenue.org/nekw-works-program
---
About The 5th Avenue Theatre
The 5th Avenue Theatre is one of America's leading musical theater companies. We enrich the community we love with the art form we love—giving the Pacific Northwest a front-row seat to original powerhouse productions that go on to light up marquees and audiences all the way to Broadway. From the page to the stage, we bring passion and epic scale to every musical we create. With big talent. Bigger-than-life productions. And did we mention dazzle? As a nonprofit theatre company and our region's largest performing arts employer, we spread the joy of great musicals with people of all ages across our region and state. Each year, we reach more than 75,000 young people through our nationally acclaimed education programs. Programs designed to develop new musicals ensure that the next generation of great musicals will be there to tell the stories that captivate tomorrow's audiences. On the national stage, we are a leading voice for the power of this American art form to lift the human spirit.