By Tracy Wang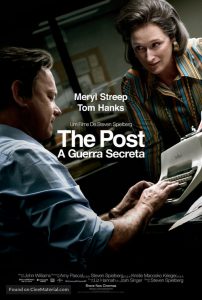 When director Steven Speilberg teams up with 31-time-Golden-Globe Nominee Meryl Streep and a Speilberg films' veteran actor Tom Hanks, we know a good movie is coming out, and 'The Post' proves to be another film that shimmers with Streep and Hanks' brilliant skills in capturing the spirits of diverse characters. A historical drama that explores the incident of the New York Times and the Washington Post publishing the Pentagon Papers (a secret document that details United States' involvement during the Vietnam War), 'The Post' chronicles this incident, and successfully brings the tension-filled world of journalism to life.
The Vietnam War was raging on. Though many American soldiers were killed, the government secretary still chose to tell the press that the United States is making progress in Vietnam. Frustrated by the blatant lie, Daniel Ellsberg (Matthew Rhys) sneaks some of the Pentagon Papers out, and makes copy of them. It is now 1971; Kay Graham (Meryl Streep) has taken over the Washington Post, because of her husband's suicide. A woman who is thrusted into a position that she has never imagined herself to be, she tries her best to keep the Post strong and going. Her chief journalist Ben Bradlee (Tom Hanks) is eager to dig up a good story, and after the New York Times publishes some of the Pentagon Papers, he decides to chase after the rest. Soon, the decision of whether they should publish the Pentagon Papers arise. How will Graham choose? Will she take the risk?
Overall, the film seems to focus on the incident of the Post publishing the Pentagon Papers that set it against the Nixon administration. However, at a closer look, it is clear how this incident is more of a stage for Graham to transform and shine than the sole focus of the script. The main plot thus rests on how Graham transforms from a woman who seems to be out of place in the workplace to a woman who is right at home in a bustling reporting office. Streep's performance of a woman who seems to be living a comfortable life, but is in fact still mourning the loss of her husband, is nothing short of determination, courage, vulnerability and charm.
With the camera perfectly catching subtle hints of gender dynamic in a workplace, we can easily understand what it was like to be a woman in charge in the 1970s. An board member's hand on her shoulder to stop her from rising to speak, board members discussing the future of the Post without her, her friend, the secretary of defense McNamara, almost backing her into a chair all easily convey the message of women being ignored or overlooked at workplace. With these powerful hints, and Streep impersonating the strong and yet vulnerable Graham, we witness a tale of a woman rising and standing up to challenges and her time.
Similarly, Hanks bring about an almost-ruthless journalist who is willing to use any method to find some juicy stories to report. His willingness to sacrifice all for freedom of press can almost serve as an opposite of the much-more reserved Graham, and it sets an interesting dynamic on screen. One of his most memorable scene rests on the one when he reveals to Graham how the politicians only socialize with him so they could censor the things he report. This scene further emphasizes the film's theme on criticizing the government for keeping secrets, but with it coming so late and being in only one scene, it loses the potential tension it could have delivered.
A film that is filled with tension, drama and politics, 'The Post' showcases a great team of actors and actresses in a tale of a woman's journey of claiming her rightful place in a position that is very often controlled by men.